Everything We Know about James Cameron's Reboot (Sequel?) to the Terminator Franchise So Far
Photo by Kerry Brown, Skydance Productions and Paramount Pictures Corporation
Movies
Features
Terminator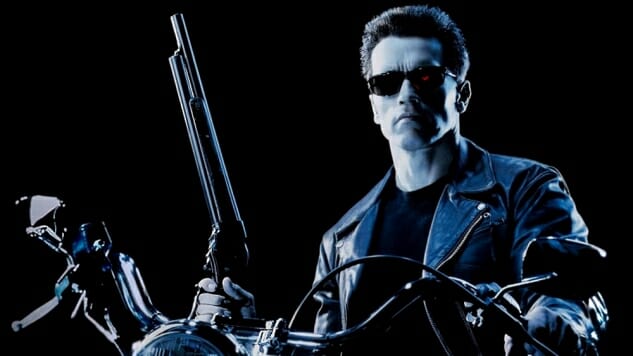 "Everything We Know about … " is Paste's series of deep dives into the forthcoming projects we're most excited about. Explore them all here.
It hasn't been a great … 27 years or so for the Terminator franchise. Every entry since 1991's Terminator 2 has been undone on some level by various weaknesses, whether it was the cheese of Terminator 3: Rise of the Machines, the dourness of Terminator Salvation or the outright "WTF," paradox-laden time travel wonkiness of Terminator: Genisys. And how many times have we been told that a rebirth or "new trilogy" of Terminator-related properties was on the way, only to see them scrapped? Certainly, no one seemed to want to see the story of Genisys continue any further.
Is it any wonder, then, that Paramount's top priority on Terminator 6 seemed to be going back to the source in the form of James Cameron? Although he's not directing (that honor falls to Deadpool's Tim Miller), seeing Cameron back in the executive producer role at least can be said to lend an air of authenticity to the project, which is due out in November. But beyond the creative team, how much do we really know about Terminator 6 so far? We've gathered all the info into one place.
---
Working Title
The just-announced title of what was previously being called Terminator: Phoenix, at least for now, is the macabre-sounding Terminator: Dark Fate. That tidbit comes from Cameron himself, speaking to Yahoo.
"We're calling it Terminator: Dark Fate," he said in that interview. "That's our working title right now."
"Right now" certainly makes it sound like these things could change, but given that we should be seeing some kind of footage in the near future (filming wrapped back in November 2018), it's not like they have much more time to tinker with it.
What's Our Setting and Timeline?
As far as Dark Fate's method for wiping the slate clean, we recently had a pretty clear example of how it will work in the form of David Gordon Green's Halloween. Like that film, Dark Fate will selectively ignore all previous Terminator films that came after 1991's Terminator 2: Judgement Day, with Cameron hilariously using the phrase "we're pretending the other films were a bad dream" to throw some serious shade on the rest of the series. This means we'll have a returning Linda Hamilton as the kickass, battle-hardened Sarah Connor, and apparently her son John Connor as well, although he doesn't appear in any of the marketing materials released so far. Judging from Linda Hamilton's advanced age, it's also safe to say that the action will be taking place decades after the events of Judgement Day. Also: Arnold is back, in some capacity at the very least.
"I said, 'I can't be involved in this film at all if Arnold [Schwarzenegger] is not in it,'" Cameron said to Yahoo. Referring to Hamilton, he said, "Fans are going to want to see her again, and they're going to want to see the real Sarah Connor and what time and dealing with these tragic futures has done to her. It's hardened her even more, but in a way that made her much stronger. Maybe less likable, but stronger. And ultimately, she becomes a really important character in passing the baton to the new characters that come in. It's a very female-centric film, which I'm glad Tim embraced those themes."
The new characters Cameron refers to include actresses Natalia Reyes and Mackenzie Davis, both of whom appear alongside Hamilton in the first piece of promotional art for the film, which hit the web back in August. Davis' character is described as "Grace, a soldier-assassin," while Reyes is named "Dani Ramos." Child actor Jude Collie is also apparently playing the younger version of John Connor whom we saw played by Edward Furlong back in 1991, which begs the question: Did John Connor get killed off in this timeline? Will he appear exclusively in some kind of flashback set in 1991?
Also: What's up with the lines criss-crossing Davis' body in that press photo? Is she some kind of machine hybrid as well?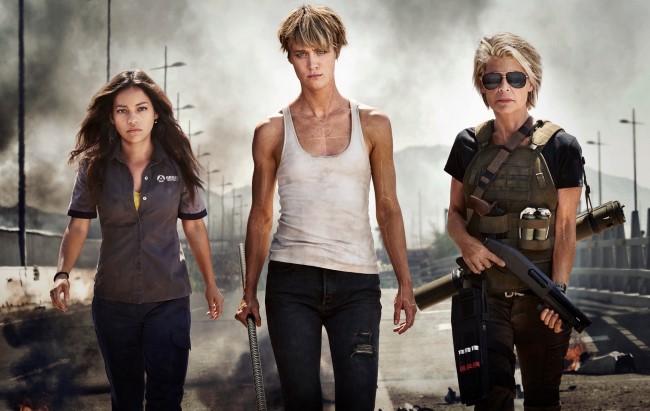 How Does Arnold Schwarzenegger Factor In?
The other thing to keep in mind here is that although Schwarzenegger will be making an appearance, he won't be playing either version of the T-800 that he portrayed in Terminator or Terminator 2. Although Genisys somehow tried to rationalize Arnold's character being an older version of the T-800 from 1991, Cameron is sticking with his own continuity: That T-800 model was melted down at the end of Terminator 2, in the same cauldron of molten steel that destroyed Robert Patrick's villainous T-1000. He's gone, which means that any character played by Schwarzenegger in Dark Fate will have to be a new one. Cameron has also teased fans by saying that the returning Schwarzenegger will be "bad," implying that he could wind up back in the villain role after all these years.
"Arnold's back and he's bad … he's a different Terminator than you've ever seen before, I mean literally, he's a different chassis number, but he's also a very different guy than you've seen before," Cameron said to IGN.
"Very different" would seem to imply that this Terminator isn't just another T-800 that rolled off the future production line. Could this Terminator perhaps make use of the T-1000's "liquid metal" technology as an added wrinkle? It would certainly be helpful for a 71-year-old Schwarzenegger's stunts if the filmmakers could cut to a CGI, liquid metal body whenever they wanted to do so.
Adding more mystery to the equation is the fact that Agents of SHIELD's Gabriel Luna has also been announced to play an entirely different, new Terminator of some kind. Aside from some set photos where his Terminator appears to be … playing a guitar? … we know next to nothing about how he factors into the film.
Whose Movie Is This, Really?
Although any film in the Terminator franchise will be suffused with Cameron's grim outlook on humanity's future, especially one that actually has Cameron on as an executive producer, the film legend is quick to point out that Dark Fate will undeniably be Miller's movie.
"Tim's a very willful and opinionated director, and he's got his own ideas for the film," Cameron said to Yahoo. "I'm kind of like the Pips—he's Gladys."
---
And that's everything we know about Terminator: Dark Fate so far. The film is currently scheduled to hit theaters on Nov. 1, 2019. Check back here for updates as more information about the future of the Terminator franchise continues to hit the web.