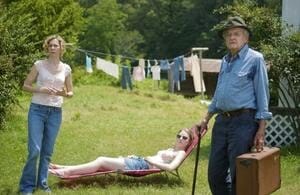 Release Date: In Theaters Now
Director: Scott Teems
Writers: Teems, (short story by William Gay)
Cinematographer: Rodney Taylor
Starring: Hal Holbrook, Raymond McKinnon, Carrie Preston, Mia Wasikowska, Walton Goggins, Barry Corbin
Studio/Run Time: Freestyle Releasing, 110 mins.
Holbrook's crowning moment comes in truly Southern film
Scott Teems' That Evening Sun is an exquisitely crafted adaptation of a William Gay short story that's fundamentally rooted in the real-world South, a subtle little wonder in which every single element works. Music from Michael Penn and Drive-By Trucker Patterson Hood sets the portentous mood; character actors Raymond McKinnon, Walton Goggins and Barry Corbin play their supporting roles to perfection, and up-and-comer Mia Wasikowska is excellent. But the real surprise is 84-year-old Hal Holbrook, who gives the best performance of his 55-year career.
He's in nearly every scene as Abner Meecham, an octogenarian who literally walks away from a three-month stint in a nursing home only to find his farm rented out to his arch enemy, Lonzo Choat. As he engages Choat in an escalating grudge match to regain his land, Abner is every bit as gruff and craggy as Clint Eastwood in Gran Torino, but Holbrook's silent pauses speak as much as his words.
In a story that begs for stock villains, none appear. McKinnon's Lonzo is a surly, menacing drunk, and could easily have become a familiar caricature: the low-class redneck antagonist. But he rages so hard against perceptions—both others' and his own—of himself as a failure that he becomes a figure of real pathos. Actress Carrie Preston imbues his wife, Ludie, with such an earnestness and fundamental decency that it's hard not to see Lonzo through her eyes, as just another lost soul trying to find his way. Similarly, Abner's son Paul (Goggins), could easily have been painted as the stereotypical big-city lawyer and uncaring child, but there's complexity even in his short time on-screen.
This jewel from Teems should land Holbrook another Oscar nomination after his supporting role for Into the Wild in 2007. And with any justice, the trophies for this film won't end there.