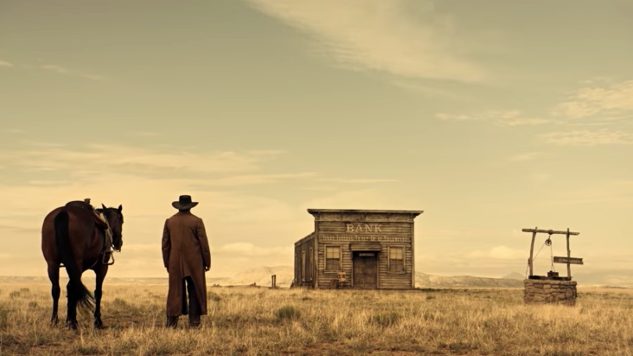 Joel and Ethan Coen head back to the open frontiers of the Old West in the first trailer for The Ballad of Buster Scruggs, the six-part anthology series-turned-film that marks the No Country for Old Men and True Grit directors' first project with Netflix.
Tim Blake Nelson plays the titular Buster Scruggs, although he's far from the central figure of the trailer. Instead, we get glimpses of six distinct stories, each with their own takes on the American frontier, tied together only through thematic connections and the Coens' signature arch humor. The film's massive ensemble includes Nelson in addition to Tyne Daly, James Franco, Brendan Gleeson, Bill Heck, Grainger Hines, Zoe Kazan, Harry Melling, Liam Neeson, Jonjo O'Neill, Chelcie Ross, Saul Rubinek, Tom Waits, Clancy Brown, Jefferson Mays, Stephen Root and Willie Watson.
So far, The Ballad of Buster Scruggs seems like a strong first foray for the Coens into Netflix originals. The film picked up Best Screenplay at the Venice Film Festival this past weekend, which should at least reassure some fans concerned with how well the film will translate from its initially planned anthology series format. This is also the Coens' first project to be shot digitally, and so some of the digital cinematography feels a bit off from what we've come to expect from them, especially in a tradition-bound genre like the Western, but the brothers don't seem to have lost their sharp sense of character and setting. If it's anything like their reverent but still idiosyncratic take on the original John Wayne True Grit, we should be welcome to have the Coens back in this terrain.
The Ballad of Buster Scruggs premieres on Netflix and in select theaters Nov. 16. Watch the trailer below.