The Byrd Who Flew Alone: The Triumphs and Tragedy of Gene Clark
Photo by Torbjörn Calvero. All Rights Reserved - Used with Permission Only
Movies
Reviews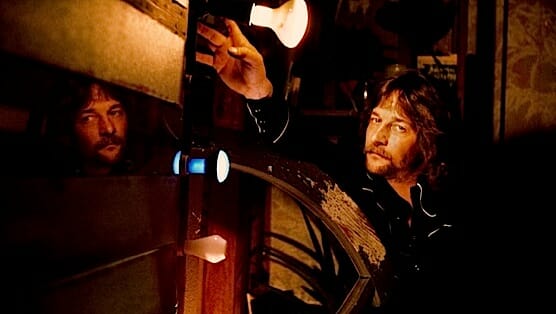 Mention Gene Clark as one of your favorite musicians and almost invariably the response will be a raised eyebrow followed by the words "Gene who?" Namechecking alone won't cut it. Mentioning that he was a founding member of the Byrds might trigger a vague memory, but many still won't be able to actually place him, or any of his songs. And yet David Crosby's post-Byrds mega-fame with CSN, and Roger McGuinn's iconic 12-string Rickenbacker & granny glasses (vis-a-vis Dylan's "Mr. Tambourine Man" in particular) have pretty much guaranteed their admittedly rightful places in our collective cultural memory. Meanwhile, Gene Clark, a uniquely gifted songwriter who played a pivotal role in the rise of folk rock, psychedelia and country rock, but who could never seem to catch a break, has seemingly disappeared into the past.
How did this happen? Well, that's a long, sad story in itself. For Gene Clark's small but fiercely loyal cult of fans, carrying his torch through the decades has largely amounted to a silent crusade. But thanks to a long overdue critical reevaluation, reinforcements are on the way. Robert Plant and Alison Krauss' 2007 collection Raising Sand won a Grammy for Album of the Year, with two Clark compositions—"Through the Morning, Through the Night" and "Polly," a devastating, heart-rending pair of songs—anchoring the proceedings. Earlier this year, a tour was launched by an ad hoc group of indie stars from bands Beach House, Grizzly Bear, the Walkmen and Fleet Foxes—plus British folk legend and early Clark advocate Iain Matthews—performing the lost masterpiece No Other in its entirety to sold-out crowds on America's East Coast.
But the best entry point for new fans to discover a treasure trove of some of the best music nobody's ever heard is a new documentary, The Byrd Who Flew Alone: The Triumphs and Tragedy of Gene Clark.
Gene Clark's life is a tale of brief early stardom, followed by a painfully slow, inexorable fall. The ill-fated Missouri-born country boy hit the peak of his fame at age 20, contributing to the band's one-two punch releases from 1965, Mr. Tambourine Man and Turn! Turn! Turn! Clark's abrupt departure from the band in early 1966, however—precipitated by anxieties within and pressures without—saw him spend the remaining 26 years of his life toiling in relative obscurity, haunted by the shadow of that early success. He would go on to record great, even brilliant, records, but commercial success eluded him, and he fell headlong into a decades-long downward spiral of substance abuse that reached its grim conclusion on May 24, 1991.
For documentary creator Paul Kendall, a former music journalist (who himself interviewed Clark in 1977), this documentary has been a labor of love, albeit one with its share of obstacles. Practically speaking, Kendall, working alongside sons Dan and Jack, had to somehow work around the unfortunate—and astonishing—fact that there is no known extant footage of Gene Clark from the immediate post-Byrds period (i.e. 1966) up until his brief tenure with the quasi-Byrds reboot, McGuinn, Clark & Hillman, in 1979. This is a significant chunk of time to cover without aid of any visuals of the principal subject, apart from stills. To compound matters, this was arguably Gene Clark's most productive period as an artist. This means that much would depend on the quality of the interviews conducted especially for the documentary. And so while each interviewee provides vital information about the enigmatic ex-Byrd, it becomes distractingly apparent that the Kendalls were grappling with budgetary constraints—the most telling manifestations of which resulted in shaky camera work and some sloppy editing.
Because the Kendalls chose a subject whose post-Byrds video legacy is only slightly more substantial than someone like Nick Drake, we're lucky that so many key individuals were available to speak about Gene, including the surviving original ex-Byrds, ex-wife Carlie, sister Bonnie, brother David, sons Kelly and Kai, Carla Olson—even David Jackson from Dillard and Clark. (A sad footnote: several of the interviewees have since passed away, including Carlie Clark and producer Larry Marks).
Of the surviving original Byrds, David Crosby, rock's ever-ebullient enfant terrible, provides the most interesting commentary, but to be perfectly frank, he appears tired and slow in the film. More judicious editing might have helped move things along. Roger McGuinn, still looking remarkably chipper and alert, was predictably aloof; while Chris Hillman seemed genuinely eager to speak about Clark's talent.
Elsewhere, Byrds biographer Johnny Rogan speaks to Gene's songwriting. His comments are eloquent and astute, and go well beyond the usual "Hillbilly Shakespeare" explanations of Gene's unusual gifts. One wishes there had been greater allowance for discussion of the music, but lacking the accompanying visuals would have doubtless proved difficult. A late-period video of Gene singing "Silver Raven" (from his 1974 masterpiece No Other) was a genuine heart-stopping surprise. In those few moments the film—on the wings of that tiny bit of footage —positively soared. But it also underscored the fact that more of Gene would have accomplished so much more than any number of talking heads. But, to be fair to the Kendalls, you can't slag the doc for not including what does not exist.
In the end, one must give kudos to Paul Kendall for not only undertaking this challenge in the first place, but for bringing it to fruition with such bravery, passion and grace. The Byrd Who Flew Alone is not only an extraordinary accomplishment, it is a soulful testament to Gene Clark's enduring brilliance.
(The Byrd Who Flew Alone will receive limited screenings in September, including one in Mendocino, Calif., Clark's beloved home in the 1970s, at which he wrote some of his most passionate work. Documentary creator Paul Kendall will be in attendance for the Medocino and Pasadena screenings.)
Directors: Jack & Paul Kendall
Screenings: Sept. 4, 2014 (Nevada City Film Festival, Nevada City, Calif.); Sept. 13, 2014 (Hill House, Mendocino, Calif.); Sept. 18, 2014 (South Pasadena Public Library, Pasadena, Calif.)