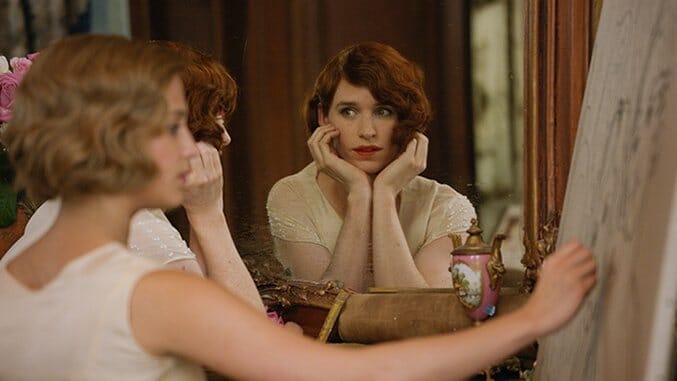 Tom Hooper is Hollywood's current king of oh-so-respectable prestige pictures, those films that have just enough gloss, depth and beautiful imagery to hoodwink viewers into thinking they're experiencing something more substantial than they really are. That reputation won't flag with The Danish Girl, yet another effort (after The King's Speech and Les Misérables) that has the burnished look and weighty feel of a mid-'90s Miramax effort (though it's actually a Focus Features release). If that weren't enough to make it feel like something that's already been seen before, there's also the fact that it's the second period piece in a year (after last fall's The Theory of Everything) to star Eddie Redmayne as a man whose physical/body-related issues put enormous strains on his marriage, to the point of compelling his spouse to seek solace—and happiness—in the arms of a well-known acquaintance.
Based on David Ebershoff's 2000 novel of the same name, Hooper's latest concerns the real-life ordeal of landscape artist Einar Wegener (Redmayne), who in 1920s Copenhagen finds his universe irrevocably upended when his portrait-painter wife Gerda (Ex Machina's Alicia Vikander) asks him to stand in for one of her female subjects. A gentle, soft-spoken man who, it's later revealed, was the one asked out by (and first kissed by) Gerda—a subtle nod to his embrace of a more traditionally "feminine" role—Einar gets an immediate rush from the feel of women's stockings on his legs, and of the hem of a dress on his fingertips. It's a small, seemingly off-hand incident treated for laughs by Gerda and her friend Oola (Amber Heard), but it's anything but trivial to Einar, who's soon wearing negligees beneath his suits, and embracing a female persona he dubs "Lilly."
Hooper shoots these early awakening-fixated sequences with his usual batch of extreme close-ups and off-putting iris shots, placing his mannerly action within dull European flats that visually recall his settings for The King's Speech. He treats his tale with such delicacy that it rarely thrums with authentic, messy emotion—a shame given that Einar's search for identity is fundamentally messy. At first, Einar's desire to dress as a woman strikes Gerda as merely a mild perversion, and she encourages it by accompanying him on a search for wigs, dresses and shoes, and then having him attend Oola's ball as Lilly. What she doesn't foresee, however, is that Einar isn't just playing a "game," but in fact feels most comfortable—most like himself—when he's Lilly, a revelation that Gerda only begins to genuinely comprehend when, at the ball, she finds Lilly, in private, kissing a man named Henrik (Ben Whishaw).
In scenes that find Einar mimicking a woman's gait or hand-gestures, and in countless shots of Einar studying his face, comportment and body in the mirror, The Danish Girl conveys Einar's internal processes. While those moments are thoughtfully dramatized, there's so little ambiguity about Hooper's depiction of, or attitude toward, Einar's discovery of self—which various doctors want to label as a symptom of schizophrenia or deviance, thus requiring institutionalization—that the film merely coasts along on a placid wavelength of earnest sympathy. As Einar gives way to Lilly, eventually opting to undergo the world's first-ever sexual reassignment surgery (courtesy of Sebastian Koch's daring doctor), the film's story also becomes increasingly focused on Gerda's painful estrangement from Einar and her budding feelings for Einar's childhood friend Hans (Matthias Schoenaerts)—a thread that, like the rest of the proceedings, plays out with tact and compassion but almost no vivacity or complexity.
As a couple caught between two worlds, and forced to co-exist in a space that's incompatible with traditional marriage and frowned-upon by mainstream society, Redmayne and Vikander are equally compelling, treating their characters' arduous attempts to transform themselves—and, also, to reconfigure their ideas about each other, and the future—with graceful precision. In the less overtly showy role, Vikander in particular proves magnetic, beautifully expressing Gerda's difficult task of losing her husband and altering her entire worldview, all while remaining true to a person that she did, and still does, love. Unfortunately, The Danish Girl doesn't give her enough unexpected or pointed material with which to work, the result being that she comes across like the film itself: a pretty, kindhearted, awards-baiting facsimile of a tumultuous real life.
Director: Tom Hooper
Writer: Lucinda Coxon (screenplay); David Ebershoff (novel)
Starring: Eddie Redmayne, Alicia Vikander, Amber Heard, Ben Whishaw, Matthias Schoenaerts
Release Date: November 27, 2015