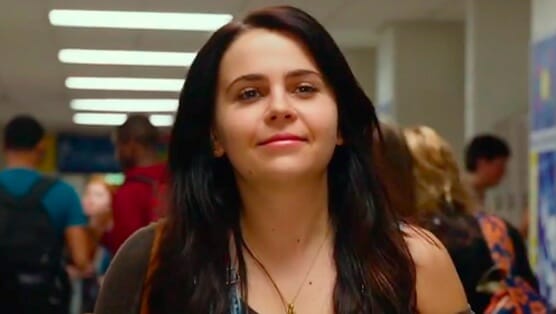 The DUFF opens with a John Hughes reference. Protagonist and resident DUFF Bianca Piper (Mae Whitman) explains that times have changed since The Breakfast Club—now the jocks take antidepressants and the brains rule the world. Her observation immediately clues the audience in to the fact that Bianca is a student of Hughes; she correlates his stories to those she observes on a daily basis. Like Emma Stone's Olive Penderghast in Easy A (a film to which The DUFF owes some major credit), Bianca is a movie character aware of movie characters. The interesting thing is that John Hughes would be proud to call Olive and Bianca his students. They're funny, fully realized, self-aware women who hold their respective movies on their shoulders. While The DUFF isn't nearly as smart as Easy A, it is still pretty damn charming. And at the center of the film's charm is Mae Whitman.
Bianca is best friends with Casey and Jess (Bianca Santos and Skyler Samuels), two girls who everyone agrees are much hotter and less approachable than Bianca. When Bianca's neighbor, mega-jock Wesley Rush (Robbie Amell), informs her that she is the DUFF—the Designated Ugly Fat Friend—of her trio of friends, Bianca is devastated. Wesley explains that the DUFF needn't be ugly or fat; rather, a good DUFF serves as a gateway to his or her hotter friends—the person to go to for information on said hotties. Bianca then decides to unfriend Casey and Jess, turning to Wesley for advice on how to be more alluring to men and less of a DUFF. In exchange, she will help him pass chemistry, as his football scholarship hangs in the balance. As you can probably imagine, Wesley and Bianca initially hate one another, but soon something deeper begins to blossom, much to the chagrin of Wesley's ex, Madison (Bella Thorne), who happens to be the most popular girl in school. Yes, the plot of The DUFF is relatively familiar and predictable.
Even though The DUFF offers up teen comedy plot points in abundance (Makeover montage! Nice guy who turns out to be horrible! Evil popular girl who gets what is coming to her!), it still wins as a teen comedy because it really cares about its lead characters. Mae Whitman is primarily to thank—her performance makes Bianca feel like someone we all know, because that someone is us. Bianca endures some blowing crushes to her self-esteem throughout the course of the movie, which makes her triumphant realization that everyone is a DUFF all the more rewarding in the end. We have all been the Bianca at some point in our lives. Whitman embodies these feelings in her nuanced performance, showcasing both raw comedic talent and a natural confidence that is exhilarating to watch—she's funny and sassy and vulnerable and strong all at once. A key supporting player in movies like Scott Pilgrim vs. the World and television shows like Parenthood, Whitman proves here that she is a versatile young actress with the balls and the acting chops to anchor a major motion picture. Pairing her with Amell, who plays Wesley with a devious smile and his heart in the right place, works; their natural chemistry makes their characters' transformations seem honest.
Based on the novel by Kody Keplinger (which she wrote while she was still in high school) and with a screenplay by Josh A. Cagan (who penned the criminally underrated Bandslam), The DUFF has a lot to say about beauty ideals and how we perceive our self-worth. While the film sometimes veers into preachy territory, the strong central core of Bianca and Wesley's relationship is enough to elevate it to a recommendation. Another highlight: Allison Janney as Bianca's recently single mom. Though Janney doesn't have much screen time, she milks her scenes for everything they are worth, delivering one-liners with her usual panache. The DUFF is better than most teen comedies you'll encounter. It's not quite the next Mean Girls or Easy A but, like its central heroine, The DUFF doesn't care that it falls in the shadow of better films. This movie loves itself in spite of the flaws, which makes it refreshing and important. You'll leave the theater with a smile on your face and a newfound acceptance of your own resounding DUFF qualities.
Director: Ari Sandel
Writer: Josh A. Cagan
Starring: Mae Whitman, Robbie Amell, Allison Janney, Bella Thorne, Bianca Santos, Skyler Samuels, Ken Jeong, Romany Malco
Release Date: Feb. 20, 2015
---
Andy Herren is an adjunct professor and occasional reality show winner. When he's not lying to people on national television, he contributes to Paste. You can follow him on Twitter. Olive Penderghast is his soulmate.