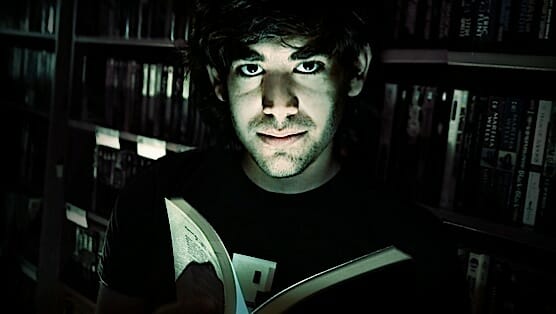 Aaron Swartz, a prolific computer programmer and information rights activist, once developed a website that would provide answers to just about any question, free for anyone to augment and access. It was Wikipedia before there was a Wikipedia. Swartz was a pre-teen prodigy at the time; by age 26, he was dead.
The Internet's Own Boy is Brian Knappenberger's (We are Legion: The Story of the Hacktivists) account of Swartz's immensely abbreviated life as one of the most vital and controversial contributors to the progress of the Internet and, more notably, the availability of its contents. A distinctively human tale in a world of software development, Own Boy succeeds on many levels: it's a compact, descriptive history of a nascent Internet, a frightening case study in the power of government, and a collection of interviews with the most prominent voices of the Web Age. But most important—and most effective to the storytelling—The Internet's Own Boy is about a brilliant youngster who was becoming a brilliant man before he took his own life.
Knappenberger smartly begins his film with the people who know Swartz best and miss him most, his family. We get home video of a kindergarten-aged Swartz with his brother or parents, happily exhibiting the thirst for education that would make him one of the most respected computer minds in the country.
Witnessing a person's happier, simpler childhood days carries its own built-in melancholy. But hearing Swartz's family talk about him is simply heartbreaking. Knappenberger knows the delicate emotions that are at play and, like he does reviewing Swartz's achievements, he never pushes too far.
And Aaron Swartz's achievements were many. With an advanced programming mind and an almost insatiable hunger to make waves in the computer world, Swartz played a huge role in creating the RSS feed, Reddit and the backbone for the flexible licensing platform Creative Commons, an effort at age 16 that may very well have set his life's course. Preaching the value of free, shared information at various presentations—often too short to reach the microphone—Swartz was a whiz kid who didn't believe that certain entities owned the nation's data. If he could grab it, well, then it was up for grabs for all.
Knappenberger traces Swartz's growth and burgeoning activism with the eye of an investigative reporter, assembling some of the most interesting talking heads in the industry, including Tim Berners-Lee (yeah, he invented the World Wide Web) and soft-spoken Creative Commons founder Lawrence Lessig. Brilliant minds themselves, they all recognized Swartz's smarts and courage, and express it on screen wonderfully. And while they link Swartz's life to his outspoken quests and ultimate arrest, Aaron's brother makes the connection to Aaron's familial roots and personality.
Two of Knappenberger's subjects try to do the same with far less success, former girlfriends of Aaron's who convey a kind of emotional ownership of the young man that can't help but feel self-involved and, frankly, a bit overdramatic compared to the film's other contributors. As the title says, and the movie successfully upholds, perhaps this guy belonged to everyone of this era. With net neutrality seemingly up for grabs, maybe we could use him more than ever.
For a guy of such timely importance, you'd think Swartz would have his name pronounced properly by the film's narrator (he says "Schwartz" with alarming, annoying regularity). But the huge majority of The Internet's Own Boy is well-crafted and respectful, and promises to have a life far beyond today; as information access may change (or be threatened) in the decades to come, more important than what Aaron Swartz did as an activist may be the lens with which we view his actions in the future.
Director: Brian Knappenberger
Writer: Brian Knappenberger
Starring: Tim Berners-Lee, Cory Doctorow, Peter Eckersley, Lawrence Lessig, Sen. Ron Wyden, Elliot Peters
Release Date: June 27, 2014