Todd Phillips-Directed, Martin Scorsese-Produced Joker Origin Film to Reportedly Portray Villain as Failed '80s Comedian
Photos by Matthias Nareyek/Getty, Michael Loccisano/Getty
Movies
News
The Joker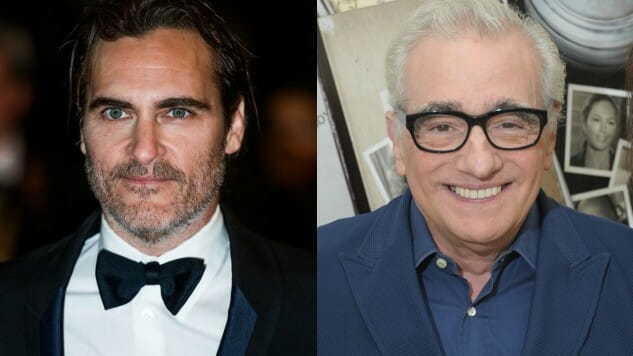 According to a report from TheWrap, the Martin Scorsese-produced and Todd Phillips-directed untitled Joker origin film will depict Batman's nemesis as a failed 1980s comedian. The idea of this insane, clown-styled crime lord coming from a failed comedy career is not new. In 1988 graphic novel The Killing Joke, writer Alan Moore depicted the Joker as a "struggling stand-up who snaps after 'one bad day' and turns to crime to feed his family." After many terrible events unfold thereafter, the Joker becomes a sadistic and evil villain obsessed with destroying Batman.
The Joker has had a number of origin stories since his comic debut in 1940. Warner Bros., though, insists that this iteration will in no way affect the current DC Extended Universe, which includes Oscar winner Jared Leto's Joker appearing in Suicide Squad and a forthcoming standalone Joker and Harley Quinn feature. Instead, this project is going to be a part of a yet-to-be-announced new banner of Warner Bros.' DC Films, with no connection to Wonder Woman, Justice League and so forth.
Scorsese previously directed a 1982 film titled The King of Comedy, starring Robert De Niro as a deluded comedian who couldn't catch a break, so the new Joker film's Scorsese connection makes far more sense with that in mind, despite the director's aversion to superhero stories. Interestingly enough, this new Joker project will also include nods to that film, sources told TheWrap. It was reported earlier last month that Oscar nominee Joaquin Phoenix was in talks to play the Clown Prince of Crime, and insiders now say that the deal is close to being official.
Phoenix is a great choice, despite the studio first wanting Oscar winner Leonardo DiCaprio because of his close relationship with Scorsese. Phoenix has a knack for playing the mentally unraveling. His role in Paul Thomas Anderson's The Master finds him disturbed and lost after World War II, coaxed into following a charismatic cult leader (played by the late Philip Seymour Hoffman) who all too closely resembles L. Ron Hubbard.
Phillips, best known for his Hangover trilogy for Warner Bros., recently directed the Jonah Hill/Miles Teller starrer War Dogs. The director received an Oscar nomination for writing Borat in 2007 and is currently working with The Fighter's Scott Silver rewriting the Joker film's script.
Phillips' next project in the forthcoming A Star Is Born remake starring Lady Gaga and Bradley Cooper, which is set for an October release date. Phoenix can be seen in the Cannes Film Festival hit You Were Never Really Here, out April 6, Gus Van Sant's Don't Worry, He Won't Get Far On Foot opposite Jonah Hill and Rooney Mara, out July 18, and Annapurna Pictures' The Sisters Brothers opposite John C. Reilly, based on the award-winning novel of the same name. Scorsese's long-anticipated The Irishman has finally completed production and will be the next project released by the legendary director.
Producers aim to begin production on the Joker film in mid- to late-2018.