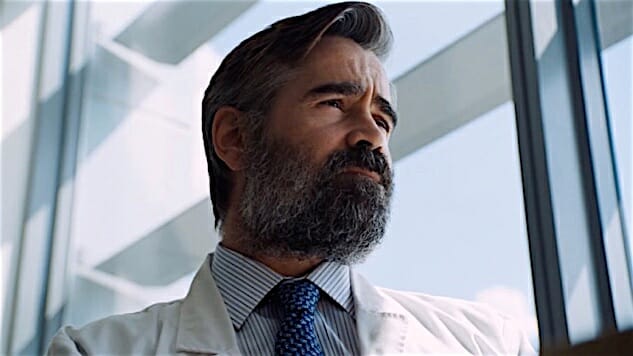 The pristine chilliness of winter has waxed into its full-blown, ice-cold apex, which means there's no better time to cuddle up with a cadre of Yorgos Lanthimos creations.
This time it's The Killing of a Sacred Deer, in which the writer-director once again pairs off with The Lobster's Colin Farrell to imagine a not-quite-right bit of modernity steeped in mythological scope and fabulist morals. Care of Lionsgate:
Dr. Steven Murphy (Farrell) is a renowned cardiovascular surgeon presiding over a spotless household with his ophthalmologist wife, Anna (Nicole Kidman), and their two exemplary children, 12-year-old Bob (Sunny Suljic) and 14-year-old Kim (Raffey Cassidy). Lurking at the margins of Steven's idyllic suburban existence is Martin (Barry Keoghan), a fatherless teen he has covertly taken under his wing. As Martin begins insinuating himself into the family's life in ever-more unsettling displays, the full scope of his intent becomes menacingly clear when he confronts Steven with a long-forgotten transgression that will shatter the Murphy family's domestic bliss.
Not that one needs many reasons to check out a new Lanthimos joint, but it did rank as #21 on our list of the best movies of 2017, and we named supporting actor Barry Keoghan's upsetting turn as Martin one of the best performances of the year.
So, to celebrate yet another modern classic-in-the-making from the Greek auteur, we've both premiered an exclusive clip and we want to give three (3!) readers a blu-ray copy of The Killing of a Sacred Deer! Each disc includes a special behind-the-scenes featurette, "An Impossible Conundrum."
Winning, unlike choosing which innocent soul to sacrifice, is easy. All you have to do is:
1. Follow @pastemovies on Twitter if you haven't already;
2. Tweet @pastemovies and tell us what animal you would turn into if given the choice (re: The Lobster);
3. Include the hashtag #SacredDeer.
And in the spirit of breaking the ineffable curse somehow placed on you by a creepy teen as quickly as possible before too many things get out of hand, we'll pick a winner very soon!
Note: Winner must be a U.S. resident.