The Last Jedi Backlash Against Rian Johnson May Have Been Amplified by Russian Bots, Study Finds
Photo by Charley Gallay/Getty
Movies
News
The Last Jedi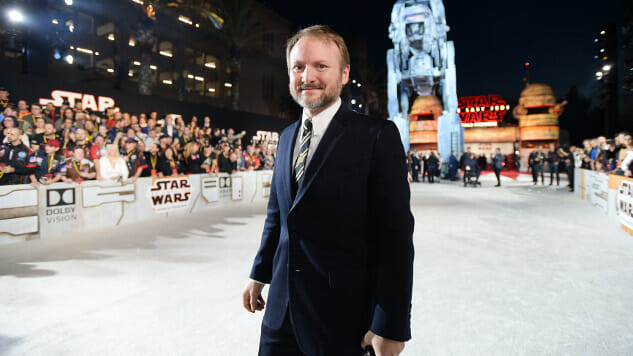 On today's installment of 'the simulation is collapsing,' a new study suggests that Russian trolls may have amplified the online backlash against director Rian Johnson's Star Wars: The Last Jedi.
A new paper by researcher Morten Bay, titled Weaponizing The Haters: The Last Jedi and the strategic politicization of pop culture through social media manipulation, examines divided online fan reactions to the controversial 2017 film, and it seems that some old friends may have stepped in to tip the scales.
In his research, Bay found (via THR) "evidence of deliberate, organized political influence measures disguised as fan arguments." He continues, "The likely objective of these measures is increasing media coverage of the fandom conflict, thereby adding to and further propagating a narrative of widespread discord and dysfunction in American society. Persuading voters of this narrative remains a strategic goal for the U.S. alt-right movement, as well as the Russian Federation."
Bay identifies three camps of negative online reactions to The Last Jedi—those with a political agenda, trolls, and a group of what Bay calls "real fantagonists," who were genuinely disappointed by the Star Wars installment—which he analyzed based on tweets sent to Johnson. Of these, "overall, 50.9 percent of those tweeting negatively [about the movie] was likely politically motivated or not even human," and he also noted that only 21.9 percent of the tweets he had analyzed were negative in the first place.
Johnson also shared parts of Morten's work on Twitter, saying that his findings are "consistent with my experience online," and adding that this isn't meant to discount fans who had issues with his Star Wars installment, but is "specifically about a virulent strain of online harassment."
A bit of Morten's research came out awhile ago and made some headlines – here's his full paper. Looking forward to reading it, but what the top-line describes is consistent with my experience online. https://t.co/MTRgmPxGgZ

— Rian Johnson (@rianjohnson) October 1, 2018
And just to be totally clear: this is not about fans liking or not liking the movie – I've had tons of great talks with great fans online and off who liked and disliked stuff, that's what fandom is all about. This is specifically about a virulent strain of online harassment.

— Rian Johnson (@rianjohnson) October 2, 2018
Admittedly, Morten may have slightly overstated the findings of his paper on social media. As fellow media studies researcher and Cinephiliacs podcast host Peter Labuza mentions on Twitter, the paper only covers a sample size of 1,273 tweets, of which only 16 come from suspected Russian bot accounts.
So the big claim of this shocking article is that of 1273 tweets (which seems like a very small sample size imho!) 16 tweets (1.25%) might (but unsubstantiantedly) come from Russian bots. Please take your fainting couch elsewhere. pic.twitter.com/8ALlBleq7p

— Peter LaBOO!za (@labuzamovies) October 2, 2018
Either way, this goes a long way to help explain why the most outspoken critics of The Last Jedi have felt, for lack of a better word, so troll-y. The plans to make a crowdfunded "fan remake" of the film, for instance, are so obviously preposterous that they cannot possibly have been conceived by someone in their right mind. It is 2018, though, so maybe things actually are just this wild.