The Trailer for The Lego Movie 2: The Second Part Parodies All of Chris Pratt's Most Famous Roles
Image via Warner Bros/YouTube
Movies
News
The Lego Movie 2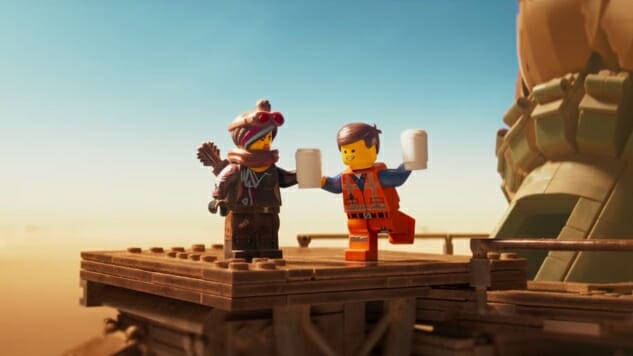 Master Builder Emmet Brickowski (Chris Pratt) is back, but everything is not awesome in the trailer for The Lego Movie 2: The Second Part.
The animated movie is the sequel to 2014's The Lego Movie, based on the popular children's toy, which spawned spinoffs The Lego Batman Movie and The Lego Ninjago Movie.
When Lucy, aka "Wyldstyle" (Elizabeth Banks), gets abducted by LEGO DUPLO alien invaders, Emmet sets out on an extensive search of the galaxy, holding onto his unfailing optimism along the way.
Emmet has two new buddies to join him as he journeys through outer space: Planty (a potted plant, a la Guardians of the Galaxy's Groot) accompanies him through blastoff, and when he strays into a meteor shower, Emmet is saved by new character Rex Dangervest, also voiced by Pratt.
"The name's Rex Dangervest!" Rex proclaims. "Galaxy-defending archaeologist, cowboy, and raptor trainer!" (Pratt has played all those character tropes in Guardians of the Galaxy, The Magnificent Seven and Jurassic World, respectively.)
Rex agrees to help Emmet save Lucy, but warns him about the Sis-Star System, a land ruled by shapeshifting Queen Watevra Wa-Nabi (Tiffany Haddish).
"Only the toughest are going to get out of there alive," announces Rex. Meanwhile, Emmet is off petting a metal dog. ("Who's a good boy? Who's a good boy? Yes, you are!")
Other characters include Will Arnett as Batman, Channing Tatum as Superman, Jonah Hill as Green Lantern, Margot Robbie as Harley Quinn, Alison Brie as Unikitty, Nick Offerman as Metal Beard, Stephanie Beatriz as Sweet Mayhem and Arturo Castro as Ice Cream Cone.
Phil Lord and Christopher Miller produced and co-wrote the film, alongside BoJack Horseman creator Raphael Bob-Waksberg and director Mike Mitchell.
Warner Bros. dropped the new trailer ahead of its online "Brick Friday" event on Friday, during which The LEGO Movie will be made available on YouTube for 24 hours.
The Lego Movie 2: The Second Part opens on Feb. 8, 2019. Watch the trailer below.