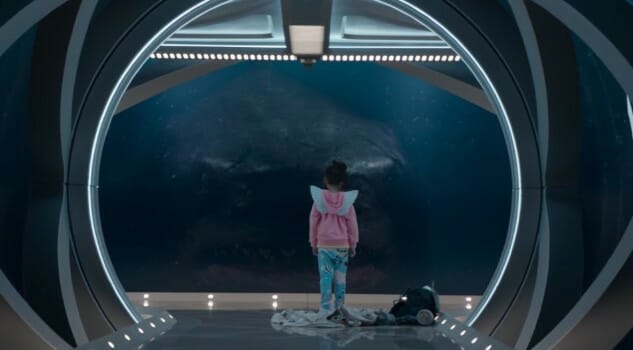 We can only imagine that lawyers for The Asylum are assembling right about now, because we've been given a first trailer for The Meg, and well … it's certainly something.
The Meg, scheduled for an August release in the U.S., is a giant shark movie that pits action star Jason Statham against a creature previously thought extinct—the largest shark species to ever exist in the fossil record, Carcharodon Megalodon. Billed at 70 feet in the film, that's only a slight exaggeration, as the ancient super predators are estimated to have reached nearly 60 feet in length, preying on prehistoric whales as a primary food source. The public fascination with Megalodon has been repeatedly exploited, even by the likes of The Discovery Channel, which aired a despicable fake documentary titled Megalodon: The Monster Shark Lives back in 2013.
Meanwhile, The Meg is adapted from a 1997 novel by Steve Alten, and contains the following hilarious premise, which sees Statham racing to save his family at the bottom of the ocean:
Five years ago, expert sea diver and Naval Captain Jonas Taylor encountered an unknown danger in the unexplored recesses of the Mariana Trench that forced him to abort his mission and abandon half his crew. Though the tragic incident earned him a dishonorable discharge, what ultimately cost him his career, his marriage and any semblance of honor was his unsupported and incredulous claims of what caused it – an attack on his vessel by a mammoth, 70-foot sea creature, believed to be extinct for more than a million years. But when a submersible lies sunk and disabled at the bottom of the ocean – carrying his ex-wife among the team onboard – he is the one who gets the call. Whether a shot at redemption or a suicide mission, Jonas must confront his fears and risk his own life and the lives of everyone trapped below on a single question: Could the Carcharodon Megalodon – the largest marine predator that ever existed – still be alive … and on the hunt?
Now behold the trailer:
The Meg is directed by veteran director Jon Turtletaub, perhaps something of an odd choice, considering that he's primarily known for the likes of National Treasure and '90s family movies like 3 Ninjas and Cool Runnings. But with a movie rocking a giant shark premise, I suppose it doesn't really matter. As we suggested earlier, the most fascinating thing about The Meg is perhaps how closely it resembles a series of direct-to-video movies produced by B-movie experts (and Sharknado creators) The Asylum throughout the 2000s. Starting with Mega Shark Versus Giant Octopus in 2009, they subsequently released Mega Shark Versus Crocosaurus, Mega Shark Versus Mecha Shark and Mega Shark Versus Kolossus. The series isn't even done, either—Mega Shark Versus King Komodo is still slotted for 2019. How do these guys feel about a major studio like Warner Bros. messing with their precious Megalodon IP?
Regardless, it seems safe to say that The Meg is going to be one of the highlights of the summer, good or bad. It's not often that we get to see a direct-to-video movie in wide release, after all.