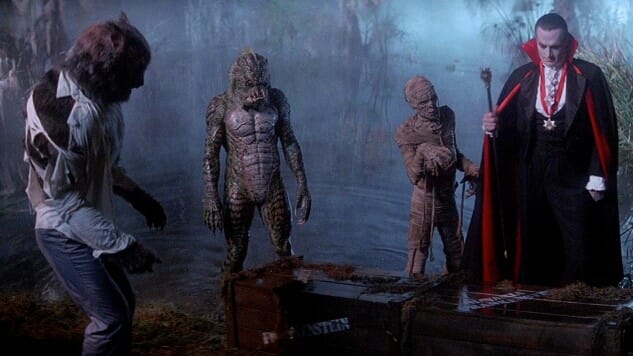 When 1987's The Monster Squad first hit theaters, people turned out in droves … to see The Lost Boys, which had been released a week earlier. Underappreciated in its day, The Monster Squad made only $3.8 million in its original theatrical run—a financial disaster by any measurement. The oddly toned "family horror comedy" seemed ready to be lost to the annals of history.
But then a funny thing happened: The Monster Squad slowly began to find "its people" in the years that followed, first on home video and then in the age of digital streaming, and its cult began to grow. Decades later, this weird little movie was suddenly being described as an '80s classic that any horror fan should be familiar with, despite the fact that almost no one saw it in theaters. And now, as what is perhaps the final piece in its critical reevaluation, The Monster Squad is getting is own loving documentary, Wolfman's Got Nards.
If you've never seen The Monster Squad, the easiest way to sum it up in a single sentence is simply to say "It's The Goonies, except with monsters instead of gangsters." The film has become beloved by fans of old-school horror for exactly that reason, as it revived all of the classic Universal monsters such as Dracula, Frankenstein's Monster, The Wolf Man, The Mummy and Gill Man with spiffy new costumes from legendary makeup master Stan Winston. Directed by Fred Dekker (who also directed one of our 50 best zombie movies, Night of the Creeps) and co-written by Shane Black, it has '80s chops to spare. A remake was even teased in the early 2010s, but fans reacted negatively to the idea that the film would be a full-on remake, rather than a sequel.
Wolfman's Got Nards is directed by the now 45-year-old Andre Gower, who played Sean Crenshaw, the de facto leader of the titular squad in the film. There's no release date noted just yet, but it seems like a safe bet that you'll probably be seeing the documentary around sometime near Halloween.