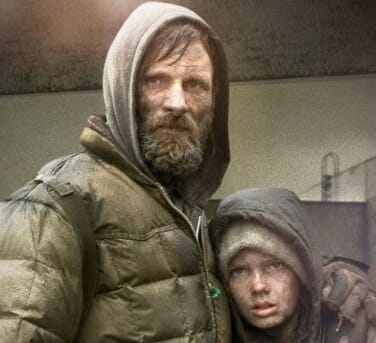 Director: John Hillcoat
Writers: Joe Penhall, (novel by Cormac McCarthy)
Cinematographer: Javier Aguirresarobe
Starring: Viggo Mortensen, Kodi Smit-McPhee, Charlize Theron
Studio/Run Time: Dimension Films, 113 mins.
Faithful adaptation paves way for heartrending performances
Within the first 15 minutes of The Road, Viggo Mortensen's nameless survivor finds himself defending his son (Kodi Smit-McPhee) from a pedophilic cannibal, then washing said predator's splattered brains from the boy's hair. This combination of unflinching brutality and father-of-the-year tenderness lies at the heart of the latest film inspired by Cormac McCarthy's apocaliterature, and the result is a victory in every sense.
Mortensen's performance humanizes the experience; when his voice desperately creeps through the narration, "All I know is the child is my warrant and if he is not the word of God, then God never spoke," the starved frontier stops being a science-fiction convention and expands into a portrait of enduring hope. But the real star—and omnipotent villain—is director John Hillcoat's geographic skeleton of a world, stranding its travelers in a horizon of bleached Appalachian ruins and physical entropy. Ultimately, the only thing more extreme than these desolate visuals is the father's desperate love, and both merge harmoniously to make this difficult journey worth the emotional toll.