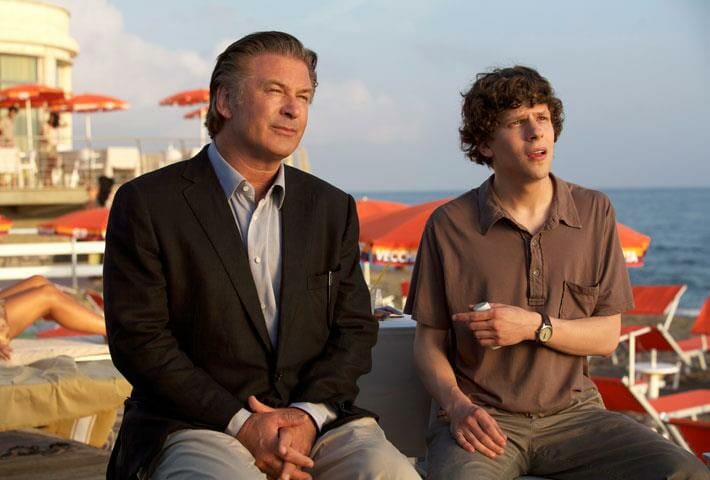 Woody Allen's latest is a giddy, glittering film drunk on the city of its title. To Rome with Love is a film of fountains and Vespas, of paparazzi and shower Pavarottis, young lovers and shrewd prostitutes. In his attempt to embrace Rome in one collection of stories, Allen gives us a richly textured film that is part love story, part comedy of errors, a little bit farce and a little bit tragedy.
We are initially presented with four stories: an American architect (Alec Baldwin) reliving his student days, a Roman everyman (Roberto Benigni) who finds himself inexplicably famous, provincial newlyweds (Alessandra Mastronardi and Alessandro Tiberi) come to impress city relatives, and a retired opera director (Allen) and his wife (Judy Davis) meeting their future in-laws. Though the stories never physically intertwine, they connect subtly in theme and tone.
Alec Baldwin's architect John meets a young architecture student Jack (Jesse Eisenberg) who serves, at the very least figuratively, as his younger self. John is soon in the thick of things with Jack, his girlfriend Sally (Greta Gerwig) and her best friend Monica (Ellen Page). As John warns the younger man away from the inevitable, this storyline becomes the most winning of the quartet.
Roberto Benigni's hapless Leopoldo is certainly the most charming and ebullient character of the film, and his disoriented ascent to fame and all its trappings is simultaneously farcical and bittersweet. The inevitable close of his adventure is Allen's most eloquent comment on celebrity in its simplicity since Zelig.
The young newlyweds, as with many young lovers in Allen's work, quickly find a wedge driven between them. Tiberi finds a particularly curvy wedge in a prostitute played with verve by Penelope Cruz, who finds herself crammed into a red dress and a situation straight out of Moliere.
Finally, we have Allen himself discovering an operatic genius in the undertaker father of his future son-in-law. A tenor with an angel's voice (played by real-life opera star Fabio Armiliato) who, perfect for a Woody Allen flight of fancy, can only sing while in the shower. Allen's character is determined to make the man a star, no matter how inventive he must become.
Of all Allen's recent international efforts, To Rome with Love is the lightest. It's not as ravishing and sun-drenched as Vicky Cristina Barcelona, nor is it as deep at Cassandra's Dream or Midnight in Paris, but it is singularly delightful. The film's only serious weakness is that some of the vignettes are so engaging that leaving them for slighter storylines is occasionally disappointing.
Bubbly, funny, surprisingly bittersweet, To Rome with Love is simply well crafted storytelling. All of Allen's preoccupations are represented—death, aging, failure, adultery, celebrity, betrayal. No new ground is broken here and yet, at the moment when Alec Baldwin's storyline transforms from knowing laughs to great sadness, we are reminded that no matter how many times the great stories are repeated, if they are well-told, they can still cut to the quick.
Director:Woody Allen
Writer: Woody Allen
Starring:Woody Allen, Alec Baldwin, Roberto Benigni, Penelope Cruz, Judy Davis, Jesse Eisenberg, Greta Gerwig, Ellen Page
Release Date:June 22, 2012