Tom Hardy and Tom Hardy rule the streets of of '60s London in Legend Trailer
Image via YouTube
Movies
Video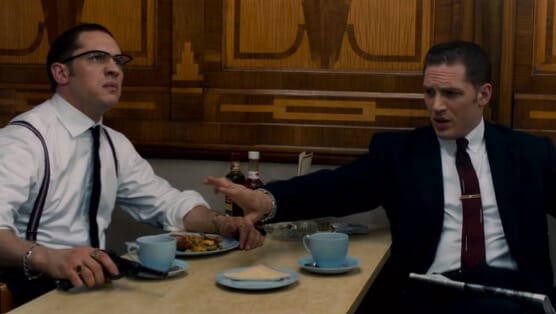 Tom Hardy is one of those few actors who has earned at least a bit of trust from audiences for picking interesting projects and roles. And this film promises to yet again give us another fresh performance from Hardy, as he plays identical twin brothers on the big screen.
Legend is based on a true story about the British gangster twins Ronald and Reginald Kray, who were leaders of organized crime in London in the '50s and '60s. The film will detail the rise and fall of the twins and will focus on Reginald as he tries to keep his psychotic brother Ronald under control.
Hardy became widely known after his role as Eames in the 2010 film Inception. Since then he's played Batman villain Bane in The Dark Knight Rises, the title character in the one-man film Locke and most recently in Mad Max: Fury Road, where he pulled off some incredible stunts.
Legend will be in US theaters Oct. 2.