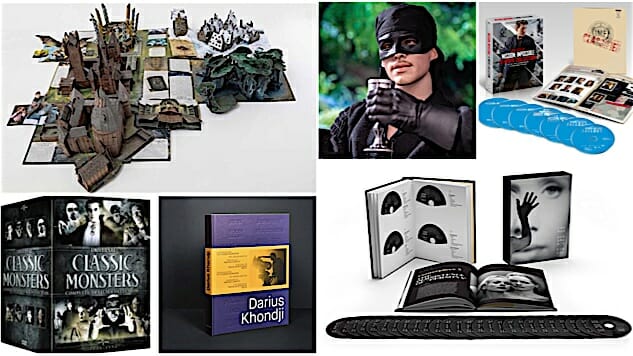 With Black Friday upon us, let's all take a moment to realize in a panic that we haven't given much thought to what to get for any number of friends, relatives and co-workers. Fortunately, if this present-worthy person loves movies, there is no shortage of options. We'll have an Extended Cut gift guide in the next few weeks, but before that, we've gathered 10 high-grade gifting options for you to show your love for others (or for yourself—no judgement). Here are our top 10 gifts for movie lovers for 2018:
1. Embrace the Bergman – Ingmar Bergman's Cinema ($299.95)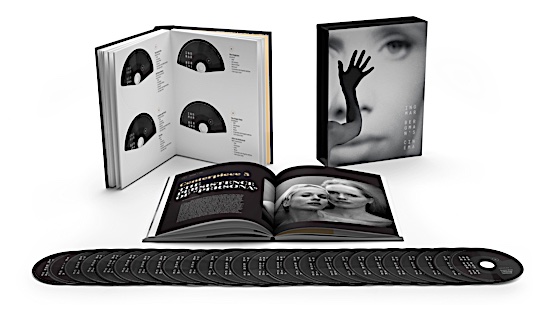 Along with Funko, Criterion Collection-related gifts are easily the most frequent inhabitants of our film-lover gift guides. That's hardly a surprise—Criterion has long been the prestige source for acquiring building blocks for a cinephile's home library of cinema. Still, along with their monthly releases of extras-laden gems (both lesser and well-known), Criterion also occasionally releases something that's several degrees more impressive than its usual fare. Last year, it was the mammoth 100 Years of Olympic Films: 1912-2012. This year, they make for Top 10 twice, once with their forthcoming streaming service and once with an offering that, no offense to the Olympics, may represent the Holy Grail of boxed set film collections—Ingmar Bergman's Cinema. In Criterion's own words, the collection is novelly "arranged as a film festival with opening and closing nights bookending double features and centerpieces" and "spans six decades and thirty-nine films—including such celebrated classics as The Seventh Seal, Persona, and Fanny and Alexander alongside previously unavailable works like Dreams, The Rite, and Brink of Life." Ingmar Bergman is one of those masters whose influence has permeated film culture consciousness even as the average movie-lover's actual experience with his work declines. (Media saturation is real.) Ingmar Bergman's Cinema represents a unique opportunity to explore what made the director so beloved and respected in the first place. (And it comes with a 248-page book filled with essays that further explore and curate the "Festival" you're attending, along with 30+ hours of supplemental content.) Set yourself a challenge for 2019—Ingmar Bergman's Cinema awaits. —Michael Burgin
---
2. Who Needs a Marauder's Map? – Pop-Up Guides ($75), Paper Scenes ($29.99) and Movie Magic for Beginners ($19.99)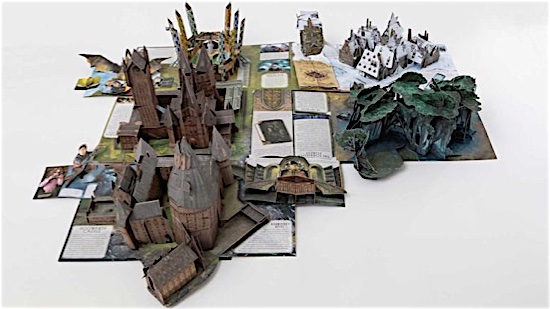 No matter what one thinks of the newer cinematic releases taking place in J.K. Rowling's wizarding world, the Harry Potter marketing franchise continues to provide the kind of well-designed, enthusiasm-worthy material that makes finding gifts for nearby Potter lovers a cinch. Harry Potter: A Pop-Up Guide to Hogwarts is one of those "pop-ups" that reminds one what an amazing feat of engineering a pop-up book can represent. Each page presents a different area of the school all Muggles wish they could attend alongside multiple (and sometimes literal) pockets of trivia. Matthew Reinhart's tome then goes a step further, allowing the individual spreads to themselves be connected into one large 3D map. It's an achievement that will fascinate the franchise faithful and agnostic alike. For those more from the Newt Scamander school of being enamored by "fantastic beasts," there Harry Potter: Creatures: A Paper Scene Book. The four intricate, laser-cut dioramas in this book capture some of Harry Potter's brushes with the magic creatures that populate Rowling's world. Finally, if you have children who would enjoy a more practical, hands-on approach to recreating the magic of the books through movie-making, there's Harry Potter: Imagining Hogwarts: A Beginner's Guide to Moviemaking, which takes the reader through the many steps and techniques filmmakers rely on to bring the printed page to life. —M.B.
---
3. Conversations with Darius Khondji, by Jordan Mintzer (Synecdoche, €65)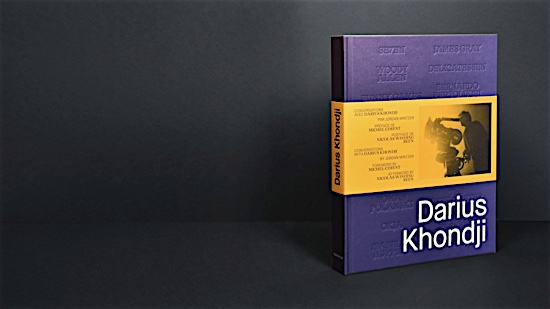 There are no shortage of books about directors and actors, but it's the rare tome that focuses on any other member of the large team that must come together to make a motion picture. By far the most collaborative of the arts, films require dozens and often hundreds of people to work together toward a common goal, many of them as crucial to the process as the director or stars. The Director of Photography, or cinematographer, is one such person and apart from the director (and sometimes even more so) is most responsible for what you see on screen. The Oscar®-nominated (Evita) Darius Khondji has worked with some of the most accomplished directors of modern cinema, including David Fincher (Se7en), Michael Haneke (2007'sFunny Games, Amour), Woody Allen (Midnight in Paris, Wimbledon), Roman Polanski (The Ninth Door), Bernardo Bertolucci (Stolen Beauty), Sydney Pollack (The Interpreter), Jean-Pierre Jeunet & Marc Caro (Delicatessen, The City of Lost Children) and Bong Joon-ho (Okja). In addition to his thoughts about everything from his early childhood in Iran to his discovery of cinema in Paris, to his beginnings in France and arrival in Hollywood, the book also includes interviews with some of his closet collaborators, including Allen, Bertolucci, Jeunet and Isabelle Huppert (Amour). If your appreciation of cinema goes deeper than simply being a spectator and you're interested in learning more about how the magic is made, this is the book for you, this season. —Mark Rabinowitz
---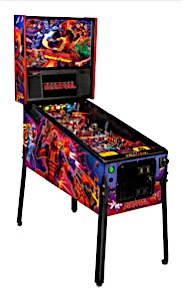 4. Deadpool Pinball Machine (Stern Pinball, Inc., $5,999 and up MSRP)
Every so often, we throw a super high-ticket item in here because, well, it's cool. And honestly, there are few things as timelessly cool as pinball machines and few modern characters as cool as Deadpool, so we thought … cool. The playfield is loaded with X-Men, Evil Mutants, vampires and of course, chimichangas, with distinctive hand-drawn art by renowned illustrator Zombie Yeti. There's even the chance to time travel with Deadpool and go up against a T-Rex and Megalodon and while I'm not exactly sure how that works, I'm sure it's cool. Hands-on reviews are pretty much out of this world, with each of three models (Pro, Premium and Limited Edition) featuring a three-bank drop target with a ball lock that's guarding a custom molded Li'l Deadpool bash toy target, as well as stainless steel and wireform ramps (with a Katana Sword ramp return, natch!) and of course, longtime videogame voice of Deadpool Nolan North voices the Merc with a Mouth. The premium and limited edition versions feature all sorts of extras, like a motorized disco ball and, no joke, a "custom-molded chimichanga truck time machine." I don't know what that is, but I want one! —M.R.
---
5. Oh Funko, My Funko! ($8.99-$10.99)
So. Much. Content. For those of us in the pop culture commentary business, it's almost a burden trying to keep up with it all. But for the casual imbiber, binger or even unabashed fan of screen-based content? So. Much. Content. And you know what? Perrenial gift guide powerhouse Funko seems to have a license to it all! To borrow from videogames, think of that individual Pop! figure as an achievement trophy just waiting to be bought and placed on your desk, or presented to that friend who didn't even realize their love of Nux in Mad Max: Fury Road, Monkey from Kubo and the Two Strings or Joi from Blade Runner 2049 is just waiting to be commemorated! (And frankly, about any other character they love from TV, movies, videogames, music, etc.) Be it by "traditional" vinyl, keychain, Dorbz or Wobbler, let Funko be your (gift) guide. —M.B.
---
6. 4×4K: Best UHD Box Sets of the Year
If you're one of those folks that (sometimes wisely) doesn't jump at the shiny new tech at first blush, you can come out to play, now. 4K is omnipresent, prices are down, and there is loads of content, with more coming every week. While it's great that streaming services are offering UHD content at an increasing rate, for those films that I watch repeatedly, I still prefer hard media and, barring a few jarring exceptions, it's still the only place you can be sure you'll get the best audio-visual experience available, as well as the bonus materials.
Mission: Impossible 6 Movie Collection (Paramount Pictures, $107.72)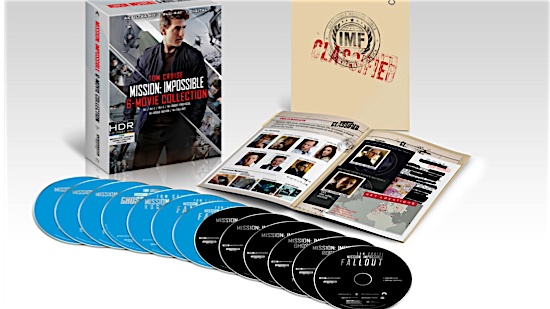 The Mission: Impossible series defies all odds in that but for a slight dip from 1 to 2, it actually gets better as it goes on, rivaling the Harry Potter franchise as the most consistent in movie history. Paramount has done an exceptional job with this year's M:I 4K releases, with all of them sporting the superior Dolby Vision HDR treatment and Rogue Nation and Fallout boasting a Dolby Atmos sound mix. Bonus features are legion, especially on the later releases and even if you're not the type to listen to commentaries, do yourself a favor and check out Tom Cruise and writer/director Christopher McQuarrie's chats. The pair obviously have a great personal and professional relationship, and the tracks are loaded with behind-the-scenes goodies and real insight into the hard work that goes into making these films.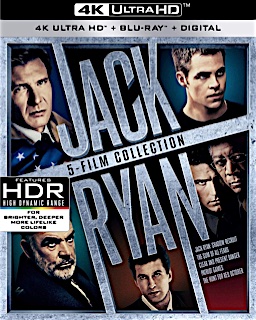 Jack Ryan 5 Film Collection (Paramount Pictures, $69.99 MSRP)
The color palettes of the Jack Ryan films are generally not what you would call vibrant and the first three (The Hunt for Red October, Patriot Games, Clear and Present Danger) especially, tend toward the gray and dark more often than not, requiring high levels of detail in order to present a watchable image. While films like these might look amazing in the theater, their at-home versions traditionally suffer from the relatively low-res constraints of home video. The advent of 1080p helped but only as often as the films were re-mastered with care which, alas, was less often than we'd all like. While that can of course happen with a UHD release as well, thankfully Paramount seems to be taking things seriously, with careful re-mastering and Dolby Vision HDR resulting in versions that are by far the best they've been since their theatrical release. Note: The five films are not available on 4K as individual releases, so if you only want, say, The Hunt for Red October, you're going to have to either wait, or pony up for the set.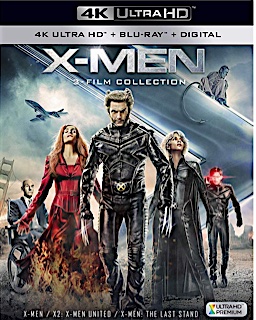 X-Men Trilogy (20th Century Fox, $26.96)
As with the above Jack Ryan set, this three-disc release is only offered as a set on 4K. I'm not a fan of this approach (although I guess I do understand it from a financial POV) in smaller sets like this, it's not as much of an issue than it would be with some other franchises (I see you, Star Wars), and at this price, even if you are among those who hated the third film (I'm not) it's hardly an imposition. The X-Men were one of the most important and influential creations of Jack Kirby and Stan Lee, and while these films may have been eclipsed at the box office by the more recent Marvel Cinematic Universe, the themes explored in the X-Men's universe are as relevant today as they have ever been. While I'd be stunned if there wasn't a full X-Men Universe 4K box set in the works, there's something nice about releasing only the first three films in the franchise as a single set. (Given the current state of our country, you might be surprised how well they hold up.)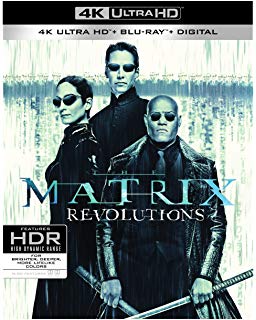 The Matrix Trilogy (Warner Bros., $59.13)
While fans and critics were divided about both the second and third installment of the series (I'm not sure I know anyone who liked all three but I know plenty of people who liked either Reloaded or Revolutions), there's something to be said for being a completest, especially when a studio puts as much work into a release as Warner Bros. did with this set. All three feature new 4K scans of the original camera negatives supervised by DP Bill Pope and are the first time the films have been re-mastered in 15 years. Not only that, but they also come complete with Dolby Vision HDR and newly re-mastered Dolby Atmos soundtracks. This one's a must-have. —M.R
---
7. VIZIO 36" 5.1.2 Home Theater Sound System with Dolby Atmos® | SB36512-F6 (MSRP $500, $350 Black Friday deals at many retailers)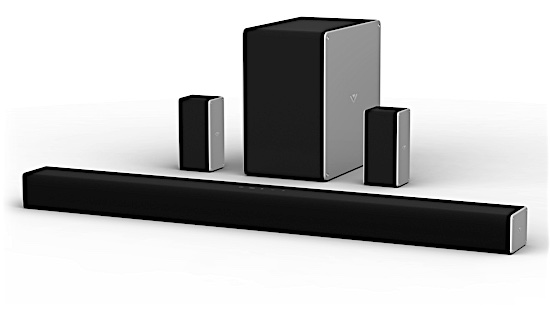 "If it's more expensive, it must be better" might not always be true but more often than not, it turns out that way. The important corollary to this truism however, is "how much better is it and is it worth the extra money?" An Audi A6 may objectively be a better car than a Honda Civic but what could you do with that extra $40k? As far as this system goes, however, there's no doubt that a $7,500 professionally installed and calibrated 7.1.4 Atmos system is going to sound "better" than a $500 sound bar. But how much better? That's the $1,000,000, er … $7,000 question.
Last year, we included a $170 Vizio 5.1 system in the top 10 and they're back with another of their "best bang for your buck" offerings. I've owned or tested four sound systems and two TVs from Vizio, and they never fail to impress. While it's not a full 7.1.4 setup, it's more than enough to piss off your neighbors, amaze your friends and take advantage of what Atmos offers. I watched Mad Max: Fury Road, Saving Private Ryan and Blade Runner, and let's just say I'm happy that I don't share a wall with anyone. And it's not just window-rattling war and carnage that benefit from this system. The subtle sound design in Blade Runner was an especially revelatory experience, with the rainfall during Deckard's intro seemingly falling from the ceiling. I've seen this film maybe 30 times, and this was like seeing it for the first time. Once again, Vizio proves that you don't have to break the bank to get superior results. —M.R.
---
8. Westley, a.k.a. The Dread Pirate Roberts 1:6 Scale Figure (Quantum Mechanix, $199.95)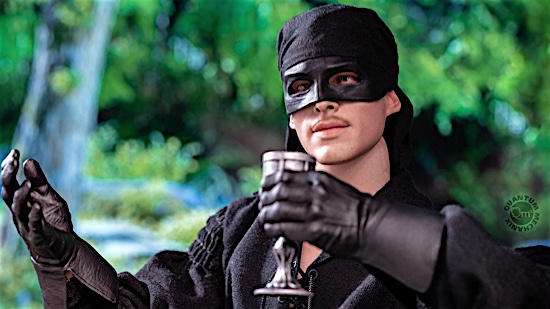 Thirty-one years after its release, The Princess Bride remains one of the most beloved (and quotable) films of all time and with the recent passing of William Goldman, the two-time Academy Award®-winning author of both the film and the book upon which it was based, now seems as good a time as any to include this first ever officially-licensed 1:6 scale figure from the film. Unlike many other such figures, this one actually looks like who it's supposed to and features over 30 points of articulation, so whether you want to sit him down against a log (because he can't stand, of course) or pretend he's wrestling an ROUS, QMx have got you covered. Not only that, but it comes with two heads (Westley and Dread Pirate Roberts); a puffy pirate shirt and black pants; a belt, sword and scabbard; pirate boots; a wine goblet for drinking with Vizzini when death is on the line, and nine hands (seven gloved and two bare) for various piratical goings on. Now if only they'd make one of Fezzik…. —M.R.
---
9. The Dark Universe Can Still Be Yours (Sorta) – Universal Classic Monsters: Complete 30-Film Collection ($149.98)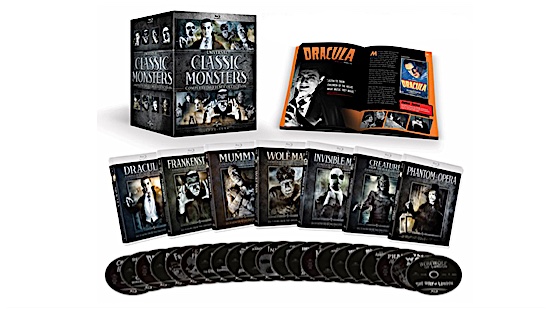 When one thinks about Universal's classic monsters, it's likely that all but the most devoted fans are only thinking of the ground floor—the core titles and performances that joined names like Lugosi, Chaney and Karloff with classic fiends and creatures like Frankenstein, Dracula, the Mummy, and the Wolf Man. But if you really want to explore the worlds created in the 1930s, '40s and '50s, you'll need more than just a few hours. In fact, if you're a real completionist, why not block off enough time in your busy schedule to watch all 30 movies (!) in the Universal Classic Monsters collection. Just perusing all the other films made featuring Frankie, Drac, Wolfie and crew actually makes Universal's recent attempt to reboot and refashion these characters into one universe a little easier to understand (even if the results were a bit painful to watch). —M.B.
---
10. A Criterion Channel Charter Membership (The Criterion Collection, $9.99/month or $89.99/year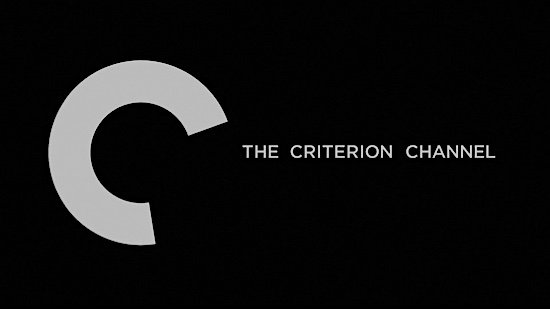 On October 26th, WarnerMedia announced that FilmStruck, the streaming home of the Criterion Collection, was shutting down and to serious film nerds everywhere it was as if millions of voices cried out in terror, and were suddenly silenced. But then, a scant three weeks later, we were brought back from the abyss by the announcement that Criterion itself was launching The Criterion Channel in the spring of 2019. "O frabjous day! Callooh! Callay!" we chortled in our joy! From the depths of despair to the heights of ecstasy in 21 days and from what information has been released, the service will be much like FilmStruck and feature most if not all of the original programming featured on that service. But don't think this all happens for free and without effort. Oh, no! You, my faithful film lovers, must do your part. Criterion is starting from scratch, so the sooner you subscribe, the better for everyone and they're offering charter membership with special perks, including: A 30-day free trial, a reduced subscription fee for as long as you keep your subscription active ($1 off/month or $10 off /year), concierge customer service from the Criterion Collection including a customer ID and a special e-mail address (not sure what that means, but it sure sounds nifty!), a holiday gift-certificate present for use on the Criterion Collection website and a charter subscriber membership card. So … what are you waiting for!!?? —M.R.