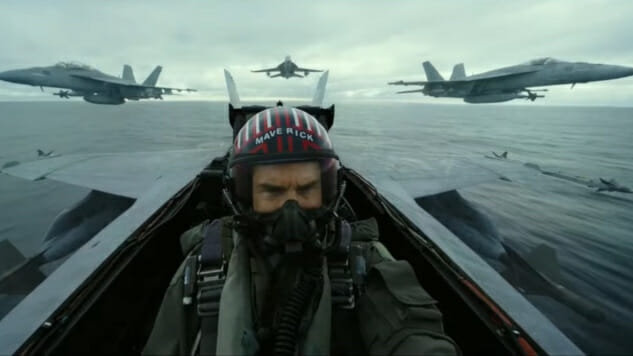 It's time to cue up Kenny Loggins, dust off the aviators and get ready for some beach volleyball: Tom Cruise's new action vehicle Top Gun: Maverick got its first official trailer on Thursday afternoon.
The Joseph Kosinski-directed sequel's first trailer shows Cruise in several high-flying jets while an ominous monologue delivered by Ed Harris recounts Maverick's many accolades. "You can't get a promotion, you won't retire, and despite your best efforts, you refuse to die," he says to Maverick, which could frankly be addressed to any of Cruise's many action hero characters.
And while there's no footage of Cruise running (yet), there is a panoramic shot of him riding a motorcycle alongside a jet taking off, so, payoffs, we guess.
Top Gun: Maverick also stars Miles Teller, Jennifer Connelly, Jon Hamm, Glen Powell and Lewis Pullman. It's produced by the king of '90s action, Jerry Bruckheimer. No word on whether Loggins is recording another banger for the soundtrack.
Top Gun: Maverick is scheduled for a June 26, 2020 release. Read more about the cast here and watch the first trailer below.