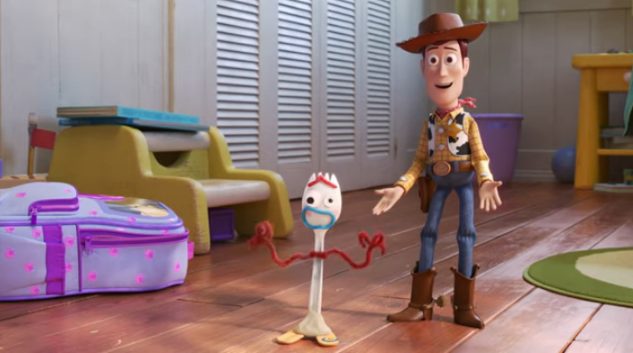 It's hard to believe that it's been almost 25 years now since we were first introduced to Woody, Buzz Lightyear and the gang. The original Toy Story in 1995 was a momentous film in the history of both animation and CGI, a watershed moment that changed the course of children's movies to come. Now, 24 years later, the story is finally coming to an end in Toy Story 4, and today we got our first look at a full trailer.
If the philosophical crux of Toy Story 3 was Woody and the gang dealing with the pain of obsolescence after Andy went of to college and yearning for a fresh start, then Toy Story 4 seems to follow that series of questions even further by jumping into the debate of "What constitutes a toy?" In this case, when new owner Bonnie glues a few googly eyes and pipe cleaners to a spork, which suddenly gains sentience, does he really count as a toy? What if he can't convince himself of that state of affairs?
Beyond that question, the basic plot hinted at by Toy Story 4 almost seems reminiscent of the series first sequel from 1999, wherein Woody discovers a larger world and is tempted by the thought of staying rather than returning to Andy. This time, it seems as if he'll be tempted to remain largely by the presence of his long-lost love, Bo Peep, once again played by Annie Potts. Although Bo Peep appeared in Toy Story 2, she hasn't had a prominent role since the first film. Expect the story of how she left the game to be utterly devastating, in classic Pixar fashion.
Watching this trailer, it's hard not to notice how age has seeped into the franchise. Woody and Bo simply sound more weathered than they once did, back in 1995. Woody points it out himself, insisting that "you can't teach this old toy new tricks." He has become the grizzled protector of Bonnie's playthings—quite a change from the self-absorbed toy he was in the original Toy Story, if you think back.
Toy Story 4 arrives in theaters on June 21, 2019, where it will surely make an absurd amount of money for Disney. Let's hope that regardless of its bottom line, the company stiks to its guns, rather than immediately green-lighting a Toy Story 5. Watch the full trailer below.