Alicia Vikander and Ready Player One Star Tye Sheridan Are Headed to VR
Vikander lends her voice to Arden's Wake: Tide's Fall, while Sheridan joins the cast of Crow: The Legend
Photos by Frazer Harrison/Getty, Matt Winkelmeyer/Getty
Movies
News
Virtual Reality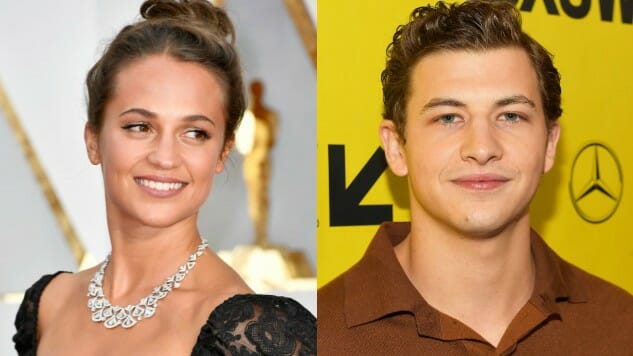 Virtual reality is taking Hollywood by storm. Just last year, two-time Oscar-winning director Alejandro Gonzalez Iñárritu premiered his six and a half-minute VR short Carne y Arena. Now, more and more filmmakers are dabbling in virtual reality, and much more content is on the way, including new, separate VR projects featuring the talents of Alicia Vikander and Tye Sheridan.
Academy Award winner Vikander, who most recently starred as Lara Croft in the Tomb Raider reboot, can be heard in the forthcoming VR film Arden's Wake: Tide's Fall. The new animated film will premiere this month at the Tribeca Film Festival. According to Variety, the film follows "Meena, a young woman who lives with her father on a lighthouse that floats somewhere on top of what at one point used to be New York city. The dichotomy between Meena's post-apocalyptic world and her idyllic home, full of pictures and childhood memories, sets the tone for the entire piece, which touches on motives of family, loss and personal growth."
The Oscar winner voices the young Meena in the 30-minute animated VR short. "Meena's character has a special spark, and I was immediately drawn to her when I experienced her in VR," Vikander told Variety. "The movie daringly brings up difficult situations while also allowing viewers to get quite close to the characters in such an immersive and emotional experience. I am thrilled to help bring Meena's character to life."
Penrose Studios, the innovative and pioneering studio behind Arden's Wake: Tide's Fall, premiered a shortened preview of the film last year at Tribeca, but the film's experience dramatically changed once Vikander added her voice. Penrose founder and CEO Eugene Chung said, "We were able to take this to the next level and have her voice infuse the whole piece. Everyone outside of the sound booth gave a standing ovation" after Vikander had recorded her take, he recalled.
"This project is unlike anything I've ever done before, and I think virtual and augmented reality are going to be big in Hollywood, as well as entertainment more broadly," said Vikander after her experience with the new medium that is taking the industry by storm.
Last year at the Venice Film Festival, Penrose revealed Arden's Wake: The Prologue, which ended up winning the first Lion for best VR. Now with such positive critical reception and the accessibility to VR, Chung plans to finalize distribution for Arden's Wake: Tide's Fall, citing much interest from location-based VR operators. The film is being marketed as part of a series, despite its standalone feeling—however, Chung insisted that there is potential for expansion. "There [are] many more stories to be told," he said.
Ready Player One star Sheridan, meanwhile, will lend his voice to an ambitious animated VR short titled Crow: The Legend, from the company behind VR movies Invasion! and Asteroids! Baobab Studios has been on the forefront of VR technology: Its film Asteroids!, starring Elizabeth Banks, became the first VR film to have a red carpet premiere at Sundance.
Baobab co-founder Eric Darnell wrote Crow: The Legend and also directs, with John Legend executive producing. According to THR, Crow: The Legend tells the Native American origin story of the crow: "Legend will voice the titular character, a brilliantly plumed bird who is nominated by his fellow animals to bring warmth back to the world in an endless winter. He is rewarded for his journey and carries the gift of fire back to his fellow animals in his beak. However, in doing so he sacrifices what is most dear to him." The story promotes a message of selflessness and self-acceptance. Sheridan will voice the character Turtle.
In addition to Sheridan and Legend in its cast, Crow: The Legend has added Native Americans in Philanthropy CEO Sarah Eagle Heart, as well. Casting the character of Heart was very important to Darnell and Baobab CEO and co-founder Maureen Fan. "It was incredibly important to us not only to tap into Sarah's talent, but also to partner with her to give authentic voice to Native American storytelling culture," said Darnell. "Our goal is to shine a light on this incredible, historic tradition, and also to partner together to support programs in the future."
Crow: The Legend will premiere later this year, with Arden's Wake: Tide's Fall premiering this month at Tribeca. It will be interesting to see if these films will in fact receive distribution, as well as just how accessible the films will be for audiences.