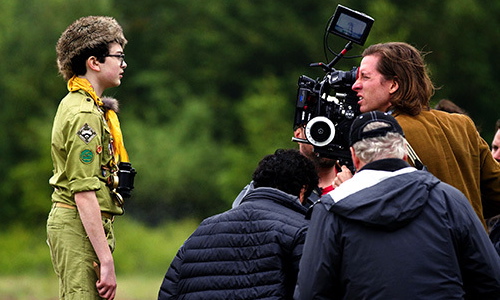 Among many other things, Wes Anderson's films embrace the complicated, contradictory notion of family. Blood relatives, adopted relations, husbands and wives—these groups of people and all the love and neuroses that link them together have made for some of his best stories in films like The Royal Tenenbaums, The Darjeeling Limited, The Life Aquatic with Steve Zissou and Moonrise Kingdom. The families in these movies are unique, unforgettable and quirky beyond belief. As the holiday season begins and we find ourselves faced with our own kin (and the strangeness that inevitably comes with), here are some of the most memorable family moments from Wes Anderson films.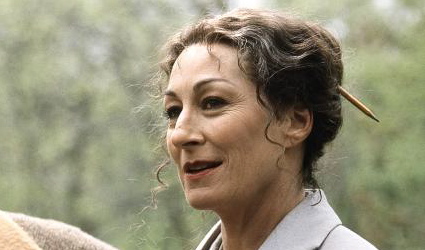 7. Anjelica Huston, World's Best Mother
It's almost impossible to choose one particular, unforgettable moment from Etheline Tenenbaum, matriarch of the wonderfully bizarre family of geniuses in The Royal Tenenbaums. She weeps when Royal tells her he's dying, then pounds him over the head with her purse when he takes it back (then takes him into her home when he says, once again, that he is dying). She is the only person who can get Margot out of the bathroom, where she is essentially living (television strapped to the tub and all). By the end of the film, she's done the impossible and brought her entire family together under one roof, somehow managing to keep them all alive long enough to resolve their differences.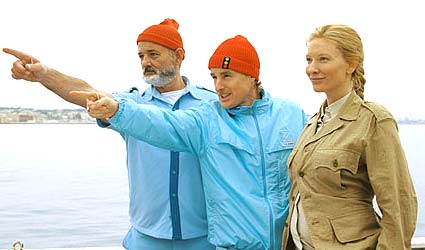 6. Father/Son Fistfights Are Always Special
Getting to know your estranged father is difficult for sure, but in The Life Aquatic With Steve Zissou, things get even more complicated when Zissou (Bill Murray) and Ned Plimpton (Owen Wilson) become enamored with the same woman (Cate Blanchett). Never mind that Jane is carrying another man's child, or that their ship has recently been overtaken by pirates—none of it's enough to prevent the father and son from trading blows. After all, it's a Wes Anderson movie.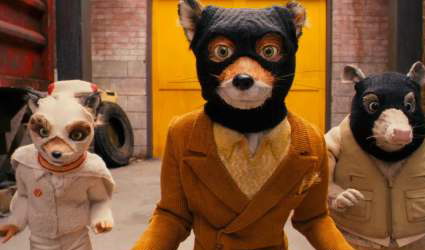 5. A Rite of Mask-age
Mr. Fox (voiced by George Clooney) and his son Ash (Jason Schwartzman) have great difficulty getting along throughout most of Anderson's adaptation of the Roald Dahl novel, The Fantastic Mr. Fox. Fox, a former star athlete, is none too impressed with his son—a wee little fox who spends much of the movie wearing a cape and a poor man's bandit cap made out of an old gym sock. (Everyone else wears these cool black ones.) Ash is finally able to prove himself when his father's plan for revenge against the meanest farmers in the land goes awry. In a brilliantly animated scene Ash dodges snipers, flies through the air, and unlocks the door to the rabid beagle that ultimately retrieves his father's stolen tail (which one of the farmer's had been wearing as a tie). Blown away by his son's previously hidden (or questionable) athleticism, and suddenly aware of his wrongdoings, Mr. Fox asks Ash to remove his handmade bandit and wear one of the real ones he and the rest of the animals have been wearing. (Ash's new mask is special, a black cap covered in bright yellow stars.) Yet another unforgettable father/son moment brought to us by the great mind of Wes Anderson.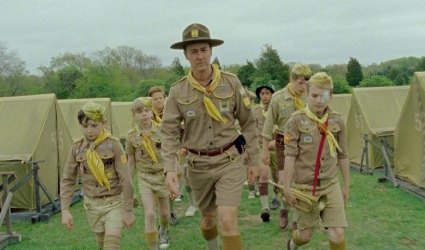 4. Brothers Come in Many Forms
The main character of Moonrise Kingdom, Sam (Jared Gilman) started off with little family to speak of. An orphan whose foster parents were all set to turn him back over to social services, Sam was even outcast among his fellow Khaki Scout members at summer camp. But the end of the film saw the other boys, led by Scoutmaster Randy Ward (Edward Norton), going on a non-violent rescue mission to save Sam. They reunite him with the love of his young life, and become the brothers Sam never had, but desperately needed.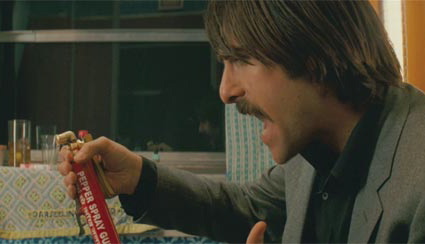 3. Brotherly Love Via Mace to the Face
Nothing brings a family together (or tears it apart) like the death of a loved one. When the trio of brothers in The Darjeeling Limited (played by Owen Wilson, Adrien Brody and Jason Schwartzman) take a grand trip across India, lots of strange family moments occur. But all hell breaks loose when Francis and Peter (Wilson and Brody) start fighting (while Brody was in the midst of shaving with their father's special shaving kit) over who was, in fact, Dad's favorite. The brawl comes to a dramatic conclusion when they both fall victim to Jack's can of mace.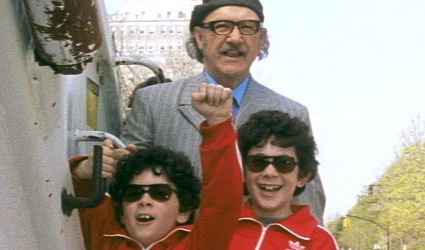 2. Spending the Day with Grandpa!
The formerly estranged patriarch of the Tenenbaum family (Gene Hackman) may have a difficult time getting his children to accept his return, but his two grandkids are immediately on board. Little Ari and Uzi spend one unforgettable day with their "dying" granddad—an epic adventure that involves a dangerous game of chicken, riding go carts in the streets, and some petty theft (among other good times), all set to Paul Simon's "Me and Julio Down by the Schoolyard."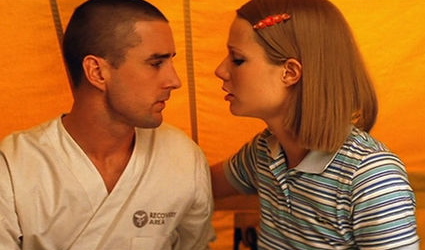 1. It's Not Incest (Technically) if She's Adopted
No one is supposed to talk about this, but the quasi-romance between Richie (Luke Wilson) and his adopted sister, Margot Tenenbaum (Gwyneth Paltrow), was pretty adorable. In a classic Wes Anderson scene, the two met at the bus station and the moment was practically immortalized by Nico's mesmerizing voice on "These Days."