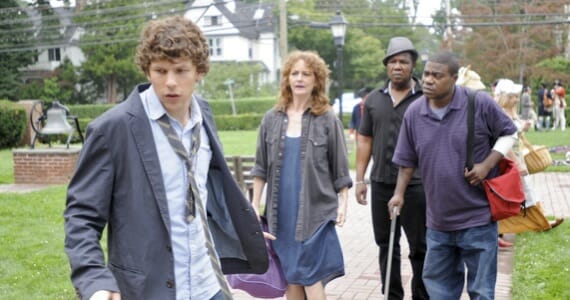 In Why Stop Now, Jesse Eisenberg plays Eli, an outcast who is every inch as nerdy and bad with women as he is remarkably talented (so, in terms of roles played by Eisenberg—the usual). In Phil Dorling and Ron Nyswaner's new film, he is a piano prodigy who is one audition away from getting into the most elite music school in the country, and thusly, one step away from escaping his miserable, deadend life. His road block? His drug-addicted mother, Penny (Melissa Leo). Add in the town's local drug dealers, Sprinkles and Black (played by Tracey Morgan and Isiah Whitlock), and you officially have yourself a movie—sort of.
The film follows these four eccentric characters on their hunt to purchase cocaine so that Eli's mother can get into rehab for free by having a positive urine drug test after having failed to get into the facility for being clean. Eventually, Eli gets roped into being Sprinkles and Black's Spanish translator when going to make a drug order from their hook-up. After he cuts his hand somewhere in the transaction, he mistakenly takes two Oxycontins instead of pain-killers while in his mother's car. Oh, and chaos ensues.
An odd mix of blatantly comedic moments and strangely serious scenes, Why Stop Now finds itself stranded on an odd middle ground between comedy and drama. With an overall pace that seems to be constantly waning, the film only occasionally engages the viewer. With the story barely able to move along at points, it's difficult to resist sneaking the occasional peak at watch or phone while wondering, 'Why not stop now?' Eisenberg's character is spot-on but predictable, while Melissa Leo just doesn't seem believable in the role of drug-addicted mother. That's not to say that Why Stop Now doesn't have its moments, but they're mostly thanks to Tracy Morgan and his ability to transform from a comedic genius to a strikingly real person who has journeyed a long road in a matter of two lines. But though entertaining, his character can't do enough to save the film. (Also of no help? A by-the-numbers love story that culminates with Eli declaring his multiple-year obsession with a local "good girl" while in the midst of historic reenactment.)
With a healthy amount of entertaining one-liners and a ridiculous plot, Why Stop Now should have just stuck to comedy. The scenes meant to draw emotions from the viewer end up trying too hard, making them awkward and transparent. Ultimately, the only reasons to watch this film are for the hilarious one-liners and Tracy Morgan. If you're not interested in either of those elements and haven't seen this film yet—don't start now.
Director: Phil Dorling & Ron Nyswaner
Writer: Phil Dorling & Ron Nyswaner
Starring: Jesse Eisenberg, Melissa Leo, Tracy Morgan, Isiah Whitlock
Release Date: Aug. 17th, 2012