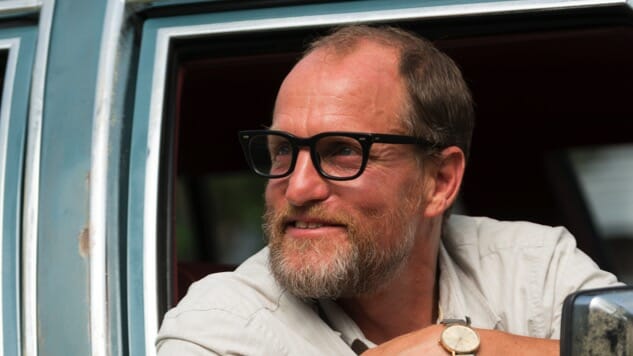 This month's big Woody Harrelson news will undoubtedly be the actor signing on to the Han Solo Star Wars spinoff movie, but before he graces the silver screen as the young ruffian's mentor, we'll be seeing him in a bunch of other roles. The most high-profile among these is probably the human colonel in War for the Planet of the Apes, but the award for most interesting just might go to Harrelson's turn in Craig Johnson's Wilson, a trailer for which has just dropped.
Harrelson, speaking in a slow drawl, plays the titular character, a "lonely, neurotic, and hilariously honest man" per the film's synopsis. All three of these attributes come through in the trailer in glorious fashion, especially the "honest" part. Wilson, having been abandoned by his wife (Laura Dern) and fallen into a deep cynicism about adult life's departure from the halcyon "Technicolor" days of childhood, seems to be at a point where he has lost any semblance of a filter to his speech, and instead yammers on with the embittered, unflinching honesty of someone who's on the verge of losing his mind. Or maybe this guy is frank all the time and simply speaks the truth when life turns to crap. The reality is probably some combination of both.
Regardless, seeing the hard-jawed Harrelson play a shamelessly awkward, brutally honest guy is a real treat. At one point in the trailer, Wilson, while on a date, ruminates aloud about moving on from his wife and finding someone new. When his date starts smiling expectantly, Wilson responds offhand, "Not necessarily you." At another point, during a reunion between Wilson, his wife and their adopted daughter (Isabella Amara), whom he'd never met, the guy says to the girl, while gesturing to his wife, "If you're worried about the lack of family resemblance, [my wife] used to be a real hippo."
Check out the full trailer above, and expect gut pain as caused by both laughter and fremdschämen. You can also watch the film's red-band trailer, released last November, below. Wilson will hit theaters on March 24 following its debut at Sundance.