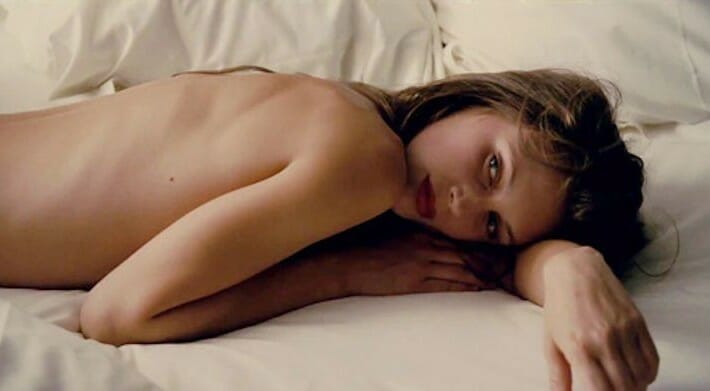 When we first meet Isabelle (Marine Vacth), she doesn't seem much different than most 16-year-olds. Yes, she's strikingly beautiful in a bikini, but the adolescent uncertainty and hormonal urges are quite recognizable and universal. Once this French girl loses her virginity to an older German guy, however, her behavior changes in ways that neither we nor anyone close to her could have imagined.
Young & Beautiful tracks a year in the life of Isabelle, and Swimming Pool and In the House filmmaker François Ozon's strongest creative choice is to never answer precisely what's going on inside that pretty head of hers. Liberated of her virginity, Isabelle is then seen a few months later, now 17 and entering a hotel room in an outfit only worn by respectable hookers: high heels, too short skirt, a business jacket in the hopes of not calling attention to what she's really there to do. We'll eventually get an inkling about how this unlikely transformation took place, but only an inkling. Ozon and Vacth show but don't tell in this character piece. It elevates what could be just another ballad-of-a-hooker drama into something far more mysterious.
The mysteries start and end with Vacth's face. Though a relative newcomer to acting—she's been a model for years—Vacth manages to turn her countenance into a mask, conveying sensuality and attractiveness but never revealing any emotion she doesn't want exposed. It's not a blank performance, however: You never forget that Isabelle is always quietly taking in her environment, especially when one of her regular clients (Johan Leysen) runs the risk of developing into something more meaningful. Even after her loving and economically stable parents find out the truth and Isabelle is forced to explain herself, it's never entirely clear if her reticence to divulge her thought process is a ploy or a reflection of her genuine confusion over her ramped-up sexual desires. For example, she's confident in her abilities to captivate men, but hooking seems to be as much about making money as it is the screwing. She's not exactly a budding nymphomaniac—she's not having any sex outside of her work—so is she just an inventive entrepreneur?
Isabelle's journey to discover that for herself guides this enigmatic drama, and accompanying her strong performance are ones by Géraldine Pailhas as her overly protective mother and Frédéric Pierrot as her stepfather, whom she may be subtly trying to seduce. (There's also a dynamite cameo near the end that's more fun, especially if you're an Ozon fan, if you don't know who it is.) Isabelle's parents can't quite understand what happened to their daughter—they, like the viewer, have to make peace with not knowing. Even at the film's finale, where the possibility of closure presents itself, Ozon gracefully sidesteps the easy resolution. With her stunning looks and inscrutable manner, Isabelle is the type of gal who will break a lot of hearts. For the audience, she also messes with our mind.
Director: François Ozon
Writer: François Ozon
Starring: Marine Vacth, Géraldine Pailhas, Frédéric Pierrot, Fantin Ravat, Johan Leysen
Release Date: Screening in the Official Competition at the 2013 Cannes Film Festival