Guster's Ryan Miller Calls Donald Trump a Clown in "30 Days, 30 Songs" Track
Images via 30 Days, 30 Songs
Music
Video
30 Days, 30 Songs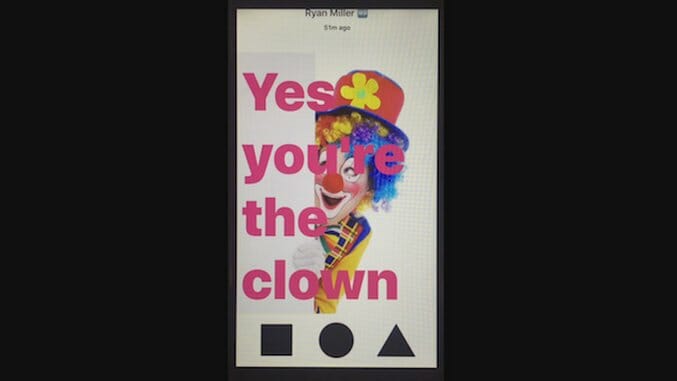 As the election season enters its last week, we're approaching the end of "30 Days, 30 Songs," and the anti-Donald Trump project's latest song isn't pulling any punches.
Ryan Miller's "The Clown" is set to a circus lilt and is all about finding the right insult with which to describe Trump, and what that sort of anger does to the insulter. Miller said in his statement that he got some help from project founder Dave Eggers:
dave eggers suggested some of these words because he's better at words than i am. and it seemed to me that a song called 'the clown' should either feel like the circus or should NOT feel like the circus but i went with the former because, man, it's feels a lot like a circus around here recently. let's hope the circus leaves town soon though because that's what circuses do. bye.
We also got a song from punk rocker Bob Mould, a live version of his song "In A Free Land," added late last night. It's not a new recording, but Mould says it and punk music are still very much appropriate:
This song was released in 1982, and it feels just as applicable today. Things can be changed by just making a few people wake up. One way to do that is to kick 'em in the face, like we try to do with our music. If they feel threatened enough, they'll respond.
You can watch Ryan Miller's video above and Bob Mould's video embedded below.