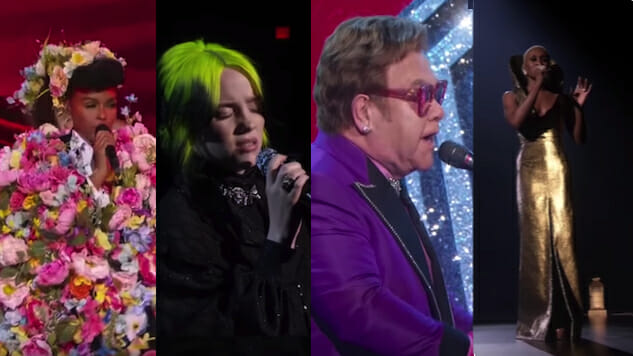 After Sunday night's Oscars, there's still plenty to be abuzz about—whether it was the historic act of Parasite sweeping, the continuous snubbing of women directors, the rambling acceptance speeches (cow rights!) and yes, of course, Eminem's surprise Oscars performance. But there's something unique and thought-provoking about most of the performances at the 92nd installment of the awards ceremony, and the most striking aspects of each performance will be highlighted below (with videos!) You can also check out the full list of Oscars winners here.
Janelle Monáe's opening number
The ceremony began by recognizing some of the films that didn't get many (or any) Oscar nods at all. Monáe appeared onstage in a replica of Mr. Roger's iconic TV show set, performing a rendition of "Won't You Be My Neighbor?," evoking the Marielle Heller film starring Tom Hanks, It's a Beautiful Day in the Neighborhood. The rest of Monáe's performance referenced Ari Aster's daytime horror film Midsommar, Jordan Peele's political thriller Us, the Eddie Murphy-starring Netflix film Dolemite Is My Name and the biopic of fellow performer Elton John, Rocketman. She even engaged various front-row Oscar attendees in a call-and-response bit that seemed a little awkward, but at least she shouted out all of the women who were snubbed this year.
Idina Menzel performing "Into the Unknown" from Frozen II
While her Uncut Gems co-stars got zero recognition at this year's awards, Menzel was still able to give a riveting performance of "Into the Unknown" from Frozen II, with support from the singers and voice actors of Elsa in different languages. Thai-, Russian-, Spanish- and Polish-language singers were among the multitude of women who gave voice to the character of Elsa all over the world—while all clad in snowy-white gowns.
Cynthia Erivo Performing "Stand Up" from Harriet
While some questioned the validity of having a British actress play Harriet Tubman, the talent exuding from Erivo's very existence is more than enough to justify casting her. Especially when it comes to the original song for the film, "Stand Up," it's clear that the Grammy-, Tony- and Emmy-winning actress has the chops to perfectly convey strong emotions just through the power of her vocals, with the gospel choir backing Erivo also adding to the huge sound of the song. Ending the performance with a portrait of Tubman also made for a sincerely tear-jerking moment.
Chrissy Metz performing "I'm Standing With You" from Breakthrough
Metz, best-known for her role on the NBC TV show This Is Us, also took to the stage to perform the original song "I'm Standing With You" from Breakthrough, in which she also starred. The film, about a mother (Metz) who grapples with grief as her son attempts to recover from a near-death experience, has overt religious themes, which was reflected in the performance through a gospel choir providing back-up vocals for Metz. She ended her performance by blurting, "I love you, mom," which was adorable in its own right before the camera panned to her mom with tears streaming down her face in the audience.
Billie Eilish covers "Yesterday" for the In Memoriam segment
The Grammy-winning and James Bond theme-penning singer took to the stage as the In Memoriam segment immortalized those in Hollywood who passed away last year. Her breathy, somber cover of The Beatles' classic song was a beautiful tribute to iconic figures like Kobe Bryant, Kirk Douglas, John Singleton and Doris Day, among others. But there has been a stir about the omission of Luke Perry and Cameron Boyce, two stars who died in 2019.
Randy Newman performing "I Can't Let You Throw Yourself Away" from Toy Story 4
Toy Story 4 took home the award for Best Animated Feature last night, and long-time Oscar contender Randy Newman performed the original song "I Can't Let You Throw Yourself Away" for the movie. It began with a pan to the Oscars statues, which featured characters Woody, Buzz, Jessie and Sporky in a mint-condition box sharing a shelf with the statues. While Newman doesn't have the same level of pizzazz as, say, Elton John while playing the piano, it is absolutely humanly impossible not to smile when Randy Newman plays a song—especially if it's from a Toy Story movie.
Elton John performing "(I'm Gonna) Love Me Again" from Rocketman
While many believe that the Elton John biopic Rocketman didn't get the awards recognition it deserved, we can all agree that John deserved to walk away with the Oscar for Best Original Song. His enthralling performance of "(I'm Gonna) Love Me Again" from Rocketman demonstrated the singer/songwriter's long-time penchant for performing, complete with a dazzling purple suit and a bright red piano.
Eminem performs "Lose Yourself" 17 years after winning Best Original Song
And here we are: the performance that left attendees visibly speechless, confused and shook. After a somewhat coherent tribute to the impact of music in movies that included scenes from The Breakfast Club, Wayne's World, Titanic and Do The Right Thing, to name a few, Eminem took the stage with a full band to play "Lose Yourself," which won Best Original Song for 8 Mile at the 2003 Academy Awards. Eminem was not in attendance at the ceremony 17 years ago, so apparently the Academy figured it was better late than never. Audience members including Eilish, Martin Scorsese and Menzel looked deeply perplexed, while other attendees seemed to love the early-2000s throwback. Either way, we can all agree that none of us saw that coming.
Find last night's complete list of winners here.