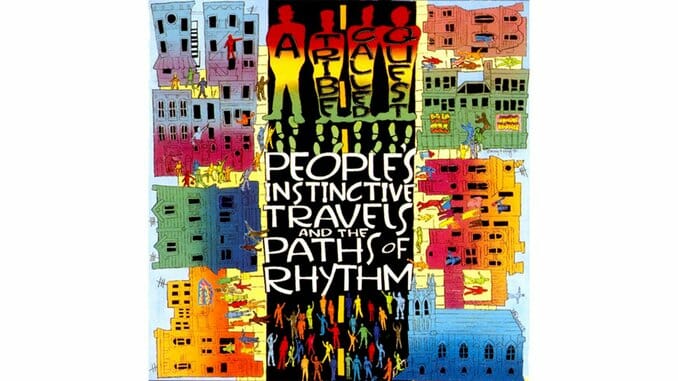 If the first two Jungle Brothers albums and De La Soul's 3 Feet High and Rising were the first cracks in the foundation of rap music evolving into a more insightful, crafty and intelligent form than its critics were giving it credit for, the debut LP from A Tribe Called Quest was the sound of the dam bursting at the bricks in a flood of creative fortitude. Batten down the hatches, kids. The Native Tongues were mobilizing in a peaceful but forceful movement into a new prosperity for the Bronx-born art form.
Celebrating its 25th anniversary in the form of this expanded edition, People's Instinctive Travels and Paths of Rhythm definitely marked perhaps hip-hop's most significant turning point in the way that it proved the staying power of this boho, jazz-informed alternative to the hyper-political, blood-stained hard rap movement of the time, be it Public Enemy and BDP on the East Coast, N.W.A out West or the Geto Boys down in Texas. Along came these four young men from the Farmers Boulevard section of Queens and barely out of their teens, flexing grooves filled with obscure, surgically spliced samples and rhymes filled with an intelligence and sense of Afrocentric pride beyond their years. No other MC sounds like Q-Tip, whose reedy cadence and mastery of words rendered him closer to the concept of the rap Bob Dylan than any other man before or since his emergence. Meanwhile, nobody flipped the script like Phife Dawg, the 5 Ft. Assassin, whose uncanny delivery made him the star of such People's faves as "Push It Along," "Can I Kick It?" and "Mr. Muhammad," making him the quintessential kinetic yin to Tip's zen yang. And lest we forget Tribe's secret weapon, hip-hop's finest closer Jarobie White. This was the only album he was featured on, but the strength of his skills on the outros of such key tracks as "Bonita Applebaum" and "Ham 'n' Eggs" will help illustrate the essential nature of his role in the group in spite of such a low profile.
Meanwhile, cooking up the stew that makes this recipe work so well is Tribe's intrepid producer Ali Shaheed Muhammad, the crew's sole Brooklynite. He's the man who lays down this perfect, fluid groundwork for these three guys to bounce polyrhythmic syllables off one another. The display of his mastery of the craft of sampling if his rig was a trumpet, cats would be calling him Miles Davis. Take his utilization of Roy Ayers' "Running Away" on "Description of a Fool," or the way he flips the opening part of "Funky" by The Chambers Brothers on "I Left My Wallet in El Segundo" into an entire song is magic. But Ali's "So What" on this hip-hop Kind of Blue is the way by which he splices together that money pocket on Dr. Lonnie Smith's cover of "Spinning Wheel" by Blood, Sweat and Tears with that iconic Herbie Flowers bass line from Lou Reed's "Walk On The Wild Side" (not to mention small portions of "What A Waste" by Ian Dury and the Blockheads as well as Dr. Buzzard's "Sunshower). Phife might have dismissed this song just recently during Tribe's appearance on Hot 97 in New York, surely on account of his misguided endorsement of David Dinkins in his verse. But no other tune from that time displayed such a deft proficiency to the jazz of hip-hop sampling as the mighty "Kick."
Hearing People's Instinctive Travels and Paths of Rhythm in this remastered form is indeed a treat. However, what makes this 25th Anniversary Edition of the record so disappointing are the three remixes tacked on as bonus tracks. There is no enhancing or improving upon material that is already considered a pinnacle of the art, and Ceelo Green, Pharrell Williams and J. Cole are three guys who should all know that above anyone else in the game right now. And while, their versions of "Footprints," "Bonita" and "Kick" respectively are alright, it would have been much cooler to have seen some of the album's old B-sides like "If The Papes Come" from the flip of the "Can I Kick It?" 12-inch, or the Why version of "Bonita Applebaum" that was featured on the cassingle, instead of these out-of-place updates.
As A Tribe Called Quest, whose original People's lineup reunited on The Tonight Show last week with The Roots backing them, continue to revamp and reissue their classic catalog, it can only be the hope they and the powers that be choose vintage rarities from the era over mediocre remixes for the bonus material.