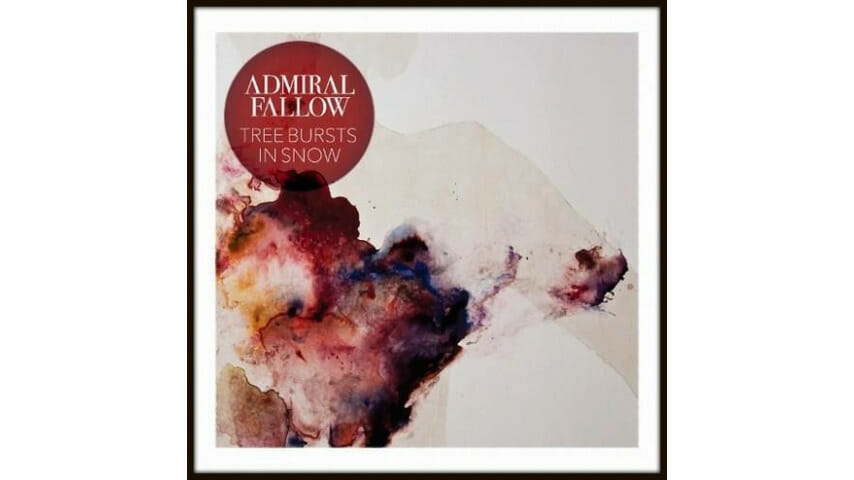 Admiral Fallow has already established itself as part of the core group of Glaswegian bands leaving its collective mark on the British music industry right now. That's certainly an impressive distinction, but the band's second full-length album, Tree Bursts in Snow, offers them the best chance, as the saying goes, to make it in America.
Comprised of Louis Abbott (vocals, guitars), Kevin Brolly (clarinet, keys, piano, vocals), ?Phil Hague (drums, percussion, vocals), ?Sarah Hayes (flute, piano, accordion, vocals) and Joe Rattray (bass, vocals), Admiral Fallow creates easy listening indie-folk accentuated by diverse instrumentation. And those musical choices—from the range of horns and woodwinds to the keys and melodicas—are what distinguish Admiral Fallow from contemporaries.
While the band's debut Boots Met My Face felt vast in its chamber pop glory, Tree Bursts In Snow offers a more condensed sound that still retains those praise-worthy textures. Its strongest tracks—"The Paper Trench," "Guest of the Government" and "Isn't This World Enough??"—are all up-tempo tunes that demand to be played loud, or best, performed live. Other standouts include the first leaked song "Beetle In The Box" and the stark album closer "Oh, Oscar."
Tree Bursts In Snow is not a perfect album, as the slower, longer songs tend to drag. But at their best, Admiral Fallow will make listeners want to eat some haggis, chug a pint and channel their inner Braveheart-inspired Scottish nationalism.