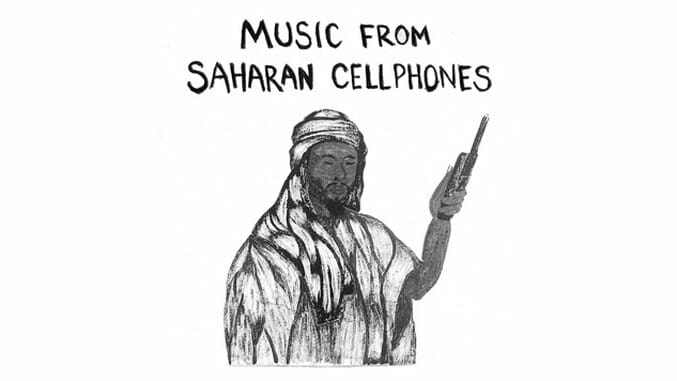 For all the times that we've heard the phrase "African music," it can be easy to forget that we're talking about an entire continent here. The reality is that the African continent consists of more than 50 countries, different environments—from the deep desert of the Sahara to the central African rainforests—and radically different cultures—from ancient civilizations to modern metropolises. It's way past time to move beyond our conception of African music as being based either on some kind of strange tribal drumming aesthetic, or the well-known artists like South Africa's Ladysmith Black Mambazo or Nigeria's Fela Kuti. It turns out that many parts of Africa are home to some of the most cutting-edge music today, using technology in innovative new ways, or remixing tradition to give it new meaning in a modern world. Turns out, there's a good reason that American artists like Yasiin Bey (Mos Def) and Jay Z are looking to African artists for inspiration. So here are nine albums out now that will change your perspective on African music.
1. Various Artists, Music from Saharan Cellphones Volumes 1 and 2
These two albums from blog-turned-music-label Sahelsounds were a key moment in getting out the new sounds of West and North Africa. Formed by Portland, Ore. resident Christopher Kirkley, Sahelsounds was meant to host writings and field recordings from his trips in West Africa, but eventually turned into a label that's been putting out some of the most cutting-edge African music, primarily from sub-Saharan Africa. With Music from Saharan Cellphones, he shines a spotlight on the wildly popular cellphone music markets of this region. Many people in West Africa have cellphones, but with internet and reception spotty at times, and personal computers hard to find, they're often used as music storage and trading devices. Remember that trick cellphones used to have where you bump them together to trade music over Bluetooth? Most people in the U.S. forgot about this, but it was big in sub-Saharan Africa around 2010 when these albums were collected. Also big were open-air mp3 markets where you could rip a bunch of songs onto your cell phone from the vendor's laptop for a small fee. This resulted in a new market of West African cellphone "hits." You'll also hear that autotune is another key element of this region's music. Once the plaything of T-Pain and Friends, autotune caught on big in sub-Saharan Africa, filtering into many different traditions including the desert blues of Mali and Niger's Tuareg artists, like Mdou Moctar, featured here on these tracks. Sahelsounds recently worked with Moctar to film a remake of Prince's Purple Rain set in the deserts of Niger. It's just about as badass as it sounds.
2. Noura Mint Seymali, Tzenni
Speaking of Tuareg music, that sure has become one of the best-known African traditions in the West thanks to amazing artists like Tinariwen and Bombino. All of this attention overshadows some of the older, more classical traditions of the region, which are no less beautiful. Noura Mint Seymali, from Mauritania in West Africa, has recently been gaining popularity in the U.S. and Europe through her albums and touring. She's a griot, a traditional term in West Africa meaning a master musician, historian, orator, and propagandist. The title of griot is passed down through families, and in Seymali's eyes, musicians like Tinariwen, who operate on the outskirts of griot culture, have taken many of the best elements of these ancient traditions to make their popular music. There's a bit of tension there, and the truth is that Seymali is an absolutely staggering vocalist, with a knowledge of Mauritanian classical music traditions that is unparalleled. She's taken these old traditions and fired them up for the modern age, adding her husband Jeiche Ould Chighaly's psychedelic, buzzed-out guitar to it. Get hip to her quick, because her music is about to blow up.
3. Emahoy Tsegué-Maryam Guèbrou, Éthiopiques vol. 21: Piano Solo
The Éthiopiques series collects the music of key Ethiopian and Eritrean artists in a deeply researched and very compelling series of compilation albums. It's been one of the main ways that Westerners have gotten connecting to the deep channels of Ethio-Jazz that brought us artists like Mulatu Astatke. But this gem of an album has nothing to do with Ethio-Jazz and also sounds like nothing you'd expect from Ethiopia. It's a beautiful, heart-stopping collection of quasi-classical piano solos from Ethiopian nun Emahoy Tsegué-Maryam Guèbrou. As influenced by Satie or Joplin or classical piano greats as she is by Ethiopian traditions, Guèbrou is a brilliant composer with a knack for merging two very different worlds. This is the kind of album you can come back to again and again, always finding new corridors in her Borgian labyrinth of compositions. Born in 1923, Guèbrou is still alive and still living as a nun in the Ethiopian Orthodox Church. She's now in Jerusalem and rarely performs, but her recorded music is utterly transporting.
4. Mamman Sani, Taaritt
Another album of keyboard music, and another album on Sahelsounds, Nigerien musician Mamman Sani was an early pioneer of synth music in Niger—well known in that country, but little known elsewhere. Still, his instrumental keyboard music from the 1980s, recorded in France and Niger, is restored to its full glory here (and given a cool spaceship cover to boot). There's something impossibly catchy about these synth loops, with a kind of basic Casio drumming track in the background. It's the soundtrack to a 1970s Nigerien space program that never was, or maybe a West African 2001: A Space Odyssey. This is how Christopher Kirkley of Sahelsounds described first hearing Sani's music: "It was esoteric and bizarre, unlike anything I had ever head—the imaginary audio track to an arcade game of desert caravans trek through an pastoral landscape of 8-bit acacias and pixelized sand." Since being rediscovered, Sani is making music and touring again, but there's just something magical about these slice of life recordings, perhaps made for no other reason than just to document something special.
5. Ibrahim Maalouf, Kalthoum
Though Lebanese trumpet player Ibrahim Maalouf isn't African, on his new album, Kalthoum, he's remixing and rebuilding and riffing on the music of one of the greatest North African divas, Oum Kalthoum. A singer from Egypt, Kalthoum towers over the world of Arab music like a colossus. When she died in the 1970s, millions of Egyptians joined her funeral procession, and she remains a lynchpin artist there, even today. Egypt is, of course, part of Africa, but the cultural identity issues with calling Egyptians African are complex. Even so, Kalthoum's popularity throughout North and West Africa (well-known Senegalese singer Youssou N'Dour recorded a tribute album to her) and the Arab world speaks to the deep ties Arab culture and Islam have to much of Africa. Ibrahim Maalouf is a powerful jazz trumpeter, well known in both American and European jazz circles, but he also is heir to the classical traditions of Lebanon and the Arab world. His father, Nassim Maalouf, pioneered the use of a quarter-tone trumpet in order to play Arabic scales and Maalouf performs on such a trumpet today. The complexity of Arabic classical music may not be well known in the West, so it's doubly important that Maalouf can blend that with jazz theory so capably. Here, with his tribute to Kalthoum, he's able to riff on her famed vocal lines, which were also informed by Arabic classical music. The quarter tone and microtonal ornaments and wickedly complex melodic lines are a pure delight and a great introduction to Arabic classical music through the more accessible world of jazz.
6. Jagwa Music, Bongo Hotheads
Unlike the much more stately and elegant taarab music of Tanzania's Dar Es Salaam (orchestral music based on Arabic scales and featuring accordion, violin, and sometimes Arabic oud), the street musical genre mchiriku is seriously punk. Hand-built and hand-tuned drums thunder through the night at the mchiriku dance parties, young singers' voices ring out from the microphone, and a single Casio keyboard, jury-rigged through amplifiers and old PA systems and powered by a car battery holds a drone-like blast of melody. Distortion is half the fun here, and that long, droning, looping, pulsing Casio sound is otherworldly. Supposedly it's adapted from a double-reed instrument that held a droning pulse in the music before it, no doubt taken from Dar Es Salaam's many Arabic and Islamic influences. Tanzania and this city have long been a trading port, and here Arabic, African, and Indian musical ideas have swirled together. Mchiriku is street music, tied to late night street parties and actually banned in parts of Tanzania. Jagwa Music is a young band bringing this music overseas. They'll be touring the States this fall and bringing this music to the stage. Named for the Anglo-French fighter jet "the Jaguar," Jagwa Band have a kind of hardcore punk energy to their performances that marks this music as street party music. They should be a blast to see live.
7. Mbongwana Star, From Kinshasa
It's hard to think of a more powerful story than the musicians in Mbongwana Star: they were disabled on the streets of Kinshasa, one of the most dangerous and difficult cities in the world. Afflicted by polio as children, the two key leaders of Mbongwana Star, Yakala "Coco" Ngambali and Nsituvuidi "Theo" Nzonza, travel through the city's back roads on handmade electric and hand-powered wheelchairs, sometimes resorting to being pushed by neighborhood children. It's a story that the Western press ate up, but it actually conceals a much deeper story. Disabled people in Kinshasa hold an interesting amount of power. They're able to speak out somewhat against the government and some have become leaders for homeless, disenfranchised youth. It's a remarkable DIY spirit brought on by the circumstances of poverty and disability, something the French speakers there call "le système D." Coco and Theo have mentored many young people, and following successful tours overseas have been able to provide for large groups of family and friends. Formed out of the ashes of the popular Congolese band Staff Benda Bilili, their new band Mbongwana Star is an Afro-futurist vision of Kinshasa, a city of incredible cultural innovation. It's a testament to perseverance in impossible conditions, to making something amazing out of what you have, to actual life hacking, to keeping a positive view of your life and community. There is much to learn in this perspective and music. Oh yeah, and the music kicks ass, too.
8. Pierre Kwenders, Le Dernier Empereur Bantou
Another Congolese artist, Pierre Kwenders represents the creativity and connections of the Francophone African diaspora abroad. With so much of Africa having fallen under the heel of the French colonialist period, the language has become one of the key African languages today, uniting many African countries and their populations around the world. Kwenders comes out of the red-hot music scene in Montréal, Québec, a city especially known for gathering francophone populations from around the globe in one central place. In the music video for his single "Mardi Gras," he brings together some of the disparate threads of French culture in North America—Acadian rapper Jacobus from Nova Scotia, a recording of the Louisiana Cajun song "Danse de Mardi Gras," and his own Congolese heritage. His latest album, Le Dernier Empereur Bantou, feels almost impossible to categorize, moving elegantly between any one of the four languages Kwenders raps and sings in (French, English, Lingala, Tshiluba), brushing up against blazing electro-jazz, rich Congolese vocal harmonies, jangly-distorted soukous guitar lines, funky synths, and ghostly field recordings.
9. Fadimoutou Wallet Inamoud, Isswat
One of the real issues with listening to African music, obviously, is in the translation. Even if you're fluent in French and listening to francophone African music, there are still countless languages, even within a country, that the artist will sing in and write songs in. Unfortunately, much of the appreciation for African music in the West comes from simple exoticism. That's why an album like this is so important. It's not well known, and the singer here, Fadimoutou Wallet Inamoud, lives so far out in the bush in Niger that the record label head has never even met her. But he got the lyrics of her songs translated and they're deeply deeply beautiful. This is the voice of a young woman in Islamic Northern Africa, songs written of true love, fantasies of the boy-next-door. She channels her environment and what she sees around her. She has hopes for peace and contentment. Something like this shows us how much the lack of a common language can separate us. Here's an excerpt from her song, "Adyamina:"
What do you think about those tanks, those Kalashnikovs, those missiles of revolutionary men? / With their headlights, and their tail lights – don't they look like the Americans who came looking for Saddam Hussein? Oh, those revolutionaries can let the fire burn while
laughing.