Listen to AJJ's New Single "Candles of Love"
The Virginia folk-punk band's new album, Disposable Everything, arrives May 26 via Hopeless Records
Photo by Kyle Dehn
Music
News
AJJ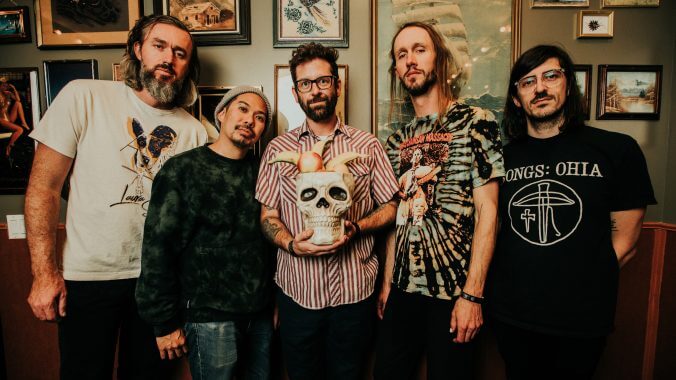 With their 10th LP—Disposable Everything—arriving on May 26 via Hopeless Records, Arizona folk-punk outfit AJJ have released the sixth single of the cycle: "Candles of Love." As the band has teased in 2023, Disposable Everything is AJJ's most-dynamic, complex and ambitious project to-date. On "Candles of Love," arrangements of strings, keys, horns and acoustic guitars carry the track home.
The beloved band that forged its name on a songwriting approach that riffed on the apocalyptic societal collapse and the immoral creatures left atop the rubble has reached a new chapter. They've grown into a new shape, delivering sermons on grief after the outbreak of COVID three years ago.
"Candles of Love" isn't the freight train of societal critiques that AJJ often produces, but that's no issue. In a subtle tone, vocalist Sean Bonnette sings about the brightness of the room and how a light can change everything. "Like a hand in a glove, everything fitting just right tonight / For the year or above, Double A batteries keep them boys glowing," Bonnette sings. Of course, the track offers a quick, cheeky jab at contemporary at the market enterprise that engulfs all: "And also thank you capitalism, never stop making stuff."
Watch the music video for "Candles of Love" below.