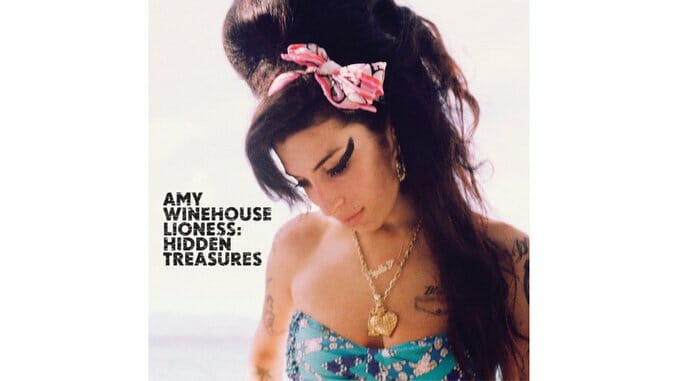 Recorded over the course of Amy Winehouse's short, impactful career, Lioness: Hidden Treasures provides us with a compilation of deeps cuts that didn't make her previous two releases as well as two songs that were meant to be on the follow up to Back to Black.
Those two tracks, "Between The Cheats" and "Like Smoke," offer us a chance to hear what could have been, while the rest of the album provides odds and ends that might have surfaced a dozen years down the road, but were in dire need of being released.
Winehouse's vocals are deep, powerful, filled with soul and as remarkable as ever. Listening to the singer belt out a cover of Ruby & the Romantics' "Our Day Will Come" is bittersweet. It's a remarkable song that would have made 1950s high school students swoon for the future, but still manages to evoke emotions from today's generation.
Each song is a time warp, but that shouldn't be news to anybody. Winehouse has always preferred the stylings of the past. A fine example is the 2002 cover of "The Girl From Ipanema," recorded when she was just 18. It proves her taste and ability wasn't grown over night and it was in fact something she had been developing for quite some time.
While there are in fact hidden treasures on the album, not every song proves worthy of the title. Hearing Nas rap on a Motown-inspired track is something that was unnecessary and takes away from the beauty of Winehouse's artistry.
Even with the scattered blemishes, Lioness contains inspirational lyrics backed by the vocals to match. The album ends with a devastating cover of Donny Hathaway's "A Song For You" where Winehouse sings "And when my life is over, remember when we were together. We were alone and I was singing this song for you."
When she recorded it in 2009, she probably didn't mean for it to be the poignant message it has since become. It is, however, the way we should all remember her for: as a talented singer who provided us with a voice that transcended generations. And to think she accomplished so much at such a young age.