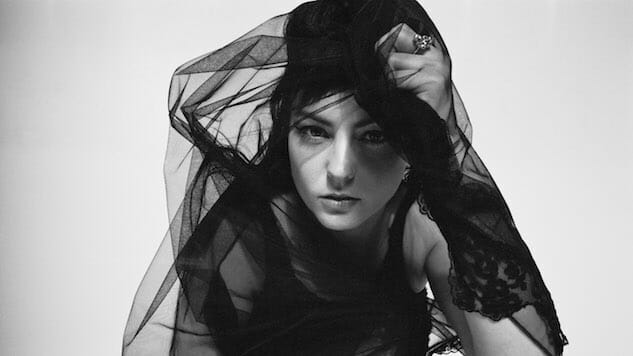 St. Louis-born, now Asheville-based singer/songwriter Angel Olsen has a unique ability to mystify. After coming of age in her local punk scene and later recording and touring with Bonnie "Prince" Billy, Olsen ventured out on her own, recording lo-fi folk music that showcased her stunning vibrato vocals and an otherworldly capacity to convey lament, betrayal and desire with deep resonance. Her debut full-length, Half Way Home, arrived in 2012 with her haunting voice hovering over rough, sparse instrumentals. She later signed to Jagjaguwar and released 2014's Burn Your Fire For No Witness, which was equipped with singed electric guitars, but her woozy vocals remained.
If Burn Your Fire was her breakthrough, then her third album My Woman cemented her as one of the most gifted contemporary vocalists and emotional wielders. Olsen threw herself more fully into the vintage rock 'n' roll that surfaced on her previous LP, but she expanded it with girl-group sensibilities, jangly fuzz, reckless energy and intoxicating individualism. Paste contributor Matt Fink summed up this artistic shift best: "This is an artist going widescreen." Now set to release her new album, All Mirrors, tomorrow (Oct. 4), Olsen has pushed her vision even further, bringing in a 14-piece orchestra, embracing shimmery synths and still wringing out guttural theatrics from her fluttering, show-stopping vocals. In celebration of Olsen's latest installment, which Paste's Max Freedman dubbed "her third consecutive (and likely best) masterpiece to date," we ranked our 15 favorite Olsen selections, which portray an artist who continues to blossom and bewitch before our very eyes.
15. "Acrobat"
The first track from Olsen's debut LP, Half Way Home, explains why some initially likened her voice to a cabaret singer. Her voice fluctuates like a '50s movie star in distress or perhaps a rootsy yodeler perched on their front porch. Alongside plucked acoustic guitar, Olsen's warbled voice muses about unshakeable desire. She longs to be a vessel of love ("I want to be made out of love / I want to be made into life"), but also to transfix the object of her desire ("Oh, to be that distant thought / Some growing meaning in your mind"). Her refrain of "I am alive / I thought that I died" remains one of her most heartbreaking vocal performances. —Lizzie Manno
14. "High & Wild"
If one person has defined Olsen's output, it's the lover who's at Olsen's side only physically—mentally, he's nowhere to be found. "High & Wild" is possibly the most fun Olsen's ever sounded while dealing with this recurring character. Over a swinging Western groove built from bouncing pianos and sweeping guitar chords, Olsen paints her circumstances with an enticing vocal style that's often closer to spoken than sung. The arrangement renders her descriptions of her lover as jovial and borderline tongue-in-cheek even though they're all devastating. When she sings "I'm neither innocent or wise when you look me in the eyes / You might as well be blind / 'Cause you don't see me anymore," she almost sounds excited. Whereas two albums later, on All Mirrors, Olsen would frequently repeat similar sentiments with righteous anger, "High & Wild" is a Burn Your Fire for No Witness highlight that makes being alone together sound unexpectedly delightful. —Max Freedman
13. "Sweet Dreams"
In 2017, Olsen released Phases, a compilation of previously-unheard demos, b-sides and covers, but it was far from the throwaway material that often characterizes these rarity collections. The scruffy, rollicking guitars and intriguing croon of "Sweet Dreams" cultivates a mysterious, outlaw country persona. Olsen stretches her vocals with impactful regret, but she always sounds headstrong. It's like a Wild West caper, in which Olsen falls for someone, but ultimately pulls away from its gravitational tug because she hasn't yet found satisfaction within herself. It's a clear display of her unwavering commitment to independent emotional fulfillment. —Lizzie Manno
12. "What It Is"
"What It Is" is a pop song dressed up to go to the orchestra. The most upbeat thing Olsen has written in a long time, it's deceptively simple at first, featuring just a basic drumbeat (one that almost recalls Kanye West's "Black Skinhead"), a plodding bassline and Olsen's voice. But suddenly, some in-your-face strings enter the mix, throwing you completely for a loop as Olsen repeats her "It's easy when…" refrain a dozen or so times over. Describing a hypothetical "carefree" relationship from the other side of a breakup, Olsen is almost mocking those in love, singing with a snarky smile knowing that every couple's honeymoon period will eventually end—just like the staccato "Daydreaming" by Radiohead-esque strings that interrupt the pop bliss of the first half of the song. "It's easy if you tell the truth / But knowing what it is, it's not enough / And knowing that you love someone doesn't mean you were ever in love" might be one of Olsen's most biting lyrics to date. —Steven Edelstone
11. "Lights Out"
Ostensibly, the majority of Olsen's lyrics deal with romantic fallout. One of her best lines ever, from "Lights Out," succeeds because it tackles her usual subject matter with a deft balance of hope, strength and universality. "Some days all you need is one good thought strong in your mind," she sings during the chorus, a sentiment that could apply to depression, heartbreak, frustration and plenty of other emotions and experiences. It's a feeling all the more powerful since it arrives during a wah-heavy chorus that's ever so slightly faster than the song's stark verses, the subtle tempo pickup emphasizing Olsen's unbreaking determination. The final chorus segues into a guitar solo just as moving as Olsen's promise to never falter, a riveting way to turn the lights out on a song that shines brightly throughout. —Max Freedman
10. "All Mirrors"
Put quite simply, "All Mirrors" is Angel Olsen's audition to write the next James Bond theme song. Not really, of course, but could you imagine? The swelling strings, dark synth tones and Olsen's strong, confident vocals scream James Bond. But it's also a very interesting choice for a lead single (and title track) ahead of Olsen's highly-anticipated fourth record. It doesn't sound much like the rest of All Mirrors—its pulsating synths are definitely an anomaly throughout the strings-heavy collection—but it's magical in and of itself, full of a gothic darkness unseen at any point in her back catalogue. It's hypnotic in ways few of her past songs are, trying to pull you into the shadows with her. —Steven Edelstone
9. "Never Be Mine"
As Albus Dumbledore once longed aloud, "Oh, to be young and feel love's keen sting." But sometimes that sting is more like a third-degree burn, and Olsen knows that better than anyone. On "Never Be Mine," she reworks a girl-group beat and Beatles-esque guitars to fit her groovy retelling of a timeless feeling: rejection. Snappy and sad, "Never Be Mine" is the story of a crush unreciprocated, a call unanswered, and Olsen even finds a way to tell it as a sort of upside-down love triangle. —Ellen Johnson
8. "New Love Cassette"
The intrigue of the All Mirrors cut "New Love Cassette" can be traced back to her earliest recordings. While the polished percussion, pulsing syths and dramatic strings are new additions to her repertoire, her chorus vocals that oscillate with gentle tenderness are reminiscent of her psych-folk days. The mingling between these styles is what makes this one of her most fascinating songs to date. Its introversion and extroversion are a stark contrast, but its appeal transcends this juxtaposition—the song's overwhelming beauty is what is felt most. —Lizzie Manno
7. "Special"
"Special" is Olsen in her most blissfully dazed state. Its thick, slow crawl heightens the dizzy nature of her vocals as she longs for a disinterested partner to reconjure their euphoric feelings for one another. The guitars on this Phases track are more psychedelic than anything on My Woman. You can make out each fuzzy pluck until they eventually loosen up—whooshing and teetering without a care in the world by the song's end, floating in the distance like the balloon in her lyric: "But now in this moment, I wish I could meet you / But I'm just a balloon, far away, I see you." —Lizzie Manno
6. "Heart Shaped Face"
Although Olsen's fourth album is titled All Mirrors, it's this straightforward deep cut from her third album, My Woman, that first hinted at her interest in how we often build falsely grounded visions of other people. "Was it me you were thinking of? / All the time when you thought of me? / Was it your mother? / Was it your shelter? / Was it another / With a heart-shaped face?" she asks, wondering whether her lover actually sees her for who she is. It's not her first time feeling this way: "There is nothing new / Under the sun / Heartache ends / And begins again," appears in the song's wrenching breakdown. This section is the only part that sounds much different from the rest, as a single chord progression and smoky drum pattern comprise most of the song. That's exactly its charm—Olsen is such a powerful songwriter that even her simplest songs are among her most impactful. —Max Freedman
5. "White Fire"
The somber "White Fire" may be an anomaly when placed alongside the largely animated rock of Burn Your Fire For No Witness, but it also stands out for other reasons. It sounds like it came from the woods or a dark cave, and it's not because of the fire burning in solitude, which spurred the album title. Olsen's vocals are intensely mournful and primal as bare guitars lightly chug along. It's not a joyous tune you'd pull out at a campfire, but one that evokes a blaze engulfing a home as dejected onlookers comfort each other without speaking a word. —Lizzie Manno
4. "Sister"
Few artists can sell a single line quite like Angel Olsen. Throughout loads of her songs, Olsen will sing a simple lyric over and over and over again, as if the world seemingly depends on it, as if it's the most important phrase she's ever written. On "Sister," she coos, "All my life I thought I'd change" a dozen times, sometimes in a whisper and elsewhere as a scream as a cathartic guitar solo waxes and wanes behind her. It's one of the most thrilling moments throughout her entire discography: three minutes and 20 seconds featuring only seven words and impressive-as-hell guitar shredding, yet at no point does the gambit ever remotely become boring—it becomes more and more enthralling with each passing refrain. —Steven Edelstone
3. "Intern"
Maybe Angel Olsen is known more for skewering past relationships than dropping bite-sized nuggets of wisdom in her music, but on "Intern" she sings, "Doesn't matter who you are or what you do / Something in the world will make a fool of you," and it doesn't get more real than that. Twinkling synths provide the moody backdrop to the My Woman album opener, which is equal parts cynical and hopeful, because no matter how many times you get screwed over by love or life, you keep going. Olsen survives through making art: "I just want to be alive / make something real." —Ellen Johnson
2. "Lark"
Roughly 78 seconds into "Lark" comes one of the most goosebump-inducing moments in Olsen's catalog. "Hiding out inside my head / It's me again!" Olsen yells as the song transitions from a gentle stir to a symphonic roar in just the first of three equally hair-raising moments throughout this six-part, six-minute epic. Three minutes later, as she repeatedly taunts "Dream on!" over infernal guitar bends, the goosebumps rise again, hinting at something even more intense to come. That would be the song's final minute, a visceral romp of missile-like strings, thunderous drums and Olsen just going for it, pretty much screaming by her standards. "You say you love every single part / What about my dreams? / What about the heart?" she admonishes a destructive ex (as she does throughout All Mirrors), her rage as intense as her music. His loss—"Lark" portrays Olsen as a master of vivid emotion. —Max Freedman
1. "Shut Up Kiss Me"
"Shut Up Kiss Me" is where many of Olsen's strengths intersect—floaty vocals, heartbreaking lyrics, clamoring rock 'n' roll, and a fiery delivery and emotional core that couldn't possibly be phoned-in. Olsen stomps out the complexities that turn into relationship roadblocks, which can unnecessarily lead people astray. The song is also a stomper in its own right—it's about as good as three-minute guitar pop gets. When she sings the chorus, it's not a polite, dainty request for someone's companionship, it's playfully pushy. Her defiant vocals are nurturing, alluring and angry at the same time—it's not a matter of if you'll get wrapped up in them, it's when. —Lizzie Manno
All Mirrors is out on Oct. 4 via Jagjaguwar.