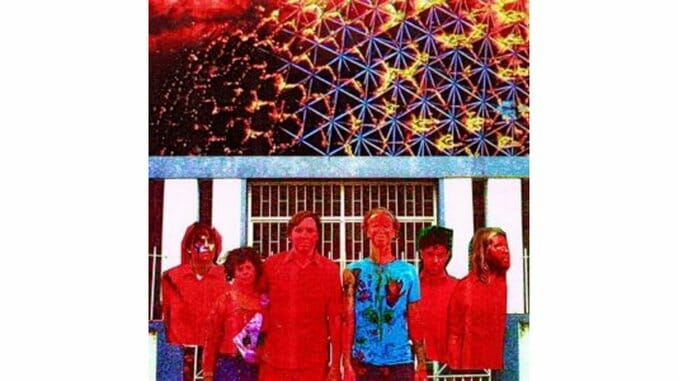 Amazingly, we don't know a whole lot about Arcade Fire's upcoming album. We know that Merge Records will release it on Oct. 29 and that it may—or may not—be titled Reflektor. We know it features production work from James Murphy of LCD Soundsystem and that it features a spot from David Bowie. One certainty: The first single is called "Reflektor," and it's a seven-minute dance-rock jam with no precedent in Arcade Fire's catalog. Originally intended for release at 9 o'clock on the ninth day of the ninth month, the song leaked one day early—no doubt aggravating the band's on-staff numerologist. However, the band did release an interactive video for the single today, a multimedia "virtual projection" created by Montreal filmmaker Vincent Morisset.
One last thing we know so far: "Reflektor" pretty much kicks ass.
In 2013, nobody can touch the Arcade Fire for rolling out an album with maximum pomp and mystery. By comparison, Kanye West's international urban video projections and Jay Z's app tie-in seem unimaginative. Even before the Montreal collective had released the first snippet of noise on "Reflektor," the hubbub over the mysterious hieroglyphics and rumored album covers had reached a feverish pitch, suggesting a pre-digital event album. For a few days at least, the typical promotional cycle was stretched out of whack and actually seemed unpredictable.
Remarkably, "Reflektor" not only lives up to all the carefully orchestrated brouhaha, but actually exceeds it. For a band that defined 2004 and inspired a new chest-thumping emotionalism in indie rock—the tendrils of which can be heard in Coldplay and even Mumford & Sons—Arcade Fire refused to live in that moment and repeat its career-making debut. If Funeral was introverted (it was, after all, inspired by the deaths of family members), then Neon Bible and The Suburbs were markedly the opposite. The band tinkered with that big, booming sound, adding nuance without losing scope. "Reflektor" suggests a culmination of those experiments.
The song opens with a wash of stray noise before a snare drum announces the main groove, which immediately flashes its membership card to the Tom Tom Club. The beat is all toms and high-hat, with squiggles of synth ratcheting up the jitteriness. It's a perfect backdrop for Win Butler's lyrics about heaven, mirrors, "the other side" and some mysterious force trying to keep him down. His songs have always possessed an air of conspiracy but have never resorted to paranoia; instead, he sounds like he's writing in invisible ink on "Reflektor," coding secret messages for his allies in the underground.
The song is most lucid at its mid-song climax, where it's as though the entire band is walking down a hall of mirrors, repeating: "Just a reflektion of a reflektion of a reflektion of a reflektion…" Such a mix of high-minded indie and thrusting dance beats could easily have pulled the band out of their comfort zone and sounded silly or awkward, yet "Reflektor" shows just how large Arcade Fire's comfort zone actually is. It sounds as big and urgent and monumental as "Wake Up" or "Keep the Car Running" or "Ready to Start," except they've found new ways to convey those ideas. The band isn't disregarding their previous peaks, but they refuse to remain beholden to them either.