Watch Aretha Franklin's Full 1971 Concert at the Fillmore West in San Francisco
Photo by Express Newspapers/Getty
Music
Features
Aretha Franklin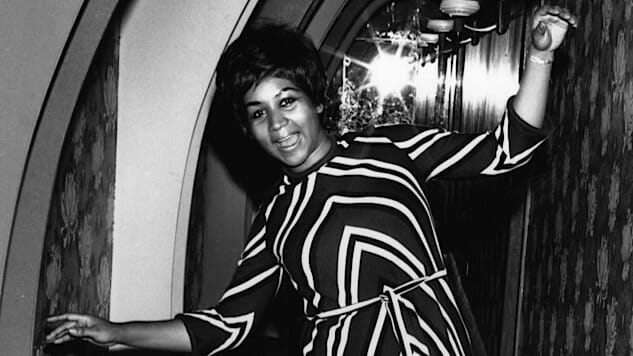 One of the most anticipated and ultimately satisfying run of shows ever to occur on the Fillmore West stage occurred in March of 1971, when Bill Graham presented three consecutive nights featuring Tower of Power, King Curtis, and Aretha Franklin. Immortalized in part on the album Aretha Live at Fillmore West, these performances became a landmark event that played a significant role in Franklin reaching beyond the loyal black audiences that already knew of her incredible talent. Pulling off these shows was not an easy task, but thanks in large part to the vision of Jerry Wexler, who had signed Franklin and produced her studio recordings, the challenging logistics were overcome, but not without some trepidation. First, Fillmore West was a much smaller venue that could not accommodate the size audience required to guarantee Franklin's performing fee at the time. This was overcome with the solution of recording a live album to offset the financial arrangements. Additionally, Franklin had been touring with a traditional show band for years, but Wexler wanted to use an entirely different group for these performances, utilizing top session musicians, including those that had played on Franklin's studio recordings. There were also serious concerns about how Franklin would be received by the primarily white hippie audience that frequented Fillmore West.
Wexler persuaded Franklin to work with King Curtis and the Kingpins, which featured one of the greatest rhythm sections on the planet. Led by Curtis Owsley, whose soulful sax had been prominently featured on Franklin's earlier studio sessions for Atlantic, his Kingpins included a dream team of musicians that featured Cornell Dupree on guitar, Jerry Jemmott on bass, Bernard Purdie on drums, Truman Thomas on electric piano, and Pancho Morales on congas. They additionally recruited the up and coming organist Billy Preston, already a veteran of countless sessions, including The Beatles Let It Be album sessions. To give the ensemble the additional punch required to match Franklin's intimidating vocal power, the legendary Memphis Horns were also recruited, along with the Sweethearts Of Soul (Pat Smith and Aretha's cousins, Margaret Branch and Brenda Bryant) on background vocals. Aretha Franklin was totally in her prime as America's Queen of Soul when this recording was made in 1971 at San Francisco's legendary Fillmore West auditorium. Franklin, who had already captured the hearts and minds of young, black America, was eager to break out to a new, mainstream white audience, who had embraced her hit singles, but not really delved deeper into her musical repertoire.
The album, Aretha Franklin at the Fillmore West released shortly after she performed this and the other two shows, was a doctored recap of her three-night stand that failed to capture the pure electricity of these shows. In 2007 Rhino Records released all three shows in one brilliant CD collection entitled Don't Fight the Feeling: The Complete Aretha Franklin & King Curtis Live at the Fillmore West. However, that release was limited to 5,000 copies and is now out of print.
This performance, played on the third night of the run, March 7th, 1971, features a kick-ass combination of the King Curtis Kingpins band and The Memphis Horns, and is probably the best of the six performances Franklin gave. She opens, ironically, with the song that she often closed her shows with, "Respect," written by the late Otis Redding. There are hot versions of her other hits, such as "Call Me," "Don't Play That Song," and "Spirit In The Dark," performed here with Ray Charles. She also does a bevy of soulful covers including Stephen Stills' "Love The One You're With," Bread's "Make It With You," a stinging version of The Beatles' "Eleanor Rigby," and "Bridge Over Troubled Water," which was then a hit for Simon & Garfunkel.
Franklin, who was Atlantic's answer to the Motown sensation, actually closes with a pair of Motown classics: "You're All I Need To Get By" and "Reach Out And (Touch Somebody's Hand)," which she absolutely crushes in comparison to the Diana Ross version.
Give this recording a solid listen and you'll understand what R-E-S-P-E-C-T is all about.