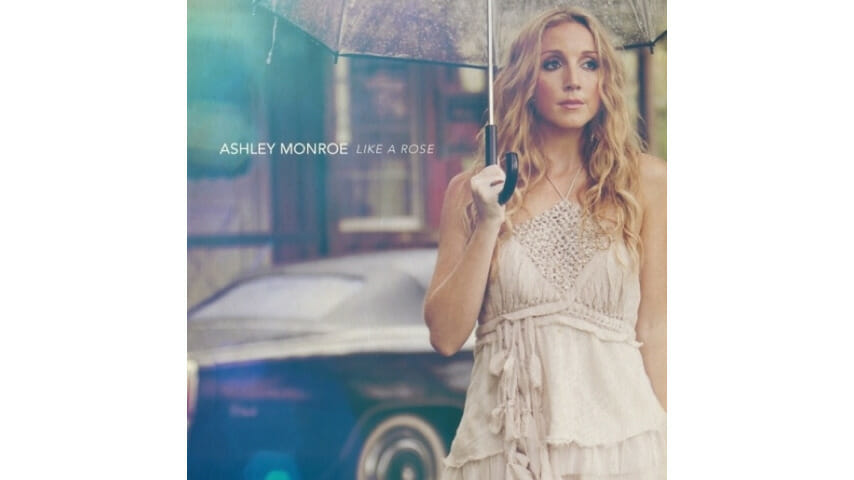 To look at the pretty girl in the sundress under the parasol, Ashley Monroe could be one more Southern belle looking for her place in the Easter Parade. So placid and pastoral, this girl from East Tennessee who likes her girlie hippie things—just don't judge the recording by its cover.
Though the folk-bluegrass title track, marveling at the obstacles already weathered and the good fortune found almost in spite of circumstances, Like A Rose is no fairy tale. The opener is followed by the wide-open lament about the state of the never-quite-white trash damsel who's got a landlord banging on the door and the sad realization she's one dollar short and "Two Weeks Late."
In today's Hallmark Nashville, where it's always a great day in America, Ashley Monroe's seen enough life in her 26 years to know better. That knowing makes her debut—10 years after signing her first stalled record deal—such a tangy treat.
Not only does Vince Gill's production keep her decidedly on the country side of instrumentation, he understands keeping the mountains in her voice and the Parton-esque shimmer in her airy soprano.
He also knows no fear of the ironic or the outrageous. Her duet with once hard country/now TV sensational Blake Shelton is the ribald "You Ain't Dolly (You Ain't Porter)." Truculent as anything Dorothy Parker ever wrote, the jabs and barbs about sex parts are as audacious as they are hilarious.
Taking it even further is "Weed Instead of Roses," a gritty bit of shock therapy for marital ennui that suggests forgoing respectable sorts of consort for something far more prurient and randy. "Lets put up the teddy bears," she trills sweet as Sunday morning, "and break out the whips and chains."
That resilience in the face of a rut has sustained the Hippie Annie of Miranda Lambert's trailer-trash trio the Pistol Annies. Monroe, unlike so many of today's Pop-Country Barbies, isn't afraid to laugh at herself, her plight or her obvious cliches. But don't write Ashley Monroe, who wrote Jason Aldean's wildly compelling dignity-in-the-heartbreaker No. 1 "The Truth," off as a joke.
She can do pained vulnerability as "The Morning After" shows, as well as do-what-you-gotta-do resolve 'n' swagger on the slightly Cajun "Monroe Suede." Sparkling brightest on "Used," her sense of beauty in the gently torn and worn state that life imbues things that have been loved rises unadorned. Less is sometimes more, knowing better than dreaming; on Like A Rose, it's a powerful reminder of that value beyond perfection, something Ashley Monroe knows by heart.