Listen to One of B.B. King's Greatest Performances, Winterland 1967
Fifty years ago on this date, the King of the Blues seduced San Francisco. Listen to a rare recording.
Photo: Getty Images
Music
Features
B.B. King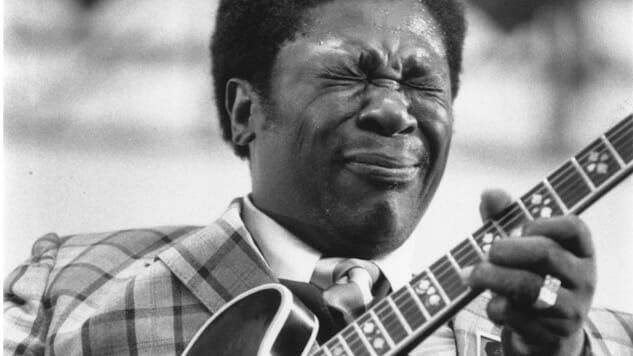 Did you know that Paste owns the world's largest collection of live music recordings? It's true! And what's even crazier, it's all free—hundreds of thousands of exclusive songs, concerts and videos that you can listen to and watch right here at Paste.com, from Louis Armstrong to The Who to U2 to Wilco. Every day, we'll dig through the archive for the coolest recording we have from that date in history. Search and enjoy!
Many blues fans cite B.B. King's 1964 album Live at the Regal as the pinnacle of his live powers, and maybe the greatest blues recording of all time. But the man himself questioned this position over the years, stating that his abilities improved considerably over the next few years. This performance, recorded at Winterland on Dec. 8, 1967, goes a long way toward justifying his claims, capturing him in stellar form and near the peak of his considerable powers.
On this night in San Francisco, the King of the Blues wasted no time getting down to business, delivering a double-whammy of two of his signature tunes, the up-tempo "Everyday I Have The Blues," followed by the slow-burning "How Blue Can You Get." King's enthusiasm for his music was obvious and infectious; whether interjecting stinging phrases between the lines of the verses or cutting loose to solo, he poured emotion into every note.
Because he was such an innovative guitarist, King's voice—sometimes silky, sometimes sandy—was often overlooked. The final two songs of this show showcased his most impassioned singing. "The Jungle," a blues about escaping economic ruin, picks the tempo back up and gives the band another chance to cut loose. "Don't Answer the Door," another smoldering blues of jealousy gone overboard, ends the set with the entire group displaying a masterful control of dynamics.