Multi-Hyphenate Bartees Strange Cements His Stardom, Once Again, on "Daily News"
The bonus track from the physical release of Strange's 2022 album Farm to Table is now streaming.
Photo by Luke Piotrowski
Music
News
Bartees Strange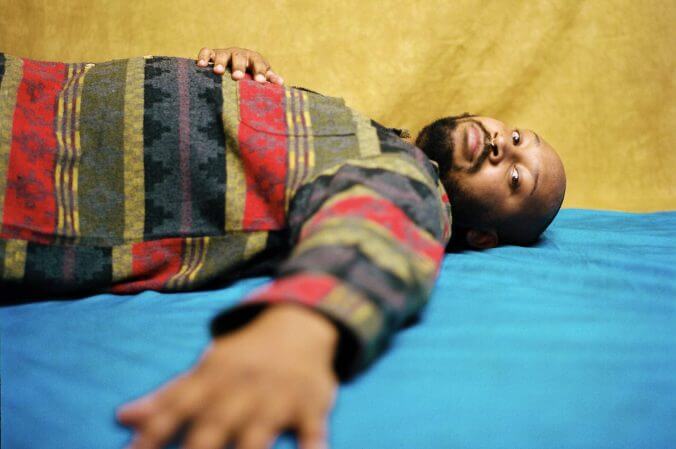 Since releasing his debut record, Live Forever, in 2020, Bartees Strange has built himself into one of the most fascinating and talented rockstars in the world. His 2022 sophomore record, Farm to Table, was the perfect amalgamation of everything in his orbit, as he shapeshifted across a multitude of textures and themes, from hip-hop to sun-soaked indie glam. The Oklahoma-raised and Washington D.C.-based virtuoso's music had hit its first apex. Strange populated Farm to Table with hair-raising, passionate concertos about his hometown of Mustang, Black pride and the ever-changing tides of heartache and self-love. It was a masterclass; a wall of sound fit for a king. 
Now, a bonus track from the physical release of Farm to Table is getting its day in the sun, hitting streaming services in a fury of immense, mythical proportions. "Daily News" is magical, heavy and perfect. From the shining guitars that ramble beneath Strange's soulful vocals to the cascading breakdown of octaves and horns that round out the track, "Daily News" is further proof that few musicians in the world are as breathtaking, poised and magnetic as Strange, whose album leftovers carry as much power as his centerpieces.
Known for his electric, commanding stage presence, the sound Strange personifies on "Daily News" is a perfect teaser for his upcoming string of shows, which include stops at SXSW, Newport Folk Festival and the Re:SET summer concert series. Strange will also be opening for The National in the fall.
Listen to "Daily News" and check out Bartees Strange's upcoming tour dates below.
Bartees Strange's Upcoming Tour Dates:
Mar 14 @ 3:10PM – Austin, TX @ Working Families Party's The Politics Stage, Austin Motel
Mar 14 @ TBD – Austin, TX @ Give A Note (SXSW official), The Belmont
Mar 16 @ 1:00PM – Austin, TX @ BrooklynVegan, Empire
Mar 16 @ 2:00PM – Austin, TX @ NIVA/Live List/Tidal, The Parish
Mar 16 @ 4:30PM – Austin, TX @ Stereogum, Cheer Up Charlies
April 3 – Southampton, UK @ The Joiners
April 4 – London, UK @ Lafayette
April 6 – Nottingham, UK @ Bodega Social Club
April 7 – Glasgow, UK @ Stereo
April 8 – Manchester, UK @ The Deaf Institute
April 10 – Bristol, UK @ Rough Trade
April 11 – Dublin, IE @ The Workman's Club
Jun 2 – San Diego, CA @ Re:SET – Spandragon
Jun 3 – Los Angeles, CA @ Re:SET – Brookside
Jun 4 – Stanford, CA @ Re:SET – Frost Amp
Jun 9 – Dallas, TX @ ReSet – The Ground @ Texas Trust
Jun 10 – New Orleans, LA @ Re:SET – City Park
Jun 11 – Atlanta, GA @ Re:SET – Central Park
Jun 16 – Washington, DC @ Re:SET – Merriweather Post Pavilion
Jun 17 – New York, NY @ Re:SET – Forest Hills
Jun 18 – Boston, MA @ Re:SET – Suffolk Downs
Jun 21 – Calgary, AB @ Sled Island Festival
Jun 23 – Columbus, OH @ Re:SET – Kemba Live
Jun 24 – Chicago, IL @ Re:SET – Riis Park
Jun 25 – Nashville, TN @ Re:SET – Centennial Park
Jul 29 – Newport, RI @ Newport Folk Festival
Sep 29 – Amsterdam, NL @ Ziggo Dome *
Sep 30 – Berlin, DE @ Max-Scheling Halle *
Oct 1 – Munich, DE @ Zenith *
Oct 4 – Madrid, ES @ Wizink Center *
Oct 5 – Porto, PT @ Super Bock Arena *
Oct 6 – Lisbon, PT @ Campo Pequeno *
* w/ The National