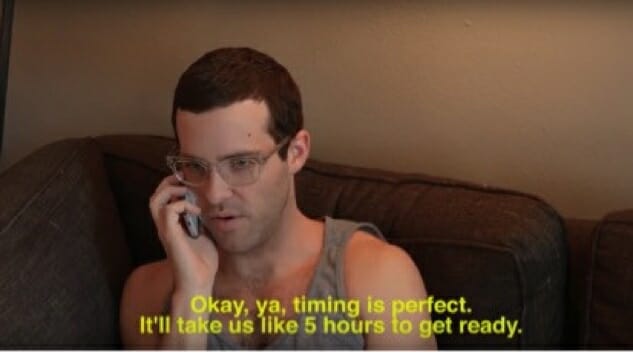 A lot of bleep bloop went into Baths' forthcoming album Romaplasm (out Nov. 17 via Anticon), a second wave of Romanticism. With the first single from the album, "Yeoman," Will Wiesenfeld put the emotion in at-home. Now, with his self-directed music video for "Out," Wiesenfeld puts the awe in the everyday.
"Out," like "Yeoman," is perfectly produced bedroom pop that actually imagines leaving the bedroom. In the video, Wiesenfeld sits on the couch and promises five hours of preparations to get ready for the mysterious location of "out." Grain bowls under beds equal friends, drawings on paper translate into outfits, computer codes turn into makeup that one friend boasts is "a drunk Borg." It's a romp of digital-age absurdity that manages to be touching.
"This video is inversely proportional to how seriously I take making music—meaning it's profoundly dumb. I'm proud of it though. I think," Wiesenfeld says in a statement. "I take music seriously, but I don't take myself seriously at all, so I love to play with that duplicity online and in video work."
Watch "Out," starring Wiesenfeld, Jane Kilcullen, Arun Goswami, John Wiesenfeld, Morgan Greenwood and Nick Flessa, in the player below. Baths will be throwing an album release party for Romaplasm on Nov. 24 at Zebulon in Los Angeles—tickets are on sale here. Find out more about his forthcoming album here, and for a bittersweet (dare we say "darker") side of Baths, check out a Paste Cloud performance of "Miasma Sky," off 2013's Obsidian, also below.