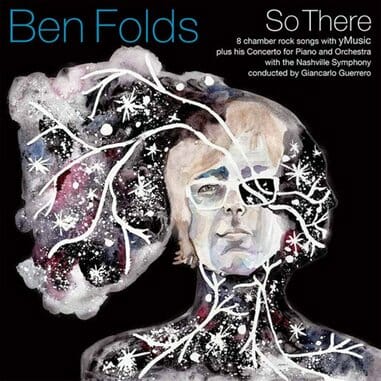 Ben Folds states his defiance upfront, right in the title. His latest LP, which features collaborators including the New York-based chamber ensemble yMusic and the Nashville Symphony Orchestra (NSO), meshes the classical and pop music worlds in ways that few mainstream contemporary artists can hope to achieve. The results are mixed, but Folds lays it all on tape proudly, as if to say to fans and detractors alike, "so there."
Throughout his 20-year career, Folds has represented everything from snark-rock king with Ben Folds Five to literary pop songwriter with author Nick Hornby to a cappella bandleader for college students. But on So There, Folds actually wrote, arranged and recorded eight original songs with yMusic—a sextet comprised of violin, viola, cello, flute, clarinet and trumpet. The last three tracks on the album are the three movements to Folds' "Concerto for Piano and Orchestra," performed with NSO (who co-commissioned the work with the Nashville Ballet and the Minnesota Orchestra back in 2013) and conducted by their own Giancarlo Guerrero.
While the concerto deserves a separate musical analysis for integrating modern phrasings and flourishes to an art form popularized in the 18th century, the pop tunes on So There will be the most accessible for those familiar with Folds' previous output. In fact, lead single "Phone in a Pool" starts off like a standard Folds piano-based pop rock tune, with only the slightest pizzicato plucks punctuating the norm. But when yMusic has the space to experiment like on songs like "Long Way To Go," they prove themselves as flexible collaborators and dexterous instrumentalists.
Not all songs on So There balance the backgrounds of their creators evenly, though. "F10-D-A" is self-indulgent geekery that fluctuates between music theory and double entendre. The lyrics to "Not A Fan" are too quirky for the sweeping, waltzing civility. But lead track "Capable of Anything" seems to encapsulate both Folds' background and yMusic's influence. Folds opens the record by asking in his typically sarcastic way, "What is this? / It doesn't make much sense. / They sing it like a pop song. / You're capable of anything / and I'm sure they meant / you could be president. / Or you could just forgive me." Then, among the fluttering of a clarinet and a staccato trumpet bleating the same note, he continues, "But I stopped caring what you think about me. / I gave up." It's a mark of rebellion from a songwriter whose greatest attribute is his fearlessness in creating.