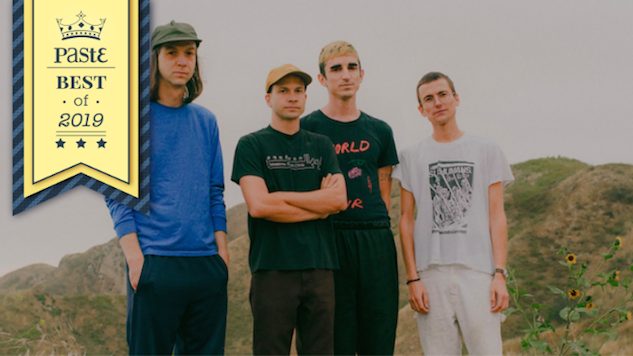 Shoegaze melts and soothes the soul. It gets its power from the dichotomy of beauty and noise, and both properties are much needed in 2019. Like many genres and subgenres in this day and age, shoegaze doesn't live in a vacuum—it bleeds into other genres and has seen much evolution since its '80s and '90s heyday. Many of the artists listed below aren't solely categorized as shoegaze—they adopt adjacent genres like dream pop and slowcore or they might even dabble in more distant realms like industrial or electronic music. However you might square these albums, Paste rounded up 10 of our favorite shoegaze (or shoegaze-like) full-lengths from the past year for your reading and listening pleasure.
Listen to our Best Shoegaze Albums of 2019 playlist on Spotify right here.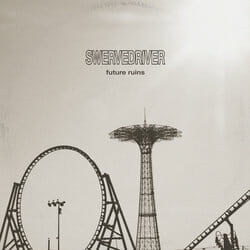 10. Swervedriver: Future Ruins
As the veterans and rightful behemoths of this list, Swervedriver haven't shown any signs of weariness yet. The British band rose to prominence in the '90s for the forceful shoegaze of albums like 1993's Mezcal Head, and their first album since 2015's I Wasn't Born to Lose You is similarly imposing. This year's LP, Future Ruins is marked by frontman Adam Franklin's delicate vocals and empathetic guitar chimes. Though their guitars may not spit fire like an exhaust pipe as they did on previous material, this leisurely sound suits them well. The title track is a gorgeous, sparse pop number, and its stargazing quality evokes awe as does its brief guitar fire-breathing. Despite the minimal nature of these songs, there's an otherworldly quality to them, like in the humble vocals and beep boops of "Theeascending" and the muffled vocals of "Spiked Flower." Future Ruins is the reaffirmation that Swervedriver are capable of dialling it back and even occasionally stepping on the gas. —Lizzie Manno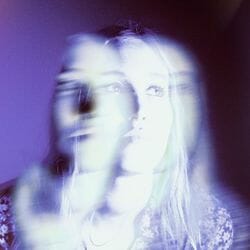 9. Hatchie: Keepsake
In September of last year, Alvvays invited tour openers Snail Mail and Hatchie onstage for a cover of The Hummingbirds' "Alimony." That moment felt a bit like a passing of the torch: As Alvvays were transitioning into indie veteran status following two critically acclaimed records, Snail Mail was the artist of the moment, the "now" of the trio. But also on that stage was rising Australian dream pop artist Hatchie, the moniker of Harriette Pilbeam: Keepsake, her debut record arriving nine months after that night, proves her inclusion on that bill wasn't some sort of a fluke—she deserves to be on that stage every bit as much as those other artists, releasing an album that stands just as tall as the best of Snail Mail, Alvvays, or, quite frankly, anyone else in indie rock these days. Catchy and well-produced, nearly every song hits with a major sing-along chorus, the kind that could easily soundtrack any teen rom-com in the near future. The blueprint that Pilbeam follows throughout works extremely well for her. Most artists at this point in their careers would give anything for the ability to write one pop song as good as the upbeat, guitar-driven "Obsessed," let alone 10 similar versions of it. She doesn't experiment much throughout her debut, but Pilbeam knows what she does best and sticks to it throughout. Her dream pop niche in the indie rock world is sure to win her loads of new fans going forward, and with her debut, she establishes herself as not only one of its rising stars, but also one of its best songwriters. —Steven Edelstone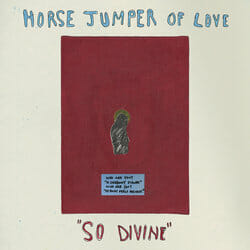 8. Horse Jumper of Love: So Divine
On their second album and first for Run For Cover Records, Horse Jumper of Love perfect their driving slowcore while discarding some of the moping that characterized their self-titled debut. This time around, the Boston trio's desolation is mostly confined to the dejected guitars, which exude as much angst as a pop-punk chord progression, as much muscle as a metal riff and as much sonic weight as a shoegaze solo. Frontman Dimitri Giannopoulos doesn't just make passing, strange moments of insignificance feel like the center of the universe, but when his specificity connects with you, you'll feel an intersection of happiness and sadness that's hard to articulate: "Passenger seat floors a graveyard for / Puddle walkers soaked and ruined shoes." The unhurried sonics of So Divine may not be a great record to put on when you've been blessed with the aux cord at a party, but it is the perfect record to listen to on headphones when you're laying in bed at night, lonely and staring at the ceiling, trying to decide what shade of white said ceiling is. —Lizzie Manno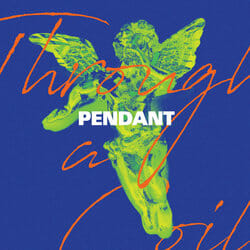 7. Pendant: Through a Coil
Pendant lives at the corner of shoegaze plush and Britpop ascendance. It's the solo project of Oakland-based singer/songwriter Christopher Adams (also of Never Young), and his debut album, Through a Coil, is as sweet as it is crushing. Peppered with jagged guitar overdrive and pleasing vocal harmonies, Through a Coil is mercurial shoegaze at its best. Pendant's admiration for the giants of Creation Records is obvious, especially the mesmerizing guitar chug and uplifting harmonies of Ride and Teenage Fanclub. Elsewhere, "Dovetail" channels the songwriting grit of Oasis and The Stones while the spacious sway of "In Repose" recalls the haunting dream pop of Cocteau Twins and "Sensory Field" contains the more aggressive dissonance of Swervedriver. More than anything, Through a Coil is a remedy and a refuge—whichever side of his cozy vigor is most needed, you'll find it. —Lizzie Manno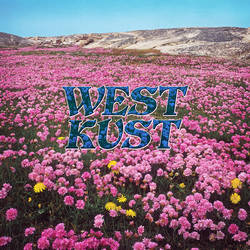 6. Westkust: Westkust
Swedish outfit Westkust know their way around a noise-pop groove. Their self-titled second full-length is teeming with sunny vocal elation as their guitars both glisten and pummel. Their weighty guitars provide a solid foundation for guitarist Julia Bjernelind's voice to fill the air like a graceful vapor. Their twee-pop and surf rock undertones are prominent, which give them that beatific frozen-in-time sheen. "Drive" is so painfully euphoric, it feels like the first tickle of nostalgic lust, and on "Daylight," you can imagine the light, pastel-colored ribbons twirling in an '80s music video. Bjernelind's vocals are perfectly suited to glorious dream pop as she evokes Alvvays' Molly Rankin and The Sundays' Harriet Wheeler—even if her vocal grace is all you notice about this album, you'll be satisfied. The chorus melodies on "Junior" are so effortlessly luscious that you might miss the rollicking shredding that follows. Westkust is the closest thing we have to the shoegaze and noise-pop riches of yesteryear, and their instantaneous pop splendor is absolutely needed in 2019 and beyond. —Lizzie Manno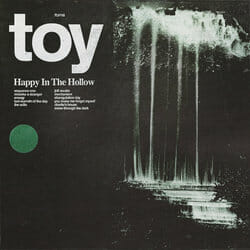 5. Toy: Happy in the Hollow
Toy have always dabbled in the sinister, but the quintet's fourth album, Happy in the Hollow, is their most wholehearted embrace of ominous murk. If their last LP, Clear Shot, was a moderately dark album, then Happy in the Hollow is near pitch-black with just a small lit torch to navigate through the darkness. While their previous albums leaned on a mix of psychedelia, krautrock and shoegaze, their latest full-length is much more fluid—injecting a bit of wiry post-punk, dialing back some of the indulgent psychedelic pastiches, and underscoring the sublime hooks and melodies that made them such a fascinating group in the first place. Knowingly or not, "Sequence One" provides a sturdy example of the album's lyrical dynamic ("Smokey sentimental crush / Turns into atomic sludge"). Toy never fully commit to dewy-eyed romance or moody, winding sci-fi and instead, they occupy an arresting lyrical middle ground between the tangible and intangible. Their motorik rhythms, gloomy guitar work and Dougall's spectral vocals result in a creepy aura while their various synths and keyboards either enhance its hair-raising quality or counteract it with shimmering pop crescendos. Their guitars are often intensely rhythmic and blistering or harrowing and atmospheric, but always with a distinct purpose. Despite not matching the thrilling highs of Clear Shot or their self-titled debut, Toy make a strong case for Happy in the Hollow as their most cohesive and compelling record. —Lizzie Manno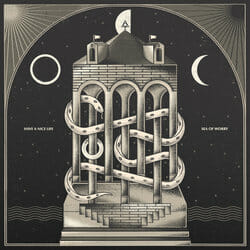 4. Have a Nice Life: Sea of Worry
The third album from experimental Connecticut band Have a Nice Life is like our oldest and most-celebrated fairy tales. There's a majesty and reverence there, but also a foreboding element that keeps nature in full alignment. Sea of Worry often sounds like an atmospheric bellow—you're not sure if you should react with wonder or horror. The opening title track extends a hand with their ravishing vocal "ooh's," but retracts it with the threatening vocal bluster that closes "Dracula Bells." "Lords of Tresserhorn" is haunted by delicate keyboards, but their percussion is so jarring that it nearly swallows the song whole. The album flirts with post-punk, shoegaze, industrial and gothic rock, and Have a Nice Life's evocative moodiness stretches all the way through. Sea of Worry is a mighty, ghostly wave that takes no prisoners. Right from their melodic opening to their colossal spoken-word finish, Have a Nice Life sprinkle gothic dust, and you have no choice but to submit to its will. —Lizzie Manno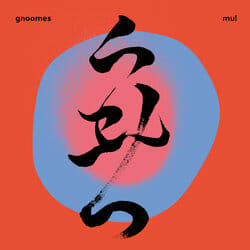 3. Gnoomes: MU!
Gnoomes may lurk in dark electronic shadows, but their shoegaze guitar chops shouldn't be questioned. The Russian quartet's most recent album, MU!, merges the experimental sides of Stereolab, Wand and Neu! with furiously gyrating guitars. The LP shifts between states of matter, and getting sucked into their dynamic compositions is easy. "Glasgow Coma State" is positively gleaming and vigorous while "Ursa Major" is wispy and discombobulating. Their color schemes change too—songs like "Progulka" are filled with bright hues, while others like "Sword in the Stone" and "Irma" have a distinctly monochrome smog. Like many albums of heady hypnotics, you know the finale is going to melt your psyche, and the two-track curtain close ("How Do You" and "Feel Now") is a shoegaze-tinted psych-pop hurrah for the ages. MU! is so memorable because it brushes the same pleasure centers as the genre's titans without retracing the steps of their predecessors or peers. With MU!, they've cleared a space for themselves in electro-shoegaze heaven. —Lizzie Manno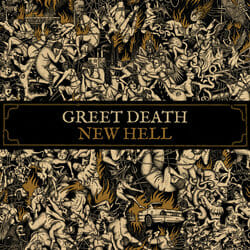 2. Greet Death: New Hell
Michigan trio Greet Death put out one of the best guitar records of 2019, and if you're a fan of overdrive, you should run—not walk—to the nearest record store to buy it. With thick sheets of punky post-rock and vocals that border on folk and emo, their second album New Hell is hard to pin down—it's more raucous than your average emo record, but more painfully heartfelt than your average post-rock record. Folding in slowcore and indie rock for good measure, their blustery soundscapes, intricate distortion and big heart make New Hell one of the best hidden gems of 2019. With lyrics of boredom, emptiness and struggles for self-love, Greet Death make their journey through personal hell sound like a majestic, cathartic saga. Self-inquiry has rarely sounded this powerful. —Lizzie Manno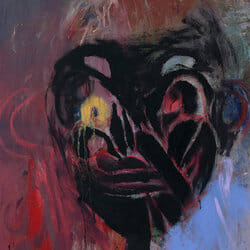 1. DIIV: Deceiver
It's easy to oversimplify the path that recovering addicts must take toward rehabilitation. From the outside, the objective is simple: Stay clean long enough and the monkey on your back eventually hops off. But the reality is that breaking the cycle of addiction is a Sisyphean endeavor that keeps those undergoing it in an eternal state of recovery—only those on the inside can fully understand its tribulations. Zachary Cole Smith—the central voice behind DIIV—has long been on the inside of addiction. After the group released their sophomore album, Is the Is Are, Cole entered a long-haul inpatient treatment for heroin addiction, a struggle that became public in 2013 when he and his then-girlfriend Sky Ferreira were busted for possession. Cole's experiences in rehab became the inspiration for the group's latest record, Deceiver, and while the album displays the group's darkest sound yet, it also ends up being their most earnest. The wider, dynamic sound texture across Deceiver is one of the most apparent improvements from past records with a clear, crisp approach that avoids sterility. The album's epic closer, "Acheron," shows just how much life good production can breathe into a song when it explodes into a gigantic finale of fuzz. The sound matches the scope of blackgaze contemporaries like Deafheaven—who DIIV have toured with—without crossing the threshold into metal. Nonetheless, the lush, sometimes crushing instrumentation speaks to the daunting task Cole has undergone to restore himself. —Hayden Goodridge

Listen to our Best Shoegaze Albums of 2019 playlist on Spotify right here.