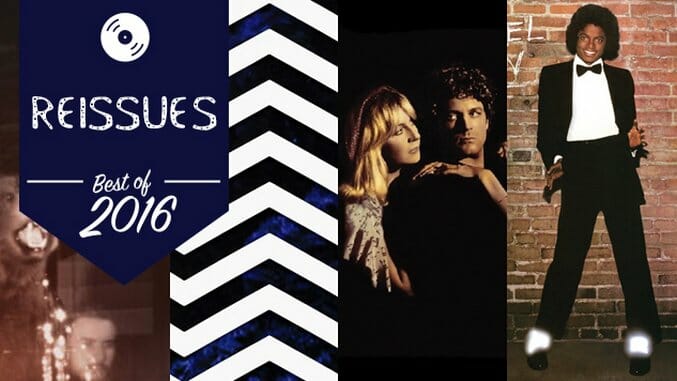 These final few days of December are often spent looking ahead—scribbling down resolutions, figuring out plans and preparing to toast to a new year. But here at Paste, we're not quite done looking back at the best of 2016, and for this particular list, we dig even deeper into the past, celebrating the reissues that made us re-examine previously overlooked or underrated albums or revisit classics from a new perspective. We tallied votes from our writers and editors, and the results are in—we give you the 10 Best Reissues of 2016. (Be sure to stay tuned for our related Best Box Sets of 2016 list tomorrow.)
10. My Morning Jacket, It Still Moves
My Morning Jacket's It Still Moves reissue is one of those rare remasters where the changes are drastic and noticeable not only to audiophiles but to laypeople as well. Jim James and co. worked with legendary engineer Bob Ludwig to remix and remaster their third LP, and the difference is pretty staggering—Ludwig himself was quoted as saying this reissue "made the original sound like demos."
9. Ryan Adams, Heartbreaker
This deluxe reissue of Ryan Adams' solo debut features remasters of the album's 15 original tracks as well as 20 outtakes and demos, including an early version of "When the Rope Gets Tight," an outtake of "Oh My Sweet Carolina." There's also a DVD of an acoustic set from the Mercury Lounge in 2000 that includes the very first performance of Adams' cover of Oasis' "Wonderwall," a glossy booklet and liner notes by producer Ethan Johns.
8. Terry Reid, The Other Side of the River
Dubbed "superlungs" for his raw vocal power, Terry Reid will forever be remembered as the man who declined the frontman job in both Led Zeppelin and Deep Purple. Happily, there's more to his story. Reid went on to chart a less-lucrative, though creatively fruitful, path on his own, and continues to perform today. For those who know him as more than a trivia question, one high point is 1973's River, Reid's third album and first after escaping the clutches of producer Mickie Most (Yardbirds, Herman's Hermits).Offering an hour of previously unreleased music, The Other Side of the River isn't the first time the River sessions have been revisited, with a 2006 reissue adding bonus tracks to the original seven songs. Reid's raspy purr adds an electric edge to the sleepy alternate of "River," evoking a smoky late-night club, the slinky outtake "Avenue (F# Boogie)," featuring wailing backing vocals from the spine-tingling Ikettes, and the supple ballad "Listen with Eyes." Like fellow Brits Steve Winwood and Georgie Fame before him, Reid builds on standard R&B tropes to fashion his own identity, which is no easy feat. Experiencing The Other Side of the River without knowing the primary work would be like reading the footnotes in a history book and skipping the main text. But check out this well-intentioned collection after savoring the easy pleasures of River, and enjoy a flavorful chaser.—Jon Young
7. Jay Reatard, Blood Visions
The Record Store Day 10th anniversary reissue of this garage-rock classic is—fittingly—blood red, and it's paired with a 7" that features four demo versions of the title track, "It's So Easy," "Oh, It's Such A Shame" and "Turning Blue." But the original album is the real gem here, a reminder of Jay Reatard's incredible ability to craft hooks and spin tales of murder with equal prowess.
6. Suicide, Suicide
Sadly, Suicide's Alan Vega was among the many musical icons who left us in 2016. As Robert Ham wrote in his remembrance, "Alan Vega could be a scary motherfucker. Especially when he was onstage, with a microphone in one hand and occasionally an eight-foot chain from a motorcycle in the other. He glowered at the audience and yelled at them when he wasn't groaning and shouting and wailing through his songs of existential terror and blushing romance, backed up by an unholy racket of cheap drum machine beats and even cheaper synthesizer melodies. The effect was terrifying and capable of changing the entire mood of a room." You can hear that fearlessness and intensity on Suicide's 1977 landmark self-titled debut, which features classics like "Ghost Rider," "Cheree" and "Frankie Teardrop." The reissue also includes a photo insert and insightful liner notes by Sonic Youth's Thurston Moore.
5. Tom Tom Club, Tom Tom Club
If you didn't pick this one up when it was first released this year, you may be out of luck—only 800 copies of Chris Frantz and Tina Weymouth's debut album were pressed to translucent green vinyl for this reissue. Recorded in Barbados after Talking Heads' Remain in Light sessions, Tom Tom Club is hugely influential, spawning singles like "Genius of Love" and "Wordy Rappinghood" and taking some cues from the growing hip-hop movement of the era. It's hard to believe this is the first time it's been reissued since its 1981 release.
4. Angelo Badalamenti, Twin Peaks OST
We have to wait until 2017 for Showtime's new season of Twin Peaks, but at least 2016 brought this reissue of composer Angelo Badalamenti's memorable score. Like the show itself, it is eerie and surreal, hinting at the darkness that lies beneath the surface of the titular, picturesque town.
3. Prince, Sign "O" The Times
If you've never heard this 1987 Prince classic double-LP, don't tell anyone, stop reading this immediately and go fix that. Recorded after the Revolution had disbanded, it's a Prince solo effort, and it stands among his all-time best work. It's a testament to his excellent songwriting and unparalleled musicianship, and it's proof that Prince could truly do it all—ballads ("Adore," "Slow Love"), fascinating narratives ("The Ballad of Dorothy Parker," "Starfish & Coffee"), funk ("Housequake") and undeniable pop hits ("U Got the Look," "I Could Never Take the Place of Your Man").
2. Fleetwood Mac, Mirage
The deluxe and expanded versions of this Mirage reissue both feature—in addition to a remastered version of the original album—a second disk of rarities and previously unreleased tracks, and if you spring for the deluxe edition, you get a third disc of live performances. Those include some of Mirage's best tracks ("Gypsy," "Love in Store") as well as other Fleetwood Mac classics like "Tusk," "Rhiannon," "The Chain," and "You Make Loving Fun."
1. Michael Jackson, Off the Wall
Michael Jackson became a superstar in 1982 with the release of Thriller. Determined as he was to make that album a triumph, even he couldn't have imagined what an explosive success it would be—or foreseen how that success would ultimately become a millstone around his neck. Over the next 27 years he would only manage to release another four albums. And by the time of his death in 2009 the image of Jackson in most people's minds was that of "Wacko Jacko," a man whose musical talents were overlooked in favor of the latest juicy scandal. But what if Thriller hadn't happened? That's the thought that goes through your mind when listening to Off the Wall, originally released in 1979, and newly reissued in a set that also includes the Spike Lee documentary Michael Jackson's Journey from Motown to Off the Wall. Just 21 years old when the album came out, Off the Wall is Jackson's first statement of musical independence, shaking off his teen idol past as lead singer of the Jackson 5, and emerging as a compelling new adult talent. It was a moment when the possibilities must have seemed endless. Jackson had been hoping to launch an acting career at the time, landing a co-starring role in the 1978 film version of The Wiz. The film was a legendary flop, but it had one big pay-off for Jackson; the film's musical arranger was Quincy Jones, whom Jackson asked to produce his next album. Off the Wall was the potent result, a sleek and slinky album that spun off a then-record five singles and went on to sell over 20 million copies. The album opens on a joyously confident note with "Don't Stop 'Til You Get Enough," a funky piece of pop (or a poppy piece of funk?) that's a natural successor to "Shake Your Body (Down to the Ground)," which Jackson co-wrote with his brother Randy for the Jacksons (as the Jackson 5 was renamed when they left Motown). Jackson's songwriting was still in the early stages, and he only had a hand in two more tracks on Off the Wall, both geared toward getting the listener moving, "Workin' Day and Night" and the self-explanatory "Get on the Floor." The crisp production and concise arrangements make the songs really snap. Jackson's skills as a highly emotive singer are also nicely on display. "She's Out of My Life" is the most highly touted in this regard, and rightly so; it goes for restraint in a weepy number than other hands might've opted to take in a more bombastic direction. But the delicate "Girlfriend" (released as a single in the United Kingdom) is also worth rediscovering, a playful song that shows how nuanced a performer Jackson could be. These slower songs, "I Can't Help It" among them, highlight Jackson's vocal abilities, while the upbeat strut of the rest of the album underscores his versatility. It's a winning combination that makes Off the Wall sound so relevant nearly 40 years later. There were greater career successes in the years ahead for Jackson. But never again would he sound so fresh and optimistic in his work.—Gillian G. Gaar