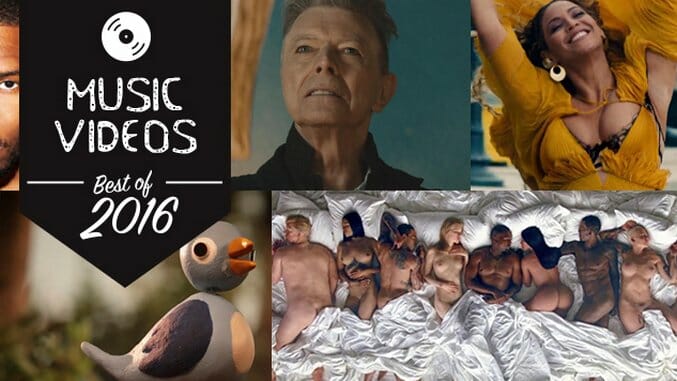 The state of the music video is in flux these days. Although a fixture of the 1980s, when music gained a visual component unrelated to live performances, the days of TRL have long since passed. These days, especially, videos seem to embody either over-the-top extravagance or showcase creative minimalism with limited resources. Falling on both sides of those extremes, as well as somewhere in between, we've found the 20 best music videos of 2016.
20. Leon Bridges, "River"
The closing track from Leon Bridges' 2015 debut Coming Home is the closest this Texan new-soul singer gets to a hymn. As a result, the accompanying music video draws on deep spiritual imagery, as well as popular R&B visual tropes. Shot on location in Baltimore by cinematographer Chayse Irvin, the video opens with Bridges and regular collaborator and vocalist Brittni Jessie humming in harmony. But as the narrative moves away from them on the road and seeking refuge in a motel room, Irvin begins to peer into the lives of locals stricken by poverty and crime and violence and protest against unjust police brutality. It's a bleak look at humanity's darker hours, yet, the contrasting visuals of Baptismal cleansing and familial strength serve as a reminder of the power of love. —Hilary Saunders
19. Blood Orange, "Augustine"
It's perhaps a little cliché to call something a "love letter to New York," but Dev Hynes' "Augustine" video certainly serves as a warm reminder of the city's beauty, with Hynes dancing atop a rooftop in front of a gorgeous sunset, dancers voguing in Washington Square Park, and yes, even Julian Casablancas hanging around eating wings. A black queer studies book and Time's "After Trayvon" cover make appearances, nodding to the fact that that this is no utopia, that there's still plenty of work to be done. Its inhabitants are, as Hynes sings, "bruised but still afloat." —Bonnie Stiernberg
18. Sia, "The Greatest"
I like to imagine that all of Sia's videos, especially the ones featuring dancer Maddie Ziegler, all take place in the same bombed out building barely being held together after an apocalyptic event and populated by people going through some kind of space madness or having a weird reaction to radiation sickness. How else to explain the seriously odd shapes and faces that the gang of children pull in this clip? They move like J.F. Sebastien's automatons in Blade Runner but with a far more sinister agenda. Or maybe they're more like Cronenberg's The Brood, a gaggle of terrifying little people that are ready to tear you limb from limb, feeding off of your fears and anxieties? Whatever the case, it makes for yet another striking visual aid to go along with yet another pop gem from Sia, especially if it truly is her metaphorical tribute to the victims of the Orlando massacre in June. —Robert Ham
17. Jenny Hval, "Conceptual Romance"
"Let's unchain ourselves from our Instagram, our carefully curated images and self-commodification, trendy record labels and fancy cameras." That's how Zia Anger introduces her latest visual collaboration with art-pop provocateur Jenny Hval. (The two have worked together before on "The Battle Is Over" and "Innocence Is Kinky.") Unfetter themselves they do: With a cohort of women, Hval wraps herself in fake skin, appearing fully nude, and frolics through a graveyard before assembling themselves on a giant sheet of plastic. Meanwhile, one companion vomits blood while another pretends to inhale the plastic. It's not exactly pleasant viewing, but then, neither is another theme Hval and Anger wish to explore—the commodification of a woman's body. —Rachel Brodsky
16. DJ Shadow featuring Run the Jewels, "Nobody Speak"
On his first album in five years, DJ Shadow (aka Josh Davis) sounds awfully current. Teaming up with label-mates Run the Jewels, lead single "Nobody Speak" paints a vicious portrayal of political douchebaggery today. And the video, directed by Sam Pilling, elevates those lyrics by showing a roomful of old white men, presumably in some sort of United Nations-like meeting, lip-syncing RTJ's fighting words at each other. Eventually a brawl breaks out over the hook, "Hey, you wanna hear a good joke? / Nobody speak, nobody get choked," and it would be hilarious if it didn't seem so sickly realistic. —Hilary Saunders
15. PUP, "Sleep in Heat"
PUP's "Sleep in the Heat" video was Stranger Things star Finn Wolfhard's idea, or so the story goes. The song is an emotional ode to fallen friends—specifically, lead singer Stefan Babcock's dearly departed chameleon, Norman—and its visual is a narrative continuation of PUP's "Guilt Trip; which starred a 12-year-old Wolfhard as a young Babcock. Wolfhard says that, over ramen in PUP's hometown of Toronto, he suggested a sequel set to "Sleep in the Heat," his favorite song from the Canuck quartet's The Dream Is Over, and thus this heartbreaking blast of a video was born. Stealing and scrimping to get by while out on the road, Wolfhard's Babcock and his band pick up a pup of their own, a big, loyal lug who quickly gets under their skin and into their van. As things take a turn from raucous to somber, Wolfhard's character eventually gives up his most prized possession—and therefore his spot in the band—out of love for his sickly four-legged friend. The video intertwines its tear-jerking conclusion with a montage of PUP and each one of their pets, a reminder of just how personal the love is between human being and beast, and how deeply felt are those losses. —Scott Russell
14. OK Go, "The One Moment"
It wouldn't be a year music video roundup list without OK Go—a band that has made a career out viral music videos, the later of which have been funded through creative sponsorships. Four years after the L.A.-based band's last record, 2012's Hungry Ghosts, OK Go offered a video for its fourth single, "The One Moment." Technically the action in the entire video only lasts 4.2 seconds. Shot by Shawn Kim and directed by frontman Damian Kulash, the video shows each of the four band members running, jumping, flying, and flailing through paint, water, exploding guitars, and more slowed down in post-production to match the length of the song. Funded by Morton Salt, "The One Moment" also marks a beautiful pairing with the company's "Walk Her Walk" campaign. For a song about loving each other in the face apocalypse, partnering with a movement to empower young people to make a positive impact in the world makes perfect sense. —Hilary Saunders
13. Chance the Rapper, "Angels"
If you know anything at all about Chance the Rapper, you know how devoted he is to his hometown of Chicago, and on "Angels," he soars through the skyline like a superhero—sporting a Sox cap and a Chicago flag patch on his jumpsuit, over his heart—declaring "I've got my city doing front flips / when every father, mayor, rapper jump ship." He zooms past the Sears Tower (get out of here with your "Willis Tower" nonsense) and lands atop an El train where inside, Saba leads a dance party. Like everything Chance does, it doesn't shy away from grim realities ("too many angels on the South Side"), but it radiates positivity. —Bonnie Stiernberg
12. Loudon Wainwright, "I Had A Dream"
It feels safe to say that this is the only Funny or Die video you'll find on this list. But then again, it felt safe to say that Donald Trump would never be elected president, and that turned out to be dead wrong. Michael Moore knew better, and perhaps so did folk singer, Judd Apatow pal and apparent prophet Loudon Wainwright III (father of Rufus, Martha and Lucy), who released an eerily prescient one-off song over the summer that satirically played up Trump's prospects. "Hopefully this song will not make sense in a year," Apatow, who executive-produced the video, said upon its June release, but sadly, it now makes all too much. Wainwright's video is far more fun than it has any right to be, considering the catastrophic political shit-storm it foretells; it will turn your stomach just as easily as it will inspire a gritted-teeth chuckle or two. "Dreams come true, and there's prophecy / and sometimes the nightmare is a reality," Wainwright sings. Now is one of those times, and we need lighthearted, yet unflinching art like this more than ever. —Scott Russell
11. Angel Olsen, "Shut Up Kiss Me"
With sultry car-dancing imagery reminiscent of Whitesnake's "Here I Go Again" video and slick roller-skater moves like Chet Faker's "Gold" video, Angel Olsen's "Shut Up Kiss Me" is a sparkly visual accompaniment to a rather commanding, emotional song. Olsen self-directed the video (with collaborative input from Ashley Connor and Jethro Waters) and stars in it, too. Donning a short silver wig (like the one from "Intern"), Olsen mouths the words to her own song while dancing in the sunroof of a car, sitting at a bar, and rolling around an empty rink. Between the obvious melodrama and the outtake collage at the end obvious, it's hard not to laugh, or at least do whatever she says. —Hilary Saunders
10. Frank Ocean, "Nikes"
As it should be, the work of Tyrone LeBon on this clip (as well as that of editor Adam Biskupski) is the perfect complement to the woozy, delirious spirit of this track from Frank Ocean's brilliant LP Blonde. It's a flurry of images both inviting and meant to keep you at an arm's length—beautiful girls dancing in a club, the aftermath of a party, a young man in a loving embrace with a woman many years his senior, a baby breastfeeding. There's no narrative structure to it. Just a deluge of artfully shot moments that swirl and shift like snow or glitter in the wind. The mood is meant to leave you feel as exhausted and satisfied as a marathon sex bout or the heady glow of coming down from a psychedelic high. Robert Ham
Frank Ocean – 'Nikes' from DoBeDo Productions on Vimeo.
9. ANOHNI, "Drone Bomb Me"
In "Drone Bomb Me," ANOHNI sings from the perspective of someone whose family has been killed by a drone strike, and asks to meet the same fate. Her language is seductive: she invites the drone to, "let me be the one," "choose me tonight," and, "blow me" repeatedly. Pairing sensuality and longing with drone warfare is jarring, to say the least—and though ANOHNI does intend to make her audience uncomfortable, the erotic angle is at risk of coming off as disrespectful, presumptuous experimentalism. However, the music video, directed by Nabil Elderkin and with art direction by Riccardo Tisci, clarifies her vision. We watch Naomi Campbell fall apart, slowly dissolving into tears; her meticulously emotive face depicts ANOHNI's words as tormented, not self-destructively desensitized. It's difficult to watch the video without feeling horrified, so it's an effective appeal to empathize with victims of U.S. airstrikes. This piece is more than art; it's also a potential change agent. —Monica Hunter-Hart
8. Grimes, "Kill V. Maim"
Part of Grimes' brilliance has always been how many ideas she throws into her music, and nowhere is that more apparent than on last year's fantastic Art Angels. When explaining what "Kill V. Maim" was about Claire Boucher said it was written from Al Pacino in The Godfather Part II's perspective, if he had been a vampire, who can switch gender and travel through space. So, yeah. She's throwing a lot of crazy ideas out there, but they somehow work.
In the video for "Kill V. Maim," which Claire directed with her brother Mac, we see the brilliant confluence of wild inspirations that go into Boucher's work. One second, we're in a pink vehicle traveling through an Akira-ish environment, the next we're in a Blade blood rave, or an underground vampire meeting. "Kill V. Maim" is colorful, fun and specific vision that could only come from Grimes, a video just as insane as the song that inspired it. —Ross Bonaime
7. Mitski, "Your Best American Girl"
Idealized beauty standards are everywhere—ad campaigns, the media, the fashion and beauty industry and, of course, music videos. It's something Mitski considers in her Zia Anger-directed video for Puberty 2 single "Your Best American Girl." Mitski, dressed in a red pantsuit, waves to an attractive young man, who appears to return her affection—that is, until a tall, leggy, fresh-from-Coachella-looking model-type begins to aggressively make out with him. So Mitski does what probably a lot of us did when similarly spurned: She kisses her hand instead. At the time of its release, Mitski said that the clip "plays on the idea of, as a Japanese girl, never quite fitting in with the genre's surplus of white American guys." It's a feeling that'll resonate with anyone who's ever felt like an "other." —Rachel Brodsky
6. Solange, "Cranes in the Sky"
Solange's work has become synonymous with eye-catching, highbrow aesthetics, and her clip for A Seat at the Table single "Cranes in the Sky" is no exception. Solemn but undeniably stylish, the video features the youngest Knowles in a variety of colors and textures (one dress is made entirely of purple yarn and another is fashioned out of plant leaves) and sings outdoors against stark nature backdrops, lays pensively on cold-looking tile and sits beside a team of equally statuesque companions, all of whom are in white underthings. There is nothing particularly remarkable about these activities, but Solange has a keen eye for art direction—every shot resembles either a Vogue photoshoot or interpretive dance performance (and there's plenty of that in "Cranes in the Sky"). But most of all, and perhaps most important to the video-making process, "Cranes" has artistic vision—one that is uniquely Solange's. —Rachel Brodsky
5. Kanye West, "Famous"
"Famous" is a microcosm of the Kanye West that we've grown to know since he became, well, famous. "Famous" is grandiose, strange and self-indulgent, but it's also sort of brilliant. "Famous" is ridiculous, ambitious and about twice as long as it needs to be, eventually with director West just showing his wax celebrities snoring for minutes at a time. Inspired by Vincent Desiderio's painting "Sleep," West presents a massive bed of a dozen celebrities—including himself—naked, in bed. Each person has some place in West's life, from his wife laying directly to the left on him, to George W. Bush, who he once said didn't care about black people.
In June, "Famous" was already a shocking video, but at the end of 2016, it's an even stranger glimpse at West and his own celebrity. Soon after the video premiered, we saw Kim Kardashian's take down of Taylor Swift, who sleeps at the right hand of Kanye. Even more recently, Kanye stated that he would have voted for Donald Trump and met with him at Trump Tower. Kanye didn't really have any connection to Trump prior to this video, but now it's almost as if West had seen into his own future. West knows how to drum up controversy and provoke for the sake of his art, and in those terms, "Famous" might be his crowning achievement as a music video director. —Ross Bonaime
4. Radiohead, "Burn the Witch"
Radiohead's Chris Hopewell-directed "Burn the Witch" video is a sinister, stop-motion ode to The Wicker Man (1973) that unnervingly evokes xenophobic paranoia and the terrifying dehumanization engendered by mob mentality. Key animator Virpi Kettu told Billboard that Radiohead's visual was intended to raise awareness of "the blaming of Muslims and the negativity" overtaking European politics, problems that are all too easily applied Stateside. As Yorke moans, "This is a low-flying panic attack," and the video's unsuspecting protagonist slowly begins to realize that something isn't right beneath the façade of the isolated village he's visiting, the dread and anxiety build, galvanized all the while by the song's whipsawing strings and brooding synths, until the proceedings reach a blood-curdling climax. Even the deliberately herky-jerky movements of the puppets are not enough to disguise the fact that this video and the poisonous distrust it illustrates could not be more true to life. —Scott Russell
3. David Bowie, "Lazarus"
Though Bowie regularly shocked the world and pushed artistic boundaries, his most epic move of all may have been foreshadowing his own death. The music video "Lazarus," directed by Johan Renck, came out three days prior to the legendary singer's passing and before the world knew of his long battle with cancer. Many viewers were unsure what to make of the video, except that it was creative and, as Paste described it, "intensely creepy." But Bowie's death provided elucidation; a now-conventional interpretation is that the video shows him coming to terms with his imminent demise. Two contrasting Bowies appear: one is on his deathbed with buttons for eyes (i.e. is metaphorically losing his identity), and the other remains healthy and is able to dance and write. Symbolically, this is Bowie trying to reconcile his failing body with his still-lively spirit. "Lazarus" is an act of artistic self-expression in the face of impending self-obliteration, and power in the face of frailty. Bowie couldn't have designed a more poignant, unforgettable way to leave us. —Monica Hunter-Hart
2. Jamie xx, "Gosh"
Romain Gavras never takes the easy way out. The Greek-French music video director, who is most well-known for directing M.I.A.'s provocative "Born Free; and flamboyant "Bad Girls; videos, doesn't just make music videos as much as he makes musical short films for his signature stamp on the video he conceptualizes and directs. Gavras often creates post-apocalyptic worlds like with "Born Free" and Kanye West and Jay-Z's "No Church In The Wild;" And on Jamie XX's "Gosh"" video, Gavras's setting is a utopian ghost city, which in fact, isn't a utopia at all, but rather the Tianducheng development in the Chinese city of Hangzhou, which was built to look like Paris and house 10,000 residents, but is now is sparsely inhabited (The story of Tianducheng itself is one of the internet's most glorious rabbit holes by the way. Feel free to start here.)
The world of "Gosh" sees Hassan Kone — an albino of African descent — as its focal point, traversing the city amidst hundreds upon hundreds of Chinese boys, whose soldier-like choreography and visual and mechanized uniformity is masterfully portrayed by the Xiaolong Martial Arts School. Kone comes across as the last hope for the decrepit cesspool of Tianducheng, as he races through the film in a Subaru and ends it standing beneath the 300 foot tall Eiffel Tower replica, while the Xiaolong boys circle him in patternized movement. It's what Busby Berkeley choreography would look like in the year 2100.
All the while, Jamie XX's opus founded on elements of ragga drum and bass, is hypnotically in sync with the movements of the characters. Mattias Rudh's drone cinematography pans out to show the sullen buildings of Tianducheng, creating a CGI feel, which adds to the eerie, futuristic feel of the video.
Gavras tosses out his usual violent themes in favor of a different type of fear. The fear that this utopian city from the future is actually from the present. Kim Chapiron and Iconoclast's "Behind The Scenes;" mini-doc is a welcome companion to Gavras's "Gosh" video and a look into the method behind the artistic madness of one of the most intriguing music video directors in the business and one of the best videos of the year. —Adrian Spinelli
1. Beyoncé, Lemonade
Some of you watched, and saw Beyoncé, surrounded by water in a frilly, yellow dress. Some of us see the Yoruba goddess Oshun. Some of you saw Beyoncé singing "Don't Hurt Yourself." Some of us see Hagar from Song of Solomon. Was that Beyoncé, with a Serena Williams cameo? Or two icons—the epitome of strength, womanhood and a futuristic black, female domination? Some of you saw fascinating white body paint. Some of us saw the sacred art of the Ori. Did Beyoncé bring you to the hood, the other? Or did she bring some of us home? You might have seen black women in mourning. But some of us see the mothers of the movement, and sacrifices they never should have had to make. For some, Lemonade is a long, disjointed but beautiful music video. But many of us see Julie Dash, Ava DuVernay, Gina Prince-Bythewood, Tina Mabry, Dee Rees and all of those stories and storytellers, fighting to be heard. And there's something about Lemonade that makes some of us feel like we're not fighting alone. We never were, but it's always nice to have a reminder. And for those of you who didn't see what we saw (because it wasn't meant for you to see, because intimacy requires exclusivity), at least you still got to experience the best music video of 2016. —Shannon M. Houston