The 10 Best Songs Produced by Dan Auerbach
Photo by Stephen Lovekin for Getty Images
Music
Lists
Best Songs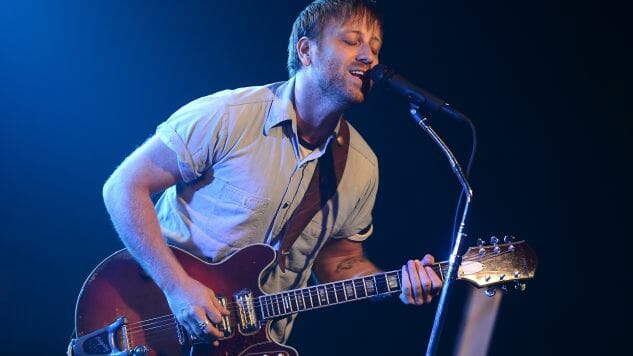 For years now, Dan Auerbach—the singing half of blues rock dup The Black Keys—has been putting his assorted sonic stamps onto a number of non-Black Keys records. Aside from his solid solo record, 2009's Keep it Hid and the recently released Yours, Dreamily from his latest side-project, The Arcs, the Ohio native has served as a guitarist, vocalist, bassist, keyboardist, and even the man behind the shakers for more albums than many die-hard Black Keys fans likely realize.
Of course, in the past few years, Auerbach's become rather prolific as a producer with a keen eye for great projects, and an even better ear for how a new recording should come out sounding. Since his move to Nashville in 2010, Auerbach opened one of Music City's most respected recording studios, Easy Eye Sound. And in the past five years, he's also been behind the console for a number of important records. Some seem to scream, "This was produced by one of The Black Keys!" thanks to a swirl of blues and psych-rock buzzing, while other records couldn't be farther from the American rock style that's made him an arena-filler and festival headliner. Here are the 10 best songs produced by Dan Auerbach.
10. Hacienda, "Savage"
Auerbach gave this San Antonio-based group a boost after hearing an early demo, later producing its first three albums, including this 2012 gem Shakedown. Hacienda didn't have any trouble employing the swirling funk Auerbach adores so much. A few songs on the record manage to avoid sounding too much like The Black Keys, but also similar to Dr. John (more on him in a bit). Even still, there's something pretty sweet when the artist and producer each bring out their personal best, but do so together.
9. Cadillac Sky, "Hangman"
Even with a varied portfolio, Auerbach's collaboration with the dearly departed progressive bluegrass group Cadillac Sky was still an unlikely one. Indeed, by 2010, not too long before the departure of primary lead vocalist Bryan Simpson, this group was more or less a traditional bluegrass act with some modern, progressive leanings, and not a rock-inflected roots act reminiscent of early Mumford and Sons (with whom, it should be noted, Cadillac Sky toured extensively). But Auerbach's love of American roots music, stringed virtuosity, and often dark storytelling merged seamlessly on this haunting track off Letters in the Deep.
8. Cage the Elephant, "Mess Around"
The most recent album to hit store shelves from Easy Eye is also Cage the Elephant's fourth and best record. It's easy to hear that a major influence from the producer's chair throughout much of the collection, but not so much as to betray the band's own identity. Though notes of The Black Lips, Black Angels, and of course, Black Keys are copious, it still works as a more mature, focused Cage the Elephant. This track represents all that is good about Tell Me I'm Pretty, and about Auerbach as a musical leader of young men.
7. Nikki Lane, "Right Time"
Nikki Lane is a certified badass, an unquestionable a torch-bearer for the modern-day Outlaw Country spirit. Auerbach's chance encounter with a vintage jacket-selling Lane a few years back led to the pair teaming up, and the resulting album is one of the best country records of the past several years. Better than just about any other tune, "Right Time," hammers her rebel yell home lyrically while the gothic country stomp surrounding it feels appropriately dangerous.
6. JEFF the Brotherhood, "Sixpack"
Fun summer songs are great. And summer power-pop anthems about getting wasted in the sun are even better. Before teaming up with Auerbach, brothers Jake and Jamin Orrall primarily self-produced JEFF the Brotherhood records. Similar to his somewhat hands-off approach to Valerie June, Auerbach let the guys do what they do best, which is especially evident in the supremely catchy "Six Pack."
5. Bombino, "Azamane Tiliade"
Omar Moctar, better known to western music fans as Bombino, is a West African guitar hero and a master of creating trance-like tribal rhythms in song. While as much can be said for almost all of the songs off of 2013's Nomad, this track especially and expertly bridges the gap between the vibrant tones of Bombino's Tuareg roots and the raw, garage psych rock that Auerbach excels in playing and producing. Though the lyrics are all sung in Tomashek, the groove and pulsing life of this song is urgent and universal.
4. Jessica Lea Mayfield, "Our Hearts Are Wrong"
The combo of Jessica Lee Mayfield's rootsy twang and her fellow Ohioan's skillful use of reverb shine in this track from Tell Me, the second album the two worked on together. A thick, thumping beat and bass line also give this tune a dynamic tone, even though a lesser duo would've allowed this somber stunner to wallow in a generic Americana. Mayfield has continued to expand her sonic reach in the albums she's recorded since Tell Me, which has seen her take the helm as producer herself. It's not hard to imagine she learned a great deal from her time exploring acoustic space with Auerbach.
3. Valerie June, "Workin' Woman's Blues"
As much as any other of Auerbach's production credits, the breakthrough album from Americana goddess Valerie June simultaneously represents a familiar sweet spot for Auerbach, as well as a departure from it. Pushin' Against A Stone showcases June's gift for folk storytelling and picking on a guitar or banjo. Her gothic roots and blues flourishes engulf each song, yet, Auerbach still has lot of room to experiment. The album has a clean, no-frills production style, which shows how Auerbach can let artists like June embrace her own voice without slapping his signature all over it.
2. Dr. John, "Revolution"
Most producers have some sort of vibe or audio stamp they lend to their projects, and Auerbach's can be described to a driving, blues-flavored guitar boogie. But when he produced and performed on the legendary Dr. John's 2012 record, Locked Down, the result was a fine meshing of the Night Tripper's funk and groove combining splendidly with Auerbach's thick-freakness. Any cut from this album would've been a worthy example of the infectious synergy.
1. Lana Del Rey, "West Coast"
The only artist Auerbach has produced that is capable of matching and exceeding The Black Keys' fame and commercial success is Elizabeth Woolidge Grant, aka Lizzie Grant, aka Lana Del Rey. From an outsider's perspective, Del Rey's Ultraviolence is likely the most daunting task Auerbach has faced as a producer, as Del Rey's breakthrough album, Born to Die, set immensely high expectations for the follow-up. Regardless of preconceived notions or misconceptions, Ultraviolence exceeded Del Ray's debut in quality, thanks in very large part to Auerbach's ability to add even more mystery, mood, ethereal dreaminess, and just enough danger to Del Rey's sexy sleekness. The lead single is a slow burner that never flames out.