Jazz Notes From New York: Bill Frisell, John Scofield and More
Looking Back at all the Jazz Happenings of the Past Month
Music
Features
Bill Frisell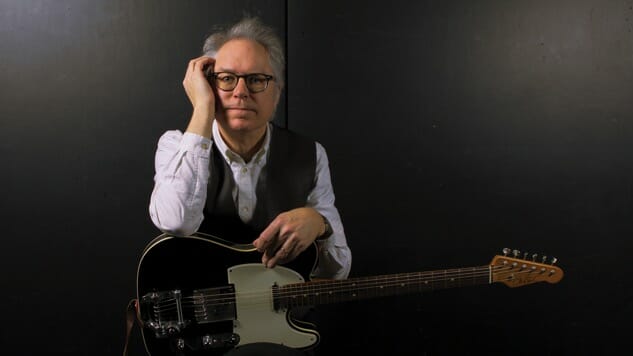 Welcome to Notes From New York, a monthly jazz column by Bill Milkowski that includes observations on the scene along with interview snippets, gossip and gig information.
THE RETURN OF BILL FRISELL
Acclaimed guitarist and prolific composer Bill Frisell came to prominence in New York during the 1980s as an ECM recording artist. He lived in Hoboken, New Jersey, where the rents were cheaper and the city was accessible via public transportation. In 1988, Frisell and his family (wife Carole D'Inverno, daughter Monica Jane) moved to Seattle, where he remained for the next 28 years while racking up 25 albums as a leader for the Nonesuch label and another six for the Savoy and Okeh labels while also collaborating with the likes of Elvis Costello, Bonnie Raitt, Marianne Faithfull, Joe Jackson, Paul Simon, Allen Toussaint, Bono, Yo Yo Ma and Charles Lloyd. Now Frisell has returned to the New York area to begin the next phase of his remarkably productive career. "There's a lot of stuff going on, boy," said the unassuming 66-year-old artist in a recent interview. "We sold our house, put all of our stuff in storage and came here. We don't even have a place yet. We're temporarily staying at a place in Brooklyn, but we're looking for a place to buy. We just decided to do it really fast. It's crazy!"
"We sold our house, put all of our stuff in storage and came here. We don't even have a place yet. We're temporarily staying at a place in Brooklyn, but we're looking for a place to buy. We just decided to do it really fast. It's crazy!"
In recent months Frisell had a March residency with his quartet at the Village Vanguard and made a special guest appearance at a tribute to his friend and colleague Pat Metheny at Le Poisson Rouge (performing "Sirabhorn" from Metheny's 1976 ECM debut album, Bright Size Life). On May 5, he conducted an octet at Town Hall, performing his original music for a staging of gonzo journalist Hunter S. Thompson's "The Kentucky Derby Is Decadent and Depraved," with narration by actor Tim Robbins and artwork by Thompson collaborator Ralph Steadman. Now that he's resettled back in the Big Apple, expect Frisell to be joining forces with more regularity in the future with iconic avant grade saxophonist-composer, frequent collaborator and New York native John Zorn (Frisell has appeared as a sideman on 20 albums on Zorn's Tzadik label and was also a key member of Zorn's experimental '90s group, Naked City).
SCO'S WAY-BACK MACHINE
In a retrospective concert held in the Appel Room at Jazz at Lincoln Center on May 5 and 6, recent Grammy-winner (for 2016's Country for Old Men) John Scofield revisited the music of two significant albums from his past—1986's Blue Matter and 1996's Quiet. Curated by Jazz at Lincoln Center's Jason Olaine, this rare evening presented two complementary sides of Scofield's considerable musicality. "Now I'm a different person, I'm into different stuff, but I'm really glad that I did it," said the acclaimed guitarist-composer and former Miles Davis sideman after the show. "In the case of Blue Matter, we hadn't played together in 30 years but the rehearsal was this joy fest, because we all really became good friends back in the '80s and we haven't spent much time together since then. So it just felt like home to me."
Coming on the heels of the guitarist's work on Davis's 1985 album, You're Under Arrest, Blue Matter captured a quintessentially mid-'80s sound in the tightly executed unisons, intricate stop-time lines and funk-fusion underpinnings of Scofield's urgent electric guitar in synch with Gary Grainger's bright slap bass lines and drummer Dennis Chambers powerhouse groove. Filling out the quartet this evening, providing a distinctly '80s edge with his synth work, was veteran keyboardist-arranger Jim Beard, who did not appear on the original Gramavision album but did tour with the Scofield band during the mid-'80s. They collectively burned with authority on '80s anthems like "So You Say," the slow-grooving go-go beat fueled "Blue Matter" and the Chambers showcase, "Trim." "The first night was just sort of getting through the cobwebs," Scofield said of playing this funk-fusion fare 30 years later. "And then the second night it was, 'OK, we got it down, let's burn!'"
On the extreme other end of the spectrum from this dynamic funk-fusion set, Scofield recreated his beautiful 1997 nonet release on Verve, Quiet, with lush interpretations of "After the Fact," "Tulle" and "Hold That Thought" featuring guest saxophonist and longtime Sco collaborator Joe Lovano. The sensitive rhythm tandem of drummer Bill Stewart and bassist Larry Grenadier played with consummate elegance throughout the set while the combination of two French horns (John Clark, Jeffrey Scott), flugelhorn (Michael Rodriguez), bass clarinet (Roger Rosenberg) and English horn (Charles Pillow) provided the requisite warmth and luxurious tones befitting the album's title. And the guitarist, who played straight to the amp with no effects on this program, imbued each melodic nugget with his signature six-string flow and bent-string expressions.
KEVIN EUBANKS IN BURN MODE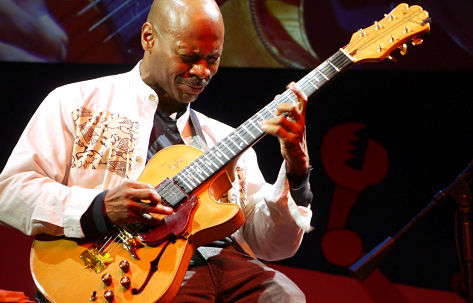 The guitarist and former longtime musical director for NBC's Tonight Show With Jay Leno dropped by Birdland for a week-long engagement in April with his all-star quartet featuring bassist Dave Holland, trumpeter Nicholas Payton and drummer Jeff "Tain" Watts. Together they smoked tunes from Eubanks' latest on Mack Avenue, East West Time Line, including swinging interpretations of Chick Corea's "Captain Señor Mouse," Duke Ellington's "Take The Coltrane," Eubanks' uncle Ray Bryant's "Cubano Chant" and Marvin Gaye's anthemic "What's Goin' On." Said the guitarist between sets, "It's just nice to be able to hang out and play with your friends. It's that thing where everybody's pulling for each other to do well and trying to make each other sound better, and you keep your sorry-ass ego out of it. We all have egos, we're human beings and everything, but through the love of the music and wanting the best, good things happen. It's really such a wonderful kind of democracy that you don't see in other things. I think jazz music is the most perfect example of democracy in action."
SEEN ON THE SCENE
New Orleans drummer and Galactic founder Stanton Moore brought his trio of fellow Crescent City stars James Singleton on bass and David Torkanowsky on piano into the Blue Note for two nights of funk, swing and second line grooves from their recent album, Conversations; Microtonal guitar renegade David "Fuze" Fiuczynski, now a professor at Berklee College of Music and head of the Planet MicroJam Institute at that Boston institution, performed the music of the Mahavishnu Orchestra in a one-night engagement at Iridium with special guest drummer Louis Cato (currently the bassist in the house band on CBS's The Late Show With Stephen Colbert). Fiuczynski also paid tribute to the late, influential guitar hero Allan Holdsworth on his tune "Last Trane"; One of the premier fusion bands on the scene today, Human Element (keyboardist Scott Kinsey, bassist Matthew Garrison, drummer Gary Novak and percussionist Arto Tunchboyacian) made a rare appearance at the Shapeshifter Lab in Brooklyn, performing tunes from their self-titled debut; Slide trumpeter Steven Bernstein's quartet Sexmob—alto saxophonist Briggan Krauss, bassist Tony Scherr and Mike Sarin (filling in for longtime regular drummer Kenny Wollesen)—interpreted Gil Scott-Heron's classic "The Revolution Will Not Be Televised" with special guest vocalist Fay Victor as part of a show entitled "Revolution x3" on May 19 at Symphony Space; Drummer-composer Bill Stewart, a longtime collaborator of John Scofield, led his own trio featuring bassist Larry Grenadier and tenor saxophonist Walter Smith III in a week-long engagement in April at the Village Vanguard; Four great straight-ahead guitarists (Vic Juris, Peter Bernstein, Rale Micic, Lage Lund) paid tribute to their late hero and mentor Jim Hall in a one-night program entitled "Inspired" at the Blue Note in May.