The 9 Best Covers of Bob Dylan's 1964 Classic "Mama You Been on My Mind"
The song was recorded 54 years ago this week.
Photo: Getty Images/National Archives
Music
Features
Bob Dylan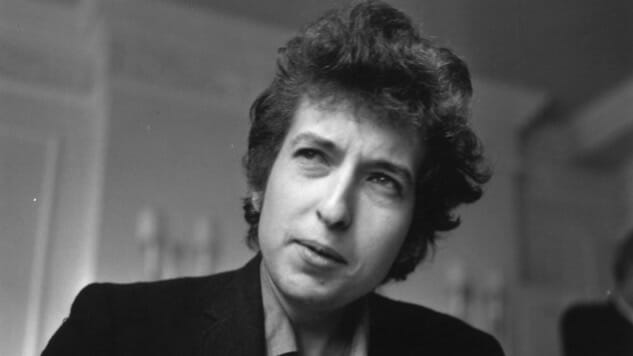 In 1964, somewhere in London, a young Bob Dylan was busy writing the earliest drafts of "Mama You Been on My Mind." His muse was Suze Rotolo, the beaming young woman pictured on the cover art of his sophomore classic, The Freewheelin' Bob Dylan. But she was somewhere else, hundreds of miles away, already moving on.
In the song, Dylan feigns disinterest: "I don't even mind who you'll be waking with tomorrow." But later, he confesses, "I'm just whispering to myself so I can't pretend that I don't know /Mama you are on my mind." We can never really shake off our past loves, Dylan admits. At most, they can be tucked away, stubborn sediment to our hearts.
"Mama You Been on My Mind" carries this weight in just about every rendition. It's a composition that often shivers and cracks, or sprawls into rhapsodic glory. In its most exquisite takes, Dylan's lovelorn arrangement somehow captures it all: the sweet indulgence of nostalgia and the bitterness of lost love.
Listen to 9 gorgeous covers of the Dylan classic, recorded 54 years ago this week, below.
9. Jack Johnson
In 2007, Jack Johnson penned this mellow take for the Dylan biopic, I'm Not There. Gentle strums and Johnson's sweet lilt infuse a certain tenderness— there is far less pain here, but rather, a soft acceptance.
8. Dion
Dion is no stranger to reinvention; it's no wonder, then, that his rendition at the Bitter End in 1971 hardly resembles Dylan's original. Having long moved away from his spunky rock n'roll and doo-wop as frontman of The Belmonts, Dion now took refuge in folksy fingerpicking and blues. Deep plucks underscore his spacious crooning, delivering a weary— if not moody— take.
7. Idiot Wind
Idiot Wind— a name borrowed from another one of Dylan's songs— is the project of Swedish singer-songwriter, Amanda Bergman. Stumbling upon her work is a treat for those who love voices like Cat Power's: Bergman's shares a similar dusty grain, each note treading forth like it wants to collapse. It doesn't, though—instead its tension is carried by resonant piano chords, making this the only solely piano-backed rendition on this list and a gorgeous one at that.
6. Joan Baez
Joan Baez is a troubadour to reckon with, matched by few but Bob Dylan. Their relationship— as artists and lovers— created an enchanting force in folk, a shared influence that was inextricably linked as they shaped each other's work throughout the '60s and '70s. The two performed "Mama You Been on My Mind" together often, an interestingly fraught duet: Dylan's breakup with Suze Rotolo, the song's initial subject, was due in part to his rumored relationship with Baez.
Baez often performed the song solo, too, famously switching the subject to "Daddy." Her rendition is especially urgent as her voice flits over fluttery acoustic strings, always racing toward the hook. In this 1974 performance below, she playfully dips into a Dylanesque drawl by the third verse. It's a cheeky allusion and homage to her famed partner after a return from his first tour in eight years.
5. Judy Collins
There is an effortlessness to Judy Collins' voice. Filmed during the 1960s on Pete Seeger's Rainbow Quest show, her cover seems to float, a luminous marriage of bright strings and her gentle soprano. She coos over Dylan's verses, spreading his words into silk.
4. George Harrison
It's easy to mistake George Harrison for Dylan on this track— as a longtime fan and collaborator, Harrison borrows Dylan's nasal intonations, spinning them into a smooth melody. Acoustic strums take on a country twang, amplifying as Harrison's voice whirls in layers by the song's end. It's perhaps the least removed rendition from Dylan's, and its virtue lies in its simplistic yet evocative reinvention.
3. Jeff Buckley
Heartbreak finds its height on Buckley's version. Recorded in 1994, this version of "Mama You Been on My Mind" is haunting insofar as Buckley's voice feels as though it's constantly on the verge of breaking. Acoustic guitars are abandoned here and traded for dark electric riffs, ruminating in soft waves beneath Buckley's crooning. It's an echo chamber of loss, sonically amplifying the mood Dylan created in words.
2. Bettye LaVette
Just a few weeks ago, Paste recorded a session with the soulful LaVette; it may seem like we're biased here, but her rendition takes Dylan's original to brilliantly poignant crest. LaVette's "Mama" recycles Dylan's lyrics rather than directly upholding them, turning the meaning on its head— it becomes a ballad for motherhood, as LaVette wails "although I caused you trouble, you didn't put me down or get upset," tinged with the weight of the heaviest loss many of us will face in our lifetimes.
1. Linda Ronstadt
A sense of multi-genre experimentalism fills Ronstadt's version, no doubt in part due to her own forays as an artist in rock, country, jazz, and more. Her rendition is an exceptional reworking, and like LaVette's, creates a new atmosphere for Dylan's song. Bombastic vocals march across the song's fully backed instrumentals, feeding into what feels like a dizzying whirl of reminiscence. Yet it is missing much of the deep sorrow that each other cover carries, and for that, it is the most inventive and imaginative— this lack is not a loss at all.