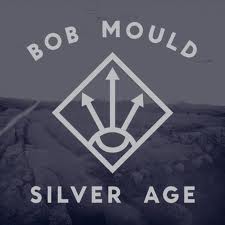 Earlier this summer, Merge Records reissued the entire catalog by Sugar, the alt-rock group lead by Bob Mould in the early 1990s. It was a curious set of time capsules from the post-Nirvana heyday, and while the releases had gone out of print in the ensuing two decades, they were readily available in every dollar bin around the country. Nevertheless, those Sugar albums were galvanizing blasts of punk-derived rock, full of acid-barbed lyrics and jittery energy. In retrospect, that band proved a solid second act from Mould, who had made his name with the legendary Minneapolis punks Husker Du and had managed to shift into the alt realm gracefully.
Those reissues form a strong preamble to his ninth solo album, Silver Age. The lineup is different, but the power trio set-up remains: It could be a long-lost Sugar album. Mould ratchets the tempos to dangerous levels, cranks up the guitar loud enough to annoy the neighbors and spits venom vocally. Especially after 2009's low-key Life and Times and his memoir See a Little Light: The Trail of Rage and Melody, Silver Age gives the impression of a man surveying his professional lot and gauging his own demons. "I'm never too old to contain my rage," sings the 51-year-old. "A silver age, a silver age."
As a general rule, punks don't enter their silver age especially gracefully. Once they learn more than three chords or get some, God forbid, ambition, they tend to fade into respectability or redundancy, either hitting a creative holding pattern (the members of X) or reneging on their own youthful outrage (the members of Green Day). After nearly 30 years in the music business—30 years that have seen the rise of college rock in the '80s, alt rock in the '90s, and indie rock in the 2000s—Mould is still fighting hard to be heard and taken seriously, and if that means Silver Age strains for aggression and outrage, that only adds to the overall effect of a punk legend who won't go gently.
For all his roots in '80s punk, Silver Age is an album for the digital era, which means it never lets up long enough for you to flip sides. The songs just drive right through side one into side two. It's dense with guitars, which typically pummel and pound without letting up. "Star Machine" is abrasive; "Angels Rearrange" anthemic; "Fugue State" is somehow both. Occasionally, it becomes oppressively intense, especially considering that his voice is so buried in the mix that it's easy to forget he's even there. Still, there's always something innervating about Mould in this punk setting, when the songs seem to propel themselves and he somehow finds a home in the maelstrom.