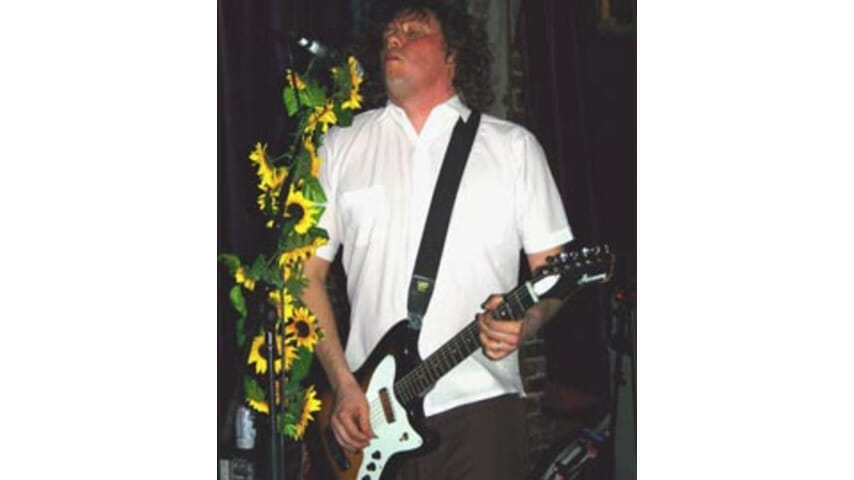 Bobby Bare Jr. is a happy fellow these days. He recently became a dad, and in the past few months he's worked with the likes of Frank Black and some members of Pavement on a new Silver Jews album. Plus, he's coming off a barnstorming East Coast trek with a three-piece version of his Young Criminals' Starvation League, and tonight he was coming home to Nashville to show it off.
When the Young Criminals took the stage in a basement bar called—you guessed it—The Basement, in front of a room full of old friends and familiar faces, they didn't relax or take the audience's adoration for granted. They just ripped through a powerful set, equally heavy on tunes from both the band's Bloodshot Records-released albums. They stomped through "Monk At The Disco," played a near-perfect "Terrible Sunrise" and, of course, the crowd-pleasing "Meet Me In Music City" was an appropriate treat.
The trio was incredible to watch. Brian Kotzur kept monster beats and played bass lines on the keyboard next to him—like some multi-limbed Hindu Deity plunked down behind the drum kit. Most of the set, all you see behind the kit is arms, hair and teeth in constant movement.
Duane Dennison's guitar histrionics find a perfect stomping ground in an unfettered environment. Drawing from the noisy squalls of his Jesus Lizard days, Dennison adds a layer of grime and grit to the proceedings, infusing such time-worn standards like "Valentine," "I'll Be Around" and even "Flat Chested Girl from Maynardville" with new excitement and urgency.
On "Let's Rock and Roll," the trio bashed out the song's definitive version, literally bringing to life its tale of excess and downfall, providing a rollicking, off the rails soundtrack to compliment one of Bare's finest songs.
All through the set, Bare calmly let the honey of his voice drip down and mix with the raw gasoline fueling the mean, lean band behind him. As good as the band behind him was, this was Bobby Bare Jr.'s show. Confident in his craft, he controlled the chaos and kept the train on the tracks, but just barely.
While his two albums with YCSL highlight the softer, folk and pop sides of Bare Jr's songcraft, live, Nashville's golden boy tells us he just wants to R-O-C-K. And once he and his band get rocking, all you can do is hang on and enjoy the ride