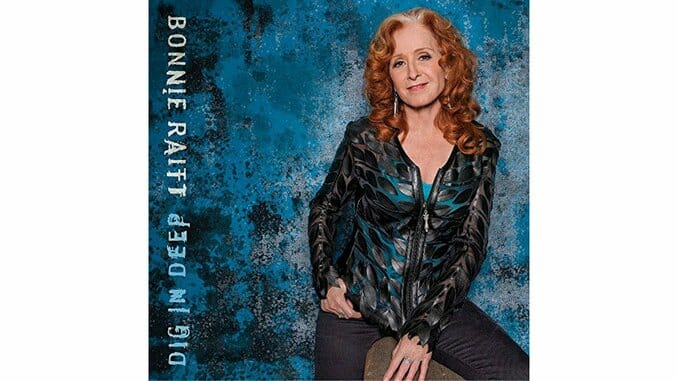 Bonnie Raitt has always been a pilot light, powering hard love, broken love, lost love and yes, unrequited love. In the valley of the unfulfilled and yearning, her voice has warmed that want into something that infused with the blues with a whole lot of blazing red.
It is that red which defines Dig In Deep, the grooves, shuffles and guitar lines all buck and thrust with the promise—or need—for meaningful copulation. Starting with the steamy Fender Rhodes organ tumble and high hat-spanking "Unintended Consequence of Love," Raitt is looking to scratch an itch that has somehow gone fallow in a very salty way. And it's not just a shrewd vocal; it's the way she wrings sweat from a slide solo that just keeps pushing the pocket.
Joie du mattress dancing informs Los Lobos' percolating "Shakin' Shakin' Shakes" with a bawdy delight that makes Kelis' "Milkshake" seem like child's play—and INXS' throbbing "Need You Tonight" gets transformed into a bawdy shakedown from a woman who knows how to make carnality an on-the-bone proposition.
What informs Raitt's performance—like blues great Sippie Wallace before her—is the confidence of flexing how-to with savory gusto. Her U2-evoking "If You Need Somebody," the knee-buckling want "What You're Doing To Me" and freight-train tumble and boogie "The Comin' Round Is Going Through"—featuring muscular guitar interplay between Raitt and longtime foil George Marinelli—drip with the tossed-off mastery of musicians who know how to push songs, emotions and each other.
With drummer Ricky Fataar and bassist "Hutch" Hutchinson, her longtime rhythm section, the skeleton of these ravers is robust enough to hang this kind of playing on. Like kids on the monkey bars, Raitt's fingers are as connected as her heart-in-her-throat vocals. It recalls that deeper musicality of her earliest work.
Yes, there are the signature ballads of regret. "Undone" is all vulnerability and quiver, while "You've Changed My Mind" finds the 66-year-old songwriter struggling with the elusive trust love requires. The grown-up "The Ones We Couldn't Be," a few piano notes and Raitt's dying sunset vocals, suggests nuance and detail still ignite songs that haunt long after the last bit fades.
Ultimately, Raitt remains utterly herself. With true blues-mama grit, she drops her voice to its earthiest for "Gypsy In Me," a declaration of the independence that defines her 40-plus-year career, as well as the spirit of the picker in search of the song.