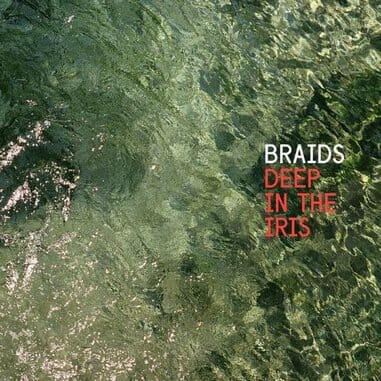 Raphaelle Standell-Preston is prolific. In 2013, the Canadian artist was a part of two significant releases: Blue Hawaii's debut LP, Untogether, and the sophomore LP with her Montreal-based three-piece Braids (Flourish // Perish). While Untogether was a response to writing a record a long distance away from her then-boyfriend and collaborator, Braids has always been her main hang, and for Deep In The Iris, she and bandmates Austin Tufts and Taylor Smith stole away to mountainous retreats to inspire their art, through transparency and open self-reflection. This ambitious and poetic way to create has yielded what's easily the most accessible offering from Braids to date and ought to place them in the same conversation as Grimes, Purity Ring and Doldrums, as excellent products of the Montreal indie scene.
The album's opening track, "Letting Go," is a fine example of what Deep In The Iris does best: Complex drums and beat structuring, layered along Standell-Preston's gripping vocals and cosmic keys that maintain an organic feel throughout. The lush keys are quickly notable again on the following track, "Taste" and some of Standell-Preston's deep lyrical themes begin to come to fruition as she juxtaposes the tempered lament of "I gave all my best in loving you/ But I know it's not true" with the passionately fierce and carnal "Take me by the throat/ Will you push me up against this wall/ and spit all this hurt on me/ So I can feel my reach." It's brutally honest and wildly descriptive of the inner workings of interpersonal humanity that may never manifest itself in the moment.
"Blondie," with its drum and bass rhythms and chamber vocals, is the most interesting track on the album. Standell-Preston's high-pitched delivery builds similarly to that of Blue Hawaii's "Get Happy," but the explosive development is far more rhythmic. Nintendo's Marble Madness-style effects roll into big bubbles and droplets as Standell-Preston bombards her way into the shattering Metalheadz-era drums. Where Braids might've been more subdued and content with building atmospheric work in the past, they've now allowed themselves to get harder and more outwardly experimental. This is the immediacy in their music that the isolation in the production process brought out, and it's the track that'll grace prime playlists.
Nouveau feminist anthem "Miniskirt" is an empowering flip-of-the-coin on slut-shaming. The "skirt" acts as a grand metaphor throughout the song, and no angle of the subject's position is spared. Standell-Preston cries, "You feel you've the right to touch me/ Cause I asked for it/ In my little miniskirt" and comes across like a scathing Regina Spektor, before Tufts and Smith take the track into a veritable remix of itself that adds even more depth and emotion to the powerful treatise.
There's even more vocal range being flexed by the talented frontwoman on "Sore Eyes," in the way she morphs her punctuation to parallel the beat and transition between bars with fluidity, in whimsical contrast to fellow Canadian Drake attempting the same mechanism on "6 God" and falling flat on his face. He could do himself a service by looking northeast from Toronto and learning a thing or two about drawn-out vocal inflections at the end of a verse from his counterparts in Montreal.
While beat concepts on the nine-track LP are a bit exhausted by the end, it still doesn't fail to render every moment of Deep In The Iris worthy, as Standell-Preston seamlessly carries the load whenever there's a threat of sputtering attention. This is the album that finally cements Braids' role within Montreal's accomplished indie artists and Raphaelle Standell-Preston as one of the most uniquely artistic forces in music today.