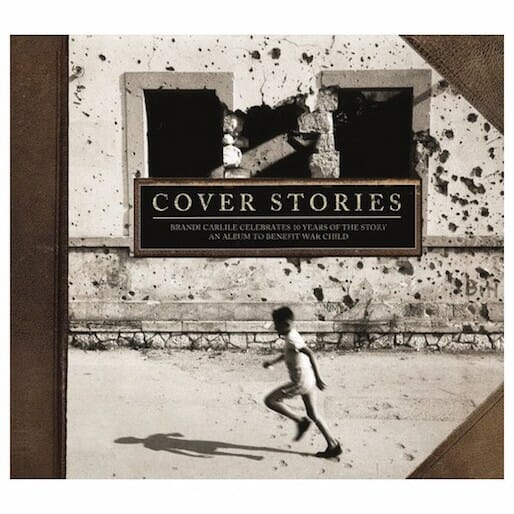 Not since Aaron Dessner joined forces with The Red Hot Organization and released Dark Was The Night, in 2009, has a charity record been as relevant and crafted as Brandi Carlile's latest project, Cover Stories.
After both Adele and Ruby Amanfu covered tracks from her hallmark record, The Story, Carlile was inspired to use the album as a blueprint and vessel to benefit War Child UK, an organization that aids children living in crisis around the world. In addition to the two previously recorded tracks, Carlile enlisted some of her most influential and socially conscience peers to translate The Story into Cover Stories. Spanning multiple genres, the artists include: Dolly Parton, Kris Kristofferson, Jim James, Pearl Jam, Indigo Girls and Margo Price among others.
Celebrating 10 years, The Story is deeply personal, an album filled with lyrical paintings of desolation and longing while including equally triumphant moments of strength and self-awareness. Despite its intimacy, Carlile's work is empathic, so it not only leaves room for the listener to feel themselves mirrored, but also leaves space for other artists to bring a new experience to her songs without plagiarizing the emotion.
When Dolly Parton starts in with, "All of these lines across my face/tell you the story of who I am," on her cover of "The Story" it is immediately hers. She inches into the build up with a near yoddle that is uniquely Dolly, and while she substitutes a verse for a short piano part, she doesn't spare the finale of the power it deserves. Arguably, one of the best tracks on the album, it credits Carlile, but remains completely capable of standing on its own.
It probably doesn't come as a complete shock that Dolly Parton took her cover to the moon, but one of the most impressive moments of sonic sculpting came from Anderson East on his version of "Josephine." Here, Carlile fans are groomed to seek the soothing harmonies of the "twins," her bandmates Phil and Tim Hanseroth, but nothing feels left behind. With Miranda Lambert singing backup, East's track is sung so passionately it feels as though he wrote it himself.
Shovels & Rope, Old Crow Medicine Show and The Avett Brothers really adopted their tracks, with versions that could easily land on their pre-existing records. Michael Trent & Cary Ann Hearst took on "Late Morning Lullaby" and it's hard to tell whether this was the perfect song choice for the pair or that they arranged it so well it resulted in a sound so recognizably Shovels & Rope. During the last few lines, they belt out the words so powerfully their voices take turns cracking as they break into a unified wail and sing, "I would darken my window so I can fall asleep/ While the critics frown down on the hours I keep/ That leave me dreaming, dreaming, dreaming/ Your real world away."
For the most part, the artists maintained the original melodies, but a few gave their tracks a complete makeover; Highlighting areas previously deemphasized in the first recordings. On Jim James' psychedelic version of "Wasted," the line "You're such a classic waste of cool/so afraid to break the rules in all the wrong places" is portrayed with so much more apathy than the original. Similarly, on Kris Kristofferson's version of "Turpentine," when he sings "But I'm warning you, we're growing up," his spoken-word variation sounds far more foreboding.
For diehard fans of any artist, it's often difficult to hear a cover without interpreting variation as defect, as the ears are subconsciously tuned to the original version. Cover Stories is a welcome reminder, not only of the timelessness of the original record, but the unique artistry of the cover itself as well.